Flat, boring, Norfolk – that's the cliché. Occasionally you may find a trendy metro-land media type describing the 'wide open skies', 'amazing vistas' and 'sense of time stood still' before extolling the bargain basement price that they purchased a 'dear little' pied-à-terre for, from a cash strapped yokel. Further to the west of the county there are any number of previously rickety Georgian mansions that have been Farrow and Balled into acceptability by those who fancy they might just bump into minor royalty, e'en so, excitement only runs to a local garage hand, recast as 'gastro chef', running Polenta up the menu…
Even the main football club manages to have safe, sturdy Delia instead of rock nobility or Russian exotica in the chairman's box.  Nothing racy about Norfolk. Endless marshes with sensibly dressed accountants staring at empty skies hoping to catch sight of a bird – generally the Marsh Harrier.
Actually, it is why I chose to live in Norfolk, now that Stephen Fry has baled out. Stephen couldn't make anything exciting happen here, which presumably is why he took off with his new wifelet to Honduras on his honeymoon – a Catholic country where gay marriage is illegal; the better to have a good old moan about how unfriendly the locals were when asked to celebrate the consummation of his union with young Master Elliott. I am beginning to understand why, irritatingly for some, for no-one would have taken an ounce of notice of them round here…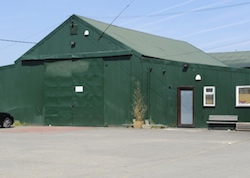 It started with a quick perusal of the planning notices in the local paper. Now there are thousands of green metal barns like the one pictured in these parts. Pretty much one in every field. Most of them filled with potato washing machines or Estonians dutifully grading carrots for Waitrose. Not this one! Dearie me No!
This one had applied for planning permission to open a retail shop on the site. I know what you're thinking – a farm shop. How boring. You're wrong, they wanted to open a shop selling sex toys. Bloody Hell – in the middle of a Norfolk field?
I looked up the population figures for Setchey – 367; of whom 19 are over 90 years old and 40 are below the age of consent. Curiouser and curiouser. Then I learnt of the immigrants. Not those sort of immigrants, a far racier variety of race you could say.
The applicants for retail planning permission were importing their own customers. Hmmn.
Saturday nights in the Setchey barn is 'Black Dicks 4 White Chicks' for instance – or if that is not to your taste, then how about the 'East Anglia Spanking Society (Premier Spanking Party)' or 'Foxyladies (Transgender and Admirers Party Night)' – and those are the tamer offerings!
We will welcome everyone over the age of 21 and cater for any gender and or orientation, whether experienced or newcomers. Dress Code: Dress to Impress and have clean hygiene. Numbers are limited for parties and are invite only.

The venue is discreetly situated along a private security covered road, away from residential areas and has plenty of private parking surrounding the venue which is covered by the venues external CCTV. With wifi, the heated venue consists of 3 playrooms and a fully equipped modern BDSM playroom. Meet the hostess! A budding capitalist, she wishes to enlarge her business.
Ignore what you read in the media; these barns are not full of oppressed Eastern Europeans being mercilessly whipped by gang-masters to grade carrots faster, they're er, well, er…..
Flat, boring Norfolk eh?
Many years ago, I used to help out a couple of well bred young ladies who ran a local restaurant based in a windmill. Occasionally they would close the restaurant for a private party. Always the same private party. A coach load of troopers from the household cavalry would arrive; be served champagne, then disappear to change out of their civvies for dinner.
7.30pm on the dot, they would totter into view, decked out in Dior, Givenchy, Yves St Laurent and  4″ killer heels. You've no idea how difficult it is to serve giant prawns in garlic with a straight face at times… those lads would tell you the most appalling jokes as you slid the prawns off the skewers.
Norfolk seems to have moved on since those gentler days.
* Ms Raccoon is not receiving commission for publicising Mistress Victoria's establishment, however, for a small fee, I might be persuaded to give you the address. (Not you Blocked Dwarf!)  
Anna Raccoon


June 17, 2015 at 10:39 am

Anna Raccoon


June 17, 2015 at 10:49 am

The Blocked Dwarf


June 17, 2015 at 11:38 am

Anna Raccoon


June 17, 2015 at 11:41 am

The Blocked Dwarf


June 17, 2015 at 11:47 am

The Blocked Dwarf


June 17, 2015 at 11:24 am

Petunia Winegum


June 17, 2015 at 2:55 pm

The Blocked Dwarf


June 17, 2015 at 3:15 pm

Petunia Winegum


June 17, 2015 at 3:56 pm

Engineer


June 17, 2015 at 2:55 pm

Petunia Winegum


June 17, 2015 at 2:58 pm

Gloria Smudd


June 17, 2015 at 4:05 pm

Petunia Winegum


June 17, 2015 at 4:34 pm

The Blocked Dwarf


June 17, 2015 at 3:19 pm

Wiggia


June 17, 2015 at 7:49 pm

IlovetheBBC


June 17, 2015 at 10:31 pm

Wiggia


June 17, 2015 at 7:51 pm

Ted Treen


June 19, 2015 at 11:02 am

Petunia Winegum


June 17, 2015 at 8:58 pm

Petunia Winegum


June 17, 2015 at 10:04 pm

The Blocked Dwarf


June 18, 2015 at 1:28 am

Petunia Winegum


June 18, 2015 at 10:21 am

Petunia Winegum


June 18, 2015 at 10:34 am

Mudplugger


June 18, 2015 at 8:20 am

Petunia Winegum


June 18, 2015 at 10:38 am