And like everything from US Marines, to Global financial meltdown – for sure it will arrive on our shores eventually. I find it a horrifying prospect.
I went in search of further information on a snippet I had read – and three days later I must have read close on a quarter of a million words, and am still struggling to make sense of how a private family tragedy turned into a multi-million dollar business with political ambitions for the highest office.
It is not a 'story' we know in the UK, so I will do my best to précis it, since I am so sure that we will end up with a similar tale of our own. Forewarned is forearmed. Apologies for a long post.
Near 20 years ago, August 1997, two young girls, Lauren and Samantha, and their little brother Chase, were living in their parent's palatial water front mansion in Miami. A well to do 'upper-middle class' family as we would say. A series of nannies looked after the children – Mum 'had mental health issues' and Dad a plethora of Miami business interests that meant he also had no time to care for the children.
Lauren, then aged 11 had taken to sleeping with her little brother, a bed she says that the new 'nanny' took to sharing with her – of sister Samantha, then 9 there seems little trace. I would have liked to hear her story.
Lauren's story, in short, is that the latest nanny, 30 year old Waldina Flores, a Honduran national whose status regarding her right to live and work in the US appears to be in some dispute, sexually abused her.  I don't intend to take anything away from Lauren's story – for what happened to her was wrong, totally wrong, unforgivably wrong – but the sequel contains just as many wrongs. 
My interest was piqued by a news report where Lauren said "I was raped every day for six years". It didn't take long to turn up Lauren's book – of course she has written a book – actually she now has a bachelor's degree in Creative Writing and a master's degree in Community Psychology and Social Change. Impressive. I sat down to read the book…
Not exactly 'raped every day for six years'. More a case of a young girl who felt unloved, who was slowly groomed by a sadistic Lesbian into mistaking sexual advances which progressed from giving her a 'French kiss' (whilst improbably trying to divest her of chewing gum she had refused to spit out) to sharing the bed she shared with her young brother, to persuading her to participate in sexual activity, as legitimate 'caring about her'.
As I said; unforgivable, including the physical punishments, certainly legally 'rape', but a gradual progression over four years is not 'raped every day for six years'. There is a reason why the description of what happened to Lauren is being turned into emotive shorthand that evokes images of beery breathed men forcing themselves on her daily. It has become financially and politically rewarding to a degree you will find hard to believe.
For six years, neither the siblings she shared a bed with, nor either of her parents were aware of these events. Eventually the nanny 'Waldo' persuaded her to take up with a young man, Kris Lim, whom she went onto marry in a million dollar extravaganza that appeared in a reality show. 'Daddy's little Princess' she was billed as.
However, long before their marriage, Kris Lim, then boyfriend, had 'noticed' bruises on her body in places 'that were so well hidden' no other member of her family was aware. Lauren now warns others that this is one of the defining attributes of a predatory paedophile – the ability to only hurt you where it won't show.
I would say that given Lauren was 11 in 1997, and that the legal age of consent in Florida is 18, I am slightly surprised that no one was alarmed by Kris Lim being aware of these 'hidden places' when Lauren was a mere 15/16. Perhaps the fact that Lauren, who by her own admission in her book wanted only to be 'the centre of attention', decided to tell her family of this 'four years' (not six) of sexual abuse two days after America was traumatised by the events of 9/11, not surprisingly overshadowed the periphery details.
The news, from her description, was 'as if a bomb went off in our house'. Lauren was – the.centre.of.attention. For she was no ordinary Miami millionaire's daughter. Ron Book, her Father, has been involved with Florida politics for almost 40 years, starting with working in the Florida House of Representatives. He eventually rose to prominence as head of one of the top lobbying firms in the country. Last year alone, his firm earned $5.6 million in fees, with an average annual retainer of $69,000 per client. His extensive and impressive client list includes the University of Miami, Sun Life Stadium, AT&T, and Miami Project to Cure Paralysis.
Now Ron Book may not have had much time to show his daughter the affection she craved – but give him a product to market and preferably one that lends itself to changing legislation – and he is your 'man'. The best. He roared into action. He continues to roar.
Waldina Flores faced 36 years in prison, however, she pleaded 'no contest' at her trial, and accepted a plea deal. She was sentenced to 15 years behind bars and 15 years of probation. 
The confused state that Lauren was in is obvious:
So I thought, as I walked out of the courtroom that day, I have got to get in contact with her. I'm so sorry. I just don't want her to be mad at me. And so we started a letter-writing campaign back and forth. And in the first letter I wrote to her, I said, I know you can't write me, but I will do this for however long it takes till you get out.
The above paragraph is somewhat buried in the subsequent story – to be sure, Lauren wrote to Waldy first…
To my surprise, you know, right after that – it was in December – I got a letter from her. And during that – those letter writings back and forth, she would ask me to get the governor to try and get her out of prison. 
There has been much subsequent publicity of the fact that Lauren's Dad lobbied for and got, legislation 'to stop sex offenders contacting victim's' from jail. "When Flores wrote Lauren love letters from jail", he ushered through the Lauren Book Protection Act, which makes any contact by a convicted sex offender with a victim punishable by prison.
Two years later, she was found guilty of violating an order not to contact Book after writing her letters from prison.

Ten more years were added to her prison term.
Lauren, at 18, too timid to speak out, formed a not-for-profit organisation called "Lauren's Kid's" for the entirely reasonable aim – to encourage other children to speak out when they are abused. She has visually recovered from the anorexia that occurred simultaneously – perhaps as a direct result of her abuse – with her early teenage years. 
The fact that her Father is the Chief Executive and driving force is pertinent. Lauren has become the iconic 'poster child' for a powerful lobbying force. It would seem that the time he couldn't spare Lauren as a child, the time he didn't have to carry out due diligence on the Nanny's background, he now has to spend in spades – wreaking his revenge on any and every sex offender in the State of Florida and beyond.
Do remember that in Florida the term 'sex offender' refers even to a couple fooling around sunbathing on the beach:
Alvarez moving on top of Caballero in a sexual manner in broad daylight. Witnesses testified a 3-year-old girl saw them.
Ron Book has used the vehicle of 'Lauren's Kids' to ensure that no registered sex offender can live within 2,500 feet of children – a piece of legislation that would have done nothing to protect his daughter – Waldy wasn't a registered sex offender – but has resulted not only in many dangerous paedophiles being released from prison to wander aimlessly as homeless persons, unable even to access electricity to charge up their electronic tags, nor to rebuild their lives hopefully in a way that would make them less of a danger to other children – but has also had a knock on effect on hundreds of thousands of other children.
They are the children of all those offenders such as the couple fooling around on a sunny beach. The legislation doesn't just refer to dangerous paedophiles. There are estimated to be some 150,000 children, some as young as 8, who have been placed on the register.
The American Journal of Criminal Justice has published a survey which shows that some 156,000 children have been physically attacked – because they had a relative on the register. Another 97,500 children have suicidal tendencies – as a direct result of a relative having fallen foul of the sex offender laws, resulting in homelessness, loss of job and income and restrictions on contact even with their own children. Does nobody care about these children? Does being the relative of someone on the register so taint you that it is OK if you are attacked or self harm?
The tale doesn't end there. Ron has used his superb top level political contacts to top up the coffers of 'Lauren's Kid's' with nearly $7 million in taxpayer funds, along with impressive sums from all his previous clients and another $3.8 million expected when the new state budget goes through. The money is being used in some surprising ways.
Supporters of Lauren and 'her' drive to rid the state of all sex offenders, recently attend a rally in Tallahassee. Father Ron has boasted of the number of state employees that 'decided' to join in. All were issued with matching blue shirts and badges showing their allegiance to Laurenskids. A number of journalists have attested to witnessing that some of the 'youngsters' were armed.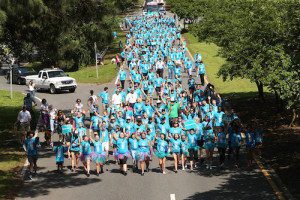 Lauren is now equipped with a greyhound bus, a cavalcade of police accompanied her triumphant arrival (with Ron in running shorts sweating beside her) at the State Capitol to be greeted by the State Governor. Blue smoke bombs were set off at the finale giving the march a military flavour. The town was littered with 'blue paw' (Lauren's personal logo) stickers. A plane flew overhead trailing a 'Lauren's Kids' banner.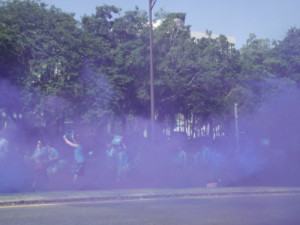 A war chest of $10 million? A sophisticated public relations outfit. A youth army in matching shirts marching in serried ranks in support of a plan to 'cleanse' the neighbourhood of 'sub-humans'?
Within days of these events, news came that will not surprise you. Lauren had formed a 'political committee'. The resident Senator, Eleanor Sobel, is retiring.
Documents show how the organization raises and spends its funds. A 2012 golf tournament had gross receipts of $224,605 but expenses of $192,998. The walk that year raised $396,015; expenses were $171,104. Lauren's Kids paid Ron Sachs, a communications firm that reps political insiders, $670,032. Sachs' firm won an Addy award for its design of a billboard that shows Lauren against a purple backdrop. "Lauren Book," it says. "Survivor. Educator. Advocate."
To some in Tallahassee, this is alarming. It amounts to taxpayers subsidising publicity for Lauren, they say, which would come in handy if she were to run.
Steve Geller, who served 20 years in the Legislature, was considering running for the District 33 seat but now says he won't bother. Lauren, he says, "is a very formidable candidate" who has "virtually unlimited funds in a primary. I don't know any people who'd want to run against millions in a primary."
A cult of personality built around a photogenic abuse 'survivor', with a righteous marching army of brown blue shirts, buoyed by millions of tax payer dollars, and a Father with a network of powerful allies in the corridors of power would be hard, very hard, to beat.
I hope I don't live to see it happen in England. I've got a long memory.
Anna Raccoon


May 19, 2015 at 9:27 am

The Blocked Dwarf


May 19, 2015 at 12:22 pm

Petunia Winegum


May 19, 2015 at 9:34 am

Little Black Sambo


May 19, 2015 at 1:02 pm

The Blocked Dwarf


May 19, 2015 at 12:04 pm

Cascadian


May 19, 2015 at 5:23 pm

Mark II


May 19, 2015 at 5:26 pm

Anna Raccoon


May 19, 2015 at 3:10 pm

corevalue


May 19, 2015 at 6:03 pm

Petunia Winegum


May 19, 2015 at 2:09 pm

Mrs Grimble


May 19, 2015 at 7:22 pm

Ancient+Tattered Airman


May 19, 2015 at 7:29 pm

Anna Raccoon


May 19, 2015 at 3:09 pm

Anna Raccoon


May 19, 2015 at 3:07 pm

Mark II


May 19, 2015 at 8:15 pm