Detective Superintendent Jon Savell has finally spoken, albeit briefly. After 3 years of investigation into the allegations regarding Jimmy Savile at Duncroft, it amounts to 17 pages. 17 pages that are notable as much for what they don't say as for what they do.
Operation Yewtree recorded 11 'accounts of crimes' said to have been committed by Savile at Duncroft. 5 of which were reported to have happened in the years 1970 – 1973.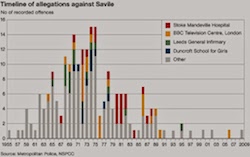 Operation Outreach has now conclusively decided that Savile didn't set foot in Duncroft before the 21st January 1974.
8.1 The evidence reviewed by Operation Outreach shows that Jimmy Savile first visited Duncroft on 21 January 1974, and ceased visiting when the school closed in 1979 for a restructure of management.
We now have incontrovertible proof that Bebe Roberts, or Beryl Shaw as she was then, was lying – along with four other girls…
Five false allegators; who-da-thunk-it? 
We also have incontrovertible proof that Susan was telling the truth in her account of introducing Savile to her life at Duncroft. I never doubted her, and applaud her courage in standing up to the wave of hysterical allegations that sought to silence her.
What more do we know? Difficult to evaluate, since Surrey Police have not chosen to impartially investigate these allegations, but rather acted as judge and jury and taken them a 'true':
Operation Outreach has taken the same approach, to the joint NSPCC and Metropolitan Police report, Giving Victims a Voice published in January 2013. Operation Outreach does not regard accounts provided by Duncroft victims as unproven allegations, and as such they are referred to throughout this report as 'victims' rather than 'complainants'.
Further, they have expanded, during the intense media coverage, the original 6 allegations which could have occurred during the proven timeline, to 46 using some nifty footwork which will be greatly appreciated by a media keen to publicise scandal. First they took the 22 allegations they now had, and turned them into:
Operation Outreach confirmed that at least twenty-two pupils and one visitor were victims of sexual abuse by Jimmy Savile at Duncroft.
Then they added up the number of times allegations had been made that Savile had engaged in:
non-consensual kissing, touching of breasts over clothing, touching of breasts under clothing, vaginal touching, vaginal penetration with hand, forced masturbation, forced oral sex, and other sexual touching.
and counted each allegation of 'multiple times':
if a victim states a range e.g. 'this type of abuse occurred four-five times' the lowest figure has been counted with the consideration that the abuse occurred at least this number of times.
as a separate offence. Finally arriving at the magical headlines which will dominate the press of: 
'Savile carried out 46 sexual offences at Surrey girl's school, say Police.'
Of these '46 offences' – two were offences contrary to Section 4(1) Causing a person to engage in sexual activity without consent and Thirty-eight offences contrary to Section 3(1) Sexual assault – and that is only if they were able to be charged under the current 2003 Act.
At the time, i.e 1974, all 46 'offences' would have come under the heading of Section 14(1) Indecent assault on a woman – as could kissing your Aunty Marge without first getting her permission…
– and these are 'offences' that have never been investigated…because 'nobody ever lies about sexual abuse' – except the five that reported being abused at Duncroft years before Savile set foot in the place…but we're hoping you won't notice that…
Something else of interest. Much was made in the Exposure programme of a victim being 'dragged screaming' to a padded cell after trying to report being abused by Savile.
The 'very secure room' is what pupils sometimes refer to as the 'padded room'. It is clear from Duncroft documents that all the rooms were built for 'security and safety' whilst aiming to also be 'pleasing and domestic'. The security aspect meant built-in furniture, non-glass mirrors, and limitation of edges, ledges, hanging rails, hooks, pipes, and consideration about the weight and nature of every moveable object in the unit. The documents also specify a 'separate single suite of room and lavatory, all with total security and safety'. In a manager's report from May 1978 there is reference to a 'padded secure room'. From the documents it can be seen that this was simply a single room with extra safety precautions including some 'padding' where necessary.

In practice, pupils would most often be admitted to the ICU on 'return from absconsion'. This could be due to them being under the influence of drugs, or having self-harmed whilst away, or simply in a distressed state. 'The unit was designed and set up at a time when a lot of girls were referred who were serious drug-takers and who needed at times a quasi-hospital type care – hence the unit look and feels more like a sick bay or isolation unit'. The report goes on to discuss how the need for the unit had almost entirely disappeared, with the secure room being used so little that it was obsolete.
There is no discussion of the events said to have taken place at the BBC:
Offences of abuse against Duncroft pupils that occurred on BBC premises do not form part of this report.
'That occurred' eh?
No discussion of how Savile came to visit Duncroft, no attempt to discern whether there was any truth in the allegations – merely a trawl for more allegations undertaken that was so comprehensive they even managed to track down seven pupils that Barnardos didn't realise they had…
Barnardo's supplied Operation Outreach with details of pupils and staff present during the years 1974-1979 inclusive. In the course of the investigation some pupils were identified as having been resident during the relevant time frame but were not present in the pupil list. In total seven pupils were identified in this way.
All in all, 17 pages that only inform by omission – but give the media the headlines they crave.  Precisely as the NHS reports did.
Those of us who have waited three years to know the truth, are none the wiser. It may come as a shock to others to realise that almost 50% of the original Yewtree allegations, were, as we have always said, false. Lies, plain and simple.
The other 50% remain allegations. Untested, un-investigated.
Millions of pounds later.
Edited to add: Statement from Barnardos who managed the school 1976 to 1979 is interesting.
"We know that Jimmy Savile visited Duncroft on two or three occasions during the three years Barnardo's managed the school. Six former pupils told the investigation that they were sexually assaulted by Savile over this period."
So, 16 of the remaining allegations relate to 1974 – 1976.
Anna Raccoon


April 29, 2015 at 2:47 pm

Anna Raccoon


April 29, 2015 at 4:19 pm

Peter Raite


April 29, 2015 at 5:07 pm

Anna Raccoon


April 29, 2015 at 5:51 pm

Peter Raite


April 29, 2015 at 6:23 pm

The Vatman Cometh


April 29, 2015 at 6:35 pm

Mrs Grimble


April 30, 2015 at 9:41 am

Mr Ecks


April 30, 2015 at 11:01 am

Mr Ecks


April 30, 2015 at 11:01 pm

eric hardcastle


April 30, 2015 at 12:22 pm

Anna Raccoon


April 29, 2015 at 7:00 pm

The Vatman Cometh


April 29, 2015 at 8:45 pm

Anna Raccoon


April 29, 2015 at 8:50 pm

The Vatman Cometh


April 29, 2015 at 8:56 pm

Peter Raite


April 29, 2015 at 6:29 pm

Anna Raccoon


April 29, 2015 at 6:58 pm

Carol42


April 29, 2015 at 7:04 pm

Anna Raccoon


April 29, 2015 at 8:30 pm

Alexander Baron


April 30, 2015 at 12:12 am

Mrs Grimble


April 30, 2015 at 9:48 am

The Vatman Cometh


April 29, 2015 at 7:55 pm

The Vatman Cometh


April 29, 2015 at 7:59 pm

Anna Raccoon


April 29, 2015 at 8:02 pm

Anna Raccoon


April 29, 2015 at 8:33 pm

Anna Raccoon


April 29, 2015 at 10:57 pm

eric hardcastle


April 30, 2015 at 12:42 pm

cornish lark


April 30, 2015 at 1:10 pm

The Vatman Cometh


April 29, 2015 at 8:38 pm

eric hardcastle


April 30, 2015 at 12:40 pm

Ellen Coulson


April 30, 2015 at 10:31 am

The Vatman Cometh


April 29, 2015 at 9:57 pm

eric hardcastle


April 30, 2015 at 12:55 pm

adrianS


April 30, 2015 at 5:56 pm

Mrs Grimble


April 30, 2015 at 8:18 pm

Classical Pioneer


July 2, 2015 at 5:40 pm

Cloudberry


April 30, 2015 at 11:34 pm

Peter Raite


April 30, 2015 at 12:30 pm

Mr Wray


May 3, 2015 at 1:02 pm

Hubert Rawlinson


April 30, 2015 at 12:48 pm

Anna Raccoon


April 30, 2015 at 1:24 pm

corevalue


May 1, 2015 at 6:14 pm

Don Cox


April 30, 2015 at 7:10 pm

Cloudberry


April 30, 2015 at 10:59 pm

faccused


May 1, 2015 at 10:38 am

Petunia Winegum


April 30, 2015 at 9:15 pm

Alexander Baron


May 1, 2015 at 9:11 am

Alexander Baron


May 1, 2015 at 9:39 pm

Peter Raite


May 1, 2015 at 9:35 am

Anna Raccoon


May 3, 2015 at 12:02 pm

Anna Raccoon


May 3, 2015 at 12:09 pm

Anna Raccoon


July 17, 2015 at 5:20 pm

Anna Raccoon


July 17, 2015 at 8:08 pm

Anna Raccoon


July 18, 2015 at 6:50 am

Anna Raccoon


July 18, 2015 at 3:07 pm

Anna Raccoon


July 19, 2015 at 7:16 am