Mark Williams-Thomas – 'It weren't me, Guv' – No: 276.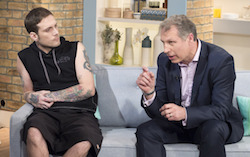 A prize pair. Fellow Paedo-hunters. Stinson-Hunter and Williams-Thomas.
Mark Williams-Thomas has blundered into the bizarre Northern world of Owen Oyston.
Across pages 8 and 9 of the Sunday People for March 15, in a combination of muckraking and wild inaccuracy, William-Thomas' name appeared not only as reporter of "Model's Horror as Photoshoot turns into a stay at Tycoon's Mansion", but then to goes onto quote himself as the newspaper's 'authority on sex crimes'.
The story quoted an un-named 20 year-old London model describing a two-day booking in Lancashire:
'We were miles from anywhere with a man who had raped a model. We huddled together in a room and locked the door. It was the longest night of my life.'
Oyston, the 80-year old flamboyant owner of Blackpool Football Club, convicted 19 years ago of a rape and an indecent assault that were said to have been committed in 1992, was in his 'vast dining room' with 25 guests, 'still downstairs drinking.'
The story said Williams-Thomas had been 'at the forefront of exposing Jimmy Savile's offences'.
The 'sex crime investigator' outlined to readers his plan for dealing with the aged target of his latest investigation:
'I'll lobby police to re-examine the terms of Oyston's inclusion on the sex offender register. I will consider applying to constrain him with a sexual offenders prohibition order, stopping him being around young models.'
Five hours after the story appeared on the Mirror website, Williams-Thomas, by-lined as co-author with Simon Wright, decided to disown his part in this farrago of inaccuracies that featured a 7" x 3" picture of the wrong stately home with a description of the wrong '£3.25 million' 20-acre estate near the Forest of Bowland'.
The confusion of Oyston's Claughton Hall with the actual scene of the 2015 photo-shoot, six miles away at Quernmore Park, rather undermined the point of MW-T's story which had claimed, 'For Oyston to replicate almost identically the circumstances that surrounded him committing a rape for which he was jailed is unacceptable.'
Another problem for MWT's 'replication theory' was that the 1992 offences at Claughton Hall, for which Oyston served lengthened prison time by refusing to admit guilt, did not involve any photography or any modelling!
After going on Twitter to announce his 'most recent investigation': The Ace chewing-gumshoe MWT soon received some guidance from a man in Blackpool: Williams-Thomas blamed the Mirror sub-editors for the error – 'It weren't me, Guv'.
This was a distinct echo of 2010, when under pressure from Facebook, the Daily Mail had to retract an article by 'child protection expert' Mark Williams- Thomas, under the headline 'I posed as a 14-year-old girl on Facebook'.
What followed the Mail Online publication did 'replicate almost identically' the circumstances surrounding his latest Claughton Hall blunder.
MWT blamed the Mail sub-editors! 
'At 19.48 hours on Tuesday 9th March I sent amended copy to the interviewing journalist at the Daily Mail in which I had made small but significant changes to the copy she had sent to me which I read at 19.21, including removing the word Facebook and replacing it with "well known social networking site". I made it very clear to the journalist and her alone that the changes I had made were necessary before publication.'
Mark Williams-Thomas, a former Surrey police constable, won a Royal Television Society journalism award for producing the ITV programme 'Exposure: The Other Side of Jimmy Savile', which included the claims, but not an interview, with the original Savile allegator, Karin Ward. The television programme led to the current police Operation Yewtree.
Karin Ward is now facing a £300,000 defamation claim from the comedian Freddie Starr, expected be the subject of a 10-day High Court trial in June.
The BBC, ITV/ITN and MGN [Mirror Group Newspapers] have all refused to cover Karin Ward's legal costs.
She is represented by the solicitor and advocate David Price. Her defence appears to be that when she gave the interview she thought she was dying of cancer and would never have to face the consequences of the allegation.
Mr Price told the Daily Mail: "Ms Ward has been sued for the Panorama programme, but she did not give permission for the interview to be broadcast. The footage was initially taken for the Newsnight programme, but she did not say it could be used for another programme a year later."
Ms Ward noted late in 2012 that Mark Williams-Thomas would not support her: When Private Eye noted that no publication seemed prepared to fund David Price's defence of Karin Ward, Eric Hardcastle, a private detective, offered this explanation:
Re : Private Eye
 As a subscriber this article struck me as very strange even for them and I venture that we all know who the author is and PE would easily accept a piece from him.

My reasoning:
1. There is no way in the world Private Eye or indeed any publisher or business would fund the defence of a libel action they are not named in and for PE to even suggest it is very odd and suspicious.

2. With their long history of libel actions PE must at least see what is evidently a legal strategy being played here.

3. Starr's lawyers would have already put any publisher who published Ward's claims on notice : that they reserve the right to take a libel action at any time. That's a normal procedure and necessary because of time limits for actions.

4. Pursuing the weakest link is a good strategy. If Starr's team demolish the prime 'witness' they can then pursue tabloid publishers. Those cases would not even get to court and settlements would be negotiated.

5. Of course Starr and everyone knows no money will be forthcoming from Ward if he wins. She would either go bankrupt or they would let payment lie on file as the real money would follow from tabloids who would have no defence once Ward had been dealt with.

6. Private Eye's piece is amazingly naive for them and that is why I think it's a contribution from someone who has a lot to lose if Ward faces a court – anyone connected with her and who encouraged her claims would be in the firing line.

7. The piece sticks put like a sore thumb for what it is : written by someone with an undeclared interest in having rich publishers fund Ward's defence. This is a long term strategy and Ward has little to lose being broke – others have far more to lose and we know who they are.'

Jack Toft-Subbie.
Rocky Racoon


March 28, 2015 at 5:45 am

Petunia Winegum


March 24, 2015 at 7:23 pm

The Blocked Dwarf


July 14, 2016 at 3:56 pm

Anna Raccoon


July 14, 2016 at 4:19 pm