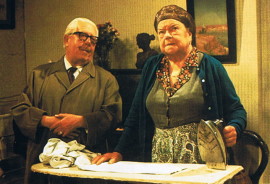 Gideon the magician is poised to pull a blue-rinsed rabbit out of his hat come Budget Day in the shape of yet more favourable concessions for those members of the electorate who would never countenance avoiding the polling booth. It was bred into them that it was their duty to cast their vote; there's none of that shoulder-shrugging apathy about them when the PM goes through the constitutional motions and asks Her Majesty to dissolve parliament; they know what needs to be done. Old party loyalties may not decide whose name their cross accompanies in the way it used to, but they'll be there on May 7, you can count on it.
Being nice to 'the elderly' at a moment when they could be useful is an undoubtedly cynical move on the part of Mr Osborne, but we wouldn't expect anything less at such a moment. He knows the over-50s are the section of society to court when a vote of confidence from the Great British Public is required. Bugger the youngsters, whether students piling up debts or graduates forced to re-open an account with the Bank of Mum and Dad; they've got their i-Boxes and X-Pads, so they can't really complain, can they? No, it's their parents and grandparents who matter now, so prepare for a wealth of sanctimonious guff about how much the government values our senior citizens for the next couple of months. Once the smoke has cleared and we're left with a Lab-Lib-SNP-DUP-UKIP-Monster Raving Loony coalition on May 8, those sweet old dears can then sod off back to their day care centres with a packet of Werther's Originals.
The fact that people are generally living longer only seems to be viewed as a boon by the powers-that-be when the ballot box needs them; the rest of the time, an ageing population is regarded as a burden, only ever spoken of in the gloomiest of tones as a strain on the NHS or taxpayers, or in the context of Alzheimer's. It is something rarely celebrated unless the members of that ageing population are valued as voters, consumers or the suppliers of accumulated wealth to dish out to their descendants. And as long as they don't look old, they might just be treated as adults rather than retarded children; a man thinning on top or a woman struggling to hide her grey hairs must feel as though they've just spotted the first telltale signs of the Black Death on their bodies, something that will give their age away and condemn them to that vortex of invisibility that renders the rest of society largely blind to them, only noticing they exist when they're an irritant walking down the middle of a narrow pavement and impossible to overtake.
It is true that today's 50+ brigade have worn better than their parents or grandparents. When I think about some of the Ena Sharples-types I encountered as a child, they were probably barely sixty, yet to me they may as well have been over a hundred. Then again, the generations that lived through two World Wars and a Great Depression had a hell of a lot to contend with; it was no wonder their trials and tribulations were etched upon their weary countenances. They didn't have Botox to iron out the creases either. In comparison, their offspring have endured the Three Day-Week, the Winter of Discontent and…what? The death of Diana? Hardly comparable. No wonder they still look pretty good. There's also the fear of ending up resembling their old ma or pa, a common thread running through a western world obsessed with the illusion of youth. The moment a shop assistant refers to a woman as 'madam', she mentally ages a good decade. Take a photo of her and hear the despair in her voice when she says 'I look like my mum', something never uttered with the remotest trace of pleasure.
In 'Gulliver's Travels', one of the journeys of Swift's hero takes him to a country called Luggnagg in which he is introduced to a group of literal immortals known as Strulbruggs; they live forever, but unlike our fanciful concept of ageless immortality whereby we are frozen at the moment we reach the peak of our physical and mental powers, they simply keep ageing until they are little more than geriatric vegetables. Gulliver himself describes them thus –
'They were the most mortifying sight I ever beheld; and the women more horrible than the men. Besides the usual deformities in extreme old age, they acquired an additional ghastliness in proportion to their number of years, which is not to be described…'
The instinctive mistrust of the natural order being disrupted by life being lived beyond the point at which it should rightly expire is exposed in Gulliver's meeting with the Strulbruggs, and his surprisingly contemporary horror at the sight of them is reflected today in the thriving cosmetic surgery industry as well as the parade of crinkle-cut seventy-year-old rock stars still squeezing their bottoms into skinny jeans as they perform songs they wrote from the vantage point of a young man half-a-century ago. Yes, the ageing process can be disguised on the surface and, to a more limited extent, beneath it via the replacement of various broken bones or redundant organs by plastic substitutes; but there is no escaping the fact that our physical forms have a shelf-life, even if nature itself is extending that shelf-life.
The average life expectancy in Europe has risen steadily over the past century. A hundred years ago, it was a shockingly lowly 46. Five years after the end of the Second World War it had leapt up to 64. By the turn of the Millennium it had reached 76. Here in Blighty – depending on which part of the country one resides in and factors such as social environment, of course – the current average life expectancy is 81. The impact of advances in medical science and the gradual eradication of the ailments born of poor diet and hygiene that plagued our ancestors has made a hell of a difference to the quality of life, for sure; but while most are happy to live as long as possible, the problems that afflicted the immortals of Luggnagg are ones that a Health Service and a welfare system founded when few reached the age of 70 appear ill-equipped to deal with.
So, for now at least, the oldies are the political flavour of the month – as long as they vote for the right party come Election Day. For the Tories, this means banking on the traditional conservatism (both with a big and a small C) that can be a hallmark of getting on a bit. But the generation that will reach the one-time (male) retirement age this year will have been born in 1950. That means they will have lived through the radical end of the 60s and the radical beginning of the 70s; they were schooled in student revolt, marched on behalf of persecuted minorities and against foreign wars, fought for the rights of women, immigrants and homosexuals, politicised in an era when politics required colours being nailed to the mast with fervour, veterans of social battle-lines and still possessing the lingering remnants of fire in their bellies that could be sparked back into life by a realisation they're being used as electoral pawns before being tossed aside for another five years.
It's only a matter of time before some Bolshie sixty-something galvanises his generation anew and senior citizens organise themselves into a powerful pressure group that belatedly recognises its strength in numbers. It has happened on a small-scale in recent years, but nothing like the potential waiting to be stirred into action. Perhaps the moment is imminent to march on Westminster. After 'Countdown' has finished, of course…
Petunia Winegum