Cammin' over 'ere – Takin' our Mansions!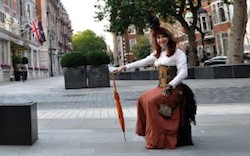 Mayfair – a cosseted corner of England preserved in Edwardian amber, national exposure to which is guaranteed to bring out the worst inverted snobbery and chip-on-the-shoulder socialism of anyone from a working-class background. Who cares about these spoiled, snooty London gits detached from the 'real world'? Come the revolution, they'll be the first up against the wall, yeah? It's a primordial gut reaction that needs to be nipped in the bud because Mayfair is actually not just a precious legacy of the old London, when Islington was a spa village and Chelsea was rural farmland; it's also an increasingly rare pocket of qualities and characteristics that most of us imagine only live on in the imaginary Neverland of Ambridge, somehow surviving into the modern age and remaining largely impervious to the encroachment of the homogenous uniformity that has stripped most towns and cities in the country of their character; it's a classy, less nihilistic incarnation of Royston Vasey, and BBC2's 'Modern Times' series profiled the place and its people last weekend.
There are a fair share of camp chaps, middle-aged ladies who 'know Camilla' and estate agents who sell entire streets; but there are cockney geezers too – cabbies and blokes who like to start the day with a fry-up. There's social housing in the shape of the Peabody estate, owned by the Peabody Trust, a housing association with a long and admirable history of providing rented accommodation for those unable to buy in the capital; in this day and age of 'social cleansing', their presence is more invaluable than ever. Many of Mayfair's residents weren't 'to the manor born' and came from relatively humble backgrounds; those that speak with immaculate RP probably took elocution lessons in the way that everyone who wanted to better themselves did before the 1960s; in a country whose oral insignia is increasingly characterised either by the ubiquitous monotony of mockney Estuary English or the tediously matey 'northern' accent, it's refreshing to find this way of speaking still exists. But Mayfair is a hotbed of aspects of British life one almost expects to have died out with Ealing comedies
The curiously named Manthe Penton Harrap looks like Paloma Faith and speaks like the Queen launching a ship in 1957; she admitted being a resident of Mayfair gives her the opportunity to express her eccentricities without being bothered by the conservative mindset prevalent in the places most of us inhabit; she has a parrot perched on her shoulder and dresses in the manner of a Parisian courtesan from the La Belle Époque era. She's delightful in an entertainingly frivolous fashion, a harmless character who has found her place in the world by creating her own world. Yes, these residents are wealthy by the standards of me and thee, but in comparison to their unseen and anonymous new neighbours-in-affluence, they may as well be marching from Jarrow.
Mayfair began to take shape as an exclusive neighbourhood in the mid-eighteenth century, with many of the great aristocratic Whig families building grandiose Palladian town residences such as the late, lamented Devonshire House; its less-than-refined origins, when the dregs of London would congregate for the annual May Fair (hence the name), were gradually erased, though the close proximity of the Tyburn gallows continued to attract an undesirable swarm of riff-raff to the vicinity. Public hangings were the sporting occasions of their day; had television existed at the time, Sky and the BBC would have been fighting over the live TV rights; but such archaic occasions were not favoured by Mayfair's new residents and hangings eventually relocated to Newgate prison.
The aristocrats of the Georgian era were rich in ways that the aristocrats of today can only dream of; their nearest equivalents now would be Arab Sheiks or Russian Oligarchs; and this is why Mayfair is under threat as it slowly comes full circle. Great swathes of the neighbourhood have been bought up by shady, mysterious billionaires who don't attend the local summer party the community holds for its residents; they remain hidden behind the walls of their mansion blocks and don't mix and mingle; they are the urban equivalents of those who own holiday homes in Devon or Cornwall that remain empty for most months of the year. Their presence, however, is in danger of turning Mayfair into the same enclosed citadel that Chelsea has already become. Just as the nobility took over Mayfair two-hundred-and odd years ago and edged out the original inhabitants, the foreign invaders are doing likewise where many of those profiled in the BBC 2 documentary are concerned.
A telling scene in which a doctor met with a patient whose pixellated features preserved her safety spoke volumes as to the changing nature of Mayfair; she was an Indian girl, employed as a servant by one of the new residents, worked like a dog and unable to walk out on account of her employees holding onto her passport. It seems the newcomers to the neighbourhood have learnt the lessons of how to manage domestic staff from their aristocratic English forebears. Perhaps the fact that many emanate from former British colonies and the inherited memory of how their colonial masters treated their servants has lingered is a factor. It was a sober moment of a largely light-hearted programme, but nevertheless emphasised another unpleasant element of the change in the neighbourhood's character.
This quaint, elegant enclave of cigar shops, cobblers, tailors, umbrella-makers, 30s-style coffee-shops and old-fashioned individual bespoke businesses catering for specialist tastes is bordering on extinction. The rents are rocketing and those who have given this antiquated bubble its unique identity are being forced to move out. They don't make the requisite amount of money to justify their existence in a brand-led world of conglomerate commerce, and as one centuries-old family business after another shuts up shop, a Prêt-a-Manger or Chanel moves in, making Mayfair indistinguishable from other areas of central London.
But why should we shed a tear, right? It's not as if these evicted tradesmen are being forced down to the local food bank, is it? It's not as if they're being forced to sign-on and shoplift. One of them left Burlington Arcade after thirty years and relocated to…Savile Row! Well, it depends if life has a purpose beyond that of a mirror endlessly reflecting our collective misery. We can't save the 'luxury' of a library or an art gallery from closure when a hospital is understaffed or a school is falling apart at the seams (Funny how that is always the choice libraries and galleries are confronted by). Do we want the whole of the country to be an identikit parade of chain stores and glass malls at one end and an austerity row of pawnbrokers and pound shops at the other? As someone who has resided on the breadline, I know the thought that life had more to offer, and that somewhere in England there lurked a genuine community of eccentric oddballs whose quirks were viewed as a plus rather than a minus, was a great spur to try to improve my dismal lot.
Yes, it's a hard sell, imploring people who have never been, and will never be, lucky enough to live in Mayfair to care what happens to it; but if current trends continue, the fate of Mayfair could be viewed as a microcosm of the country's willingness to bend over and allow Mr Corporation to have his wicked way without putting up a fight. Anyone who wants at least a few isolated areas of Britain to cling onto their distinctive, non-corporate and defiantly insular traditions should care. And to rush to negative judgement regarding Mayfair's long-term residents simply because they are considerably richer than us and speak like they're at a Buckingham Palace garden party is as unfair a generalisation as believing everyone who lives on a council estate is a crack-addled benefits cheat.
Petunia Winegum