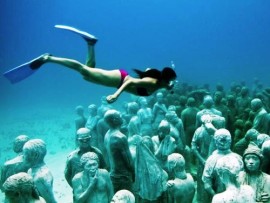 Hard to imagine such a scenario as you rest your flabby western butt on a comfy sofa and tear your hair out because you can't find the latest must-see series as recommended by The Guardian on Netflix, but what would you do if your idle idyll was suddenly brought to a halt because armed guerrillas were engaging in a pitched battle with government forces outside your window? Unless you spent the 1970s and 80s living in Belfast or Londonderry, it's not the kind of crisis any resident of the British Isles has had to cope with in living memory. But just take a moment to visualise it.
You realise you have to abandon your home and all those precious possessions in it and you have to go right now, fleeing with little more than the clothes you're wearing – every sentimental artefact you've gathered around you over a lifetime has to be left behind. And once you've been forced to flee, where the hell do you go? You can't access any money because the cash machines aren't working anymore; phone lines are down, as is the internet, so you can't contact any friends; and you can't get any food because all the shops are either boarded-up or have been emptied; the petrol stations are closed, so even if you're fortunate to have a vehicle, you can't find any fuel to power it and end up having to abandon that as well. You shelter in the ruin of a house already half-demolished by shelling, but it's not safe. You head for the coast on foot and hope there's a way you can be smuggled onto a ship, but the journey there is an obstacle course you'll be lucky to survive – dodging snipers, vigilantes and bandits, as well as troops perceiving you as a looter with orders to shoot to kill. Then add a family to the equation – a spouse and a couple of kids; watching your own back is one thing; having to take others into account can only increase both the potential dangers and the urgency to escape.
Let's face it, this doomsday vision is more familiar from post-apocalyptic movies and TV dramas set in a parallel present than real life; it's too abstract a concept for our cosseted and comfortable existence to contemplate as a possible likelihood. But if it did happen, you'd be so gripped by desperation you'd probably submit to anything in order to get away, running from your homeland, culture and language to embark on an optimistic quest into the unknown because you have no other choice.
For thousands of people across the globe, however, this is no fantasy; this is really happening. This is their 2015.
Last week, more than three-hundred migrants drowned off the coast of Lampedusa, the largest of Italy's Pelagie Islands – that's three-hundred dehydrated men, women and children crammed below deck in the claustrophobic confines of a barely seaworthy, decommissioned cargo ship, with no room to lie down, no food or water, no space to expunge bodily waste, inhaling air infected by the sickly fumes of the ship's engine as the ocean tossed them up and down. Slaves and sardines could boast of better conditions; even the passengers on board the train to Auschwitz had a smoother ride; but they were shepherded into those cattle trucks; the migrants who drowned last week flocked to their floating coffin because they thought it would take them to a better life. Can you imagine how bad things have to get in order to put yourself and your loved ones through such a horrific ordeal? Would you put yourself through it just on the off-chance of receiving state benefits from the country you're hoping to reach? I doubt it and nor would anyone else.
In October 2013, another ship, this time carrying over 500 migrants from Eritrea and Somalia, sank off the coast of Lampedusa in which 300 also lost their lives. This tragedy prompted Italy to begin the joint military/humanitarian operation, Mare Nostrum, to rescue the migrants and arrest traffickers. The EU, however, was divided over the issue, with France regarding the arrivals as economic migrants, whereas Italy viewed them as refugees; Italy's pleas to the EU for help housing the thousands crammed into unsuitable holding facilities along the Italian coast repeatedly fell on deaf ears and Italy eventually abandoned its commitment to the project when other EU members refused to contribute to the expense.
Responsibility then passed to Frontex, the EU's woefully-underfunded border agency, which is ironically based in Warsaw, a city 160 miles from the nearest coastline; the same EU members that refused to assist Italy are now being called upon to help finance Frontex to patrol the massive Mediterranean, for Frontex has no equipment of its own. It has to borrow vessels as well as planes and helicopters from EU and Schengen Area states, with the likes of Iceland loaning coastguard ships. The problems with this system are obvious; when the SOS came in from Lampedusa last week, the two ships Iceland had loaned to Frontex were both in port and too great a distance from the tragedy to rush to the rescue.
The nearest country to Lampedusa is Tunisia, 70 miles away; Italy's southernmost island has therefore become one of the key entry points to Europe for African, Asian and Middle Eastern migrants, and following the revolutions in Tunisia and Libya, the numbers have increased dramatically. Since the end of last year, over 19,000 migrants have made the rough journey to Italian shores and the paucity of resources Frontex has to work with is placing the lives of thousands more in danger. 29 were rescued from last week's shipwreck when a small vessel managed to pull them from the sea, but hypothermia claimed them all before the ship reached land; doctors on the scene speculated their survival could have been guaranteed had a larger vessel been there to retrieve them.
The world has had to deal with a similar dilemma before, of course. With the end of the Vietnam War in 1975, the harsh Communist regime of North Vietnam that then overtook the running of the entire country prompted thousands to flee Vietnam; their numbers swelled from 1978 onwards, many riding rough seas in small fishing boats not designed for the open sea. The Vietnamese Boat People were turned away from numerous neighbouring countries, and the lucky ones ended up in refugee camps in Hong Kong, Malaysia and Thailand, albeit camps that rapidly became overcrowded. The humanitarian crisis provoked the United Nations into action and the US, Canada, France and Australia agreed to resettle many thousands of the Boat People.
The turbulent, unstable nature of the regimes that have followed the end of European colonialism in Africa and Asia have led to some of the most concentrated migrations of people seen in modern times; some argue the ex-overlords of these former colonies owe their one-time subjects a moral debt, whilst others claim the social structure of most European nations cannot withstand a constant flow of new citizens. Both are valid arguments, but neither solves the terrible conundrum facing the free world. What happened last week off the coast of Lampedusa was an appalling human tragedy that has already been downgraded to just another unavoidable incident in an ongoing saga involving people who don't seem to count. We rightly recognise the inhumanity of the seventeenth and eighteenth century slave trade and applaud cinematic portrayals of its gruesome barbarity, yet we seem curiously indifferent to the fact that human beings sharing our moment in time are experiencing something equally ghastly. Then again, perhaps it's easier to deal with distant tragedies because of their distance; historical sex crimes seem to have priority over ones that are being committed as we speak, for example.
I wish I had the answer, but I'm not in a position to provide it; and those that are don't even appear to be trying.
Petunia Winegum