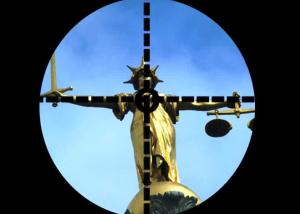 Clair Tiltman was a 16-year-old schoolgirl who had a close encounter with an older man over twenty years ago, one that resulted in a conviction for that man yesterday. If you think you know where I'm going with this, hold on a minute. I know it sounds like something we've heard with tedious regularity since 2012, but the man in question was not a radio, television or music celebrity who groomed and seduced her, and Clair Tiltman was not present in court to see the man sent down. He was Colin Ash-Smith, a knife-wielding psychopath who stabbed her to death in a Kent alleyway in 1993. Despite being interviewed within days of the attack and even having the gall to attend her funeral, Ash-Smith was belatedly charged with the murder of Clair Tiltman this year, whilst he was still serving time for a different knife attack on a different woman two years after murdering Clair Tiltman. He will be sentenced today.
The same day as a jury at the Inner London Crown Court took three hours to reach a guilty verdict relating to a crime committed two decades ago, a judge at Minshull Street Crown Court, Manchester passed sentence on a sequence of crimes committed even further back in time – not the 1990s, but the 1960s and 1970s. This time, former DJ and (lest we forget) friend of Jimmy Savile, Ray Teret, was sentenced to twenty-five years in prison for seven counts of rape and seven counts of indecent assault on 'girls as young as twelve'.
This is not a competition to vote as to who was most deserving of a lengthy sentence or a debate on how the practice of adolescent girls throwing themselves as showbiz personalities without producing a birth certificate was a commonplace side-effect of the 60s' pop culture explosion. Rather, it ponders on the difference between newly-unearthed hard evidence that wasn't available in the past coming to light and leading to a conviction for the most serious crime of all, and a modern moral judgement of sexual behaviour in the latter decades of the last century.
Where murder is concerned, a conviction should never be regarded as too late. An open, unsolved murder case can break a detective, can sour his or her retirement from the force and can cast a long shadow over their entire career; it can leave families and friends of the victim in a state of permanent stasis, never able to put the loss behind them and at least mentally move on; it can fascinate those who write about crime, leading to speculation, additional investigation and amateur detective work. Jack the Ripper committed all his murders as far back as 1888, yet over 125-years later, his identity is still debated over and the list of potential suspects is added to with every new book or documentary to cover the grisly story. Naturally, nobody can be convicted for that particular series of murders now, but that doesn't stop the naming of names and occasionally pinning the tail on a random Victorian donkey.
However, gradual advances in forensic science have at least enabled serious crimes that have taken place in the last half-century to be solved and lingering questions to be resolved. For years, doubts hovered over the guilt of James Hanratty, the 'A6 Murderer', who was hanged in 1962 for the murder of Michael Gregsten, an incident that also saw the rape and attempted murder of Gregsten's mistress, Valerie Storie, after what must have been the first recorded 'car-jack'. Following Hanratty's execution – one of the last to take place in this country – a campaign to prove Hanratty's innocence was a cause celebre for several decades and arguments over whether or not the wrong man had been hanged continued to rage until 2002, when a DNA test finally confirmed Hanratty's guilt beyond reasonable doubt, according to the Court of Appeal. At the same time, numerous unsound convictions have been quashed and various guilty parties have been convicted decades after a crime has been committed. In this respect, too late is never too late when it comes to murder. It always has been, and always should be, top of the criminal pops.
Few would really claim there is no justification for investigating a cold case when that case is murder, especially when the science that didn't exist then can be used now to release an innocent man and sentence a guilty one. But what of allegations of sexual assault made thirty, forty or even fifty years after the alleged event – cases that were never even lukewarm in the first place, let alone cold, cases where it is one person's word against another and actual evidence is more or less dismissed as irrelevant?
I'm not going to go into the whys and wherefores of the motivations behind the current craze for tracking down 'historical abusers' (though that tag could technically be applied to someone like George I, who imprisoned his wife for the last thirty years of her life); this has been covered many times before on many blogs and by people who are far more learned and expert on the subject than I. Where this particular crime is concerned, I just wonder how, when a conviction or pardon for a historical murder is utterly dependent on freshly uncovered evidence verified by the most sophisticated of techniques that more or less eradicates all doubt, a historical sex crime can be investigated and brought to court before a jury and result in sentencing without any of the methods that are applied to establishing the identity of a killer. If enough 'victims come forward', no matter how shaky and implausible their accounts of their alleged assaults may be – and I'm not claiming that every alleged assault accusation is the product of a delusional fantasist or the avaricious invention of a corrupt law firm – chances are the accused will be found guilty of at least one assault.
Being found guilty of viciously hacking a schoolgirl to death means Colin Ash-Smith will probably receive a life sentence today; if we call life twenty-five years, that's the same as Ray Teret received yesterday. I haven't studied the Teret case closely enough to pass judgement on whether or not the accusations of which he's been convicted all stand up or whether the evidence supporting them was as flimsy and questionable as that which sentenced, say, Rolf Harris; but one cannot elevate the crime of historical abuse to the same level as – or even above – murder, and then not apply the same thorough process to establish indisputable proof beyond all reasonable doubt that the accused is guilty, as one would apply in the case of murder. Rather, the convictions of those found guilty of historical abuse all-too often appear to be based less on actual evidence – clearly the most important factor in any conviction – than the comparison of contemporary social mores with those of the recent past; and that cannot surely be the basis upon which a man is handed a sentence that will more or less ensure he dies behind bars.
If Ray Teret or Rolf Harris or Max Clifford or Stuart Hall are all genuinely guilty of the crimes that sent them to prison, then their sentences were deserved and they are rightly paying the price for those crimes. But if there is doubt, if their arrest, charge, trial, conviction and sentencing were based on accusations that could not or cannot be substantiated in the way that a murder conviction simply has to be, then their crimes are nowhere near on a par with murder and they should never have been sent down.
*STOP PRESS: Just heard Colin Ash-Smith has received a twenty-one-year sentence, which means what he did warrants a sentence four years shorter than the one Ray Teret received. Make of that what you will.*
Petunia Winegum