Credit Where Credit's Due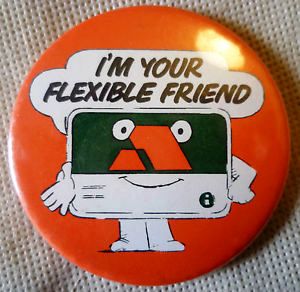 My name is Petunia Winegum and I've never had a debt in my life. One of those statements is true, and as this essay is not about nom-de-plumes, I take it you can guess which one. I'm actually the only person I know who never has had a debt in their life. Firstly, I didn't engage in any further education and therefore never had to cope with loans or tuition fees; secondly, I've never owned my own home, so have never had to struggle with a mortgage; and thirdly, I've never had a credit card. Ah, yes – your flexible friend.
In the 1970s and for most of the 80s, the credit card was a coveted luxury of the wealthy; I certainly don't recall any TV ads for credit cards showing a harassed housewife doing her weekly shop at Spar; these passports to the jet-set were always employed as payment in a casino or five-star hotel, promoted by gentlemen whose cigarettes were kept in a silver case and ladies whose virtue was kept in an eighteen-hour girdle. This was a time when the cheque book retained an air of elitism about it, after all, and there were few hints then that the credit card would descend the social ladder and threaten the stranglehold notes and coins still had on the average shopper. Although the genesis of the credit card can be traced back as far as 1920s America, it wasn't until as late as 1966, with the launch of Barclaycard, that credit cards began to become tools of exchange in Britain. The American Express charge card had been introduced in the UK three years previously, limited to 3,000 British outlets, but Barclaycard was the first recognisably modern all-purpose credit card to be issued in Britain. This revolutionary format had appeared in 1958 with the Bank of America's pioneering BankAmericard, an advancement on the range of different charge cards that were, in most cases, restricted to a handful of specific businesses at a time.
It's interesting to note, however, that the problems this system would eventually lead to in the UK had already occurred in the States. Almost immediately after it was launched, the BankAmericard was mailed out to customers viewed as low credit risks, a move which resulted in the racking up of astronomical debts when the card inevitably fell into the hands of those who imagined they had been delivered a winning lottery ticket. This unsolicited scheme was outlawed in 1970, by which time over 100 million Americans had received a BankAmericard through the post.
British distribution of the credit card at least learnt from this disaster, and Barclaycard was introduced cautiously, its initial beneficiaries being men of business and the generally affluent. Even in the US, the spread of credit cards as a legitimate, universal method of acquiring goods was restricted by legislation that prevented banks from operating in more than one State; Bank of America was licensed in California, but found a way around federal laws by licensing the BankAmericard to banks based outside California. When Bank of America expanded its operations on an international scale in the late 60s, the BankAmericard was licensed to foreign banks, with the sole issuer in Britain being Barclaycard. Indeed, due to the minority use of credit cards in the UK at the time, Barclaycard held a monopoly on the market until the Access Card was introduced in 1972.
Within twenty-five years of the arrival of the Access Card, Britain underwent a monetary revolution, with 'invisible money' becoming the prime source of purchasing across the board, regardless of social standing. The increased availability of the credit card by the time of New Labour's 'Boom without Bust' boast meant it had by now ceased to be the golden ticket of the wealthy and enabled even the poorest households to acquire the chattels that had been marketed as life-saving necessities in the eternal struggle of keeping up with the Jones's. Students were also now a favoured target for banks and building societies; faced with outrageous tuition fees for an education that their parents had received free of charge, students were sold the credit card as a means of easing their passage through university, and with more young people than ever before entering Academia – courtesy of Tony Blair's zealous drive to democratise higher education – there was a huge untapped audience available to be fleeced by unscrupulous banks and credit card companies. Debts incurred from a credit card would combine in an unholy alliance with debts incurred from tuition fees to render an entire generation in hoc for the majority of their adult lives. Any rules and regulations that had previously existed to prevent the exploitation of the penniless and financially vulnerable were swept aside as the public were told it was their duty to spend.
High street spending was integral to the economic stability Blair and Brown presided over, prompting the Iron Chancellor to make his famous proclamation that Labour had ended the cycle of boom & bust that had tarnished the economic reputations of their predecessors. Low interest rates and low inflation contributed to this climate, and as housing prices soared, householders were saving less and spending more; in order to spend as much as was required of them, borrowing increased and the credit card was the essential tool in purchasing goods without the ready cash for them being available. Oddly enough, nobody during this era of hedonistic acquisitiveness seemed capable of seeing any further than the next item on their shopping list, although hindsight shows this was a situation that was simply unsustainable. The country was living on borrowed time, just as its citizens were living on borrowed money.
When the whole country had been surviving on credit, residing in homes they'd been led to believe they owned and surrounded by goods they'd purchased without paying for them, the extravagance of bankers didn't seem out-of-step; the generating of wealth and the alleged democracy of it was crucial to the boom era, and as long as everybody benefitted from it, why should conspicuous consumption and the flaunting of affluence be seen as remotely vulgar or overtly ostentatious? Thatcher's boom had largely been limited to a small section of society, whereas Blair's boom had been more widespread and the gap between the haves and the have-nots – however superficial – appeared to be narrowing. Indeed, why should someone engaged in menial work on the minimum wage have been offended by the sight of a City boy quaffing champagne when he or she could nip into their local supermarket and purchase the same brand of bubbly on their credit card and effectively replicate the pose?
However, when the credit crunch began to bite, when businesses began to go bust, when workers began to be laid off, when interest rates began to rise, when homes began to be repossessed and when the kind of lifestyle Joe Public had become accustomed to had to be reluctantly relinquished, it was the bankers and Gordon Brown who were seen as the men who had got their sums wrong. But then, so had everybody else.
Four years on from the mother of all busts, I approached my bank with the intention of opening an account that would enable me to buy goods online, for which I needed a card. At first, my application was rejected due to the fact that a credit check revealed I had no debts hanging round my neck. One would imagine that would have worked in my favour, but apparently not. It was almost as though I was viewed as suspect for not having any debts; what the hell was wrong with me? The problem was eventually sorted, but this initial obstacle said more to me about the state of financial affairs in this country than any exhaustive examination on 'Panorama'. Maybe it's my age, but I still feel debt has shame attached to it; most younger than me don't appear to. They have accepted it as part of life. But by making a soft target such as bankers the cartoon villains on whom to pin the blame for Britain's economic ills, the public are effectively absolved of their part in what has happened since 2008. If debtor's gaols were still with us, however, the allure of your flexible friend may have been less irresistible.
Petunia Winegum