The Sunday Post: As Good as it Gets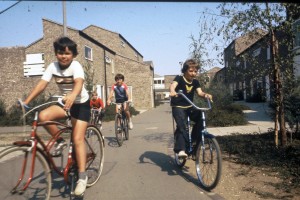 The standard celebrity Q&A one sees with monotonous regularity on the inside back page of the Radio Times or in your average upmarket Sunday supplement often includes the 'highlight of your life' question. Beyond the usual 'winning an Oscar/winning the World Championship/receiving the OBE/meeting Nelson Mandela', there is the ubiquitous 'the birth of my children' cliché. The latter response is a little more universal than boasting about an achievement most will never experience; but I do sometimes wish the answer would be injected with imagination.
I would hazard a guess the majority of you reading this have never walked on the moon or scaled Everest or swum the Channel; yet I'm betting all of you, were you to look beyond the given sources of domestic elation, could describe a moment in which all the elements that typify what it is to be alive were crystallised into one event, a solitary epiphany akin to the one the Woody Allen character describes in 'Stardust Memories', when he is simply sitting in the same room as his wife and they exchange a smile without saying a word. For him, that was the sole second that made it all worthwhile. Yes, he happened to be married to Charlotte Rampling, which would cause many a man to wear a permanent smile; but he recognised, however brief its duration may have been, that he had experienced the culmination of everything he had been subconsciously working towards for the previous thirty-odd years. And he instantly knew it would be downhill from then on.
My moment came frustratingly early – before I had even reached seven and had any inkling as to what I was working towards, subconsciously or no. And it's only in recent years that I've come to realise nothing has surpassed that moment in terms of what it made me feel. It was the summer of 1974; I can't be any more specific than that, but I know connected events on either side of that date back up my memory. I had received my inaugural two-wheeled bike the previous Christmas, but relied upon pushing myself along with my feet on the ground for the first few months, as every attempt to pedal and balance was met with an undignified collapse. What made my failure to master the art overnight even more frustrating was that the boy-next-door, a playmate who was my senior by a year, already sped around the neighbourhood in a manner I craved to emulate. I never had stabilisers on my two-wheeler; that was almost regarded as cheating. If I were to apply the logic of Iain Duncan Smith to the situation, I could have been accused of becoming dependent on stabilisers instead of actively seeking to pedal on two wheels.
The urge to use the bike as it had been intended ate away at me throughout the first half of 1974; I was certain it must be possible. Nobody else seemed to have a problem with it, so why me? I kept trying and did slowly seem to be edging closer to the breakthrough when one afternoon in the school summer holidays, it all came together.
The house we lived in at the time formed part of a lengthy terrace, with a street culminating in a cul-de-sac at the front and an effective dirt-track separating the houses from their allotment-like gardens round the back, one that was a muddy quagmire in the wet autumn and a dust bowl in the summer; but as a six-year-old, it was long enough to be regarded as a ready-made racecourse. And it proved to be so come the day when my finest moment arrived. On this momentous afternoon, it appeared that everyone who mattered in my little world had gathered in expectation of seeing something of great significance, something that could have caused the focus of their attention to wilt under the pressure or could equally have inspired him to step up a gear. This he did, but not without assistance. Most have their dad on hand to provide them with words of wisdom and inculcate a belief that the sky is the limit for what can be achieved. But I was not of the generation whose parents were encouraged to inform their children that they are 'special', so he wasn't there. Instead, there was a neighbour, a guy with shoulder-length hair who formed one half of a young couple who were relatively new arrivals on the street. To this day, I don't know his name, but he did what dads are supposed to do; and for the part he played in my triumph, I shall always be indebted.
A hundred yards ahead of me, at the very end of the street, stood a small crowd consisting of my mum, the boy-next-door and his little sister and their mother; there may have been one or two others, but I can't honestly remember now. Anyway, it appeared to be a sizeable number willing me on and I was about to attempt to pedal the distance on two wheels without falling off and letting them all down. Could I do it? Yes, I could – so the nameless neighbour told me in the manner of Angelo Dundee having a quiet word with Ali between rounds. I aired my doubts and he rubbished them. He convinced me I could do it. He was knelt down beside me and kept repeating over and over again that I could do it; there were no doubts on his side and – in his role as surrogate father – his absence of doubt began to infect me. Suddenly, from being in two minds as to whether I could achieve what everyone present expected me to, I felt invincible and I put the first foot on the pedal as my momentary mentor steadied the bike with his hand. A second later, I was away.
Beneath the eternal sunshine memories of this nature are always bathed in, I gathered such speed that a wind whipped up and kept me cool as the crowd of well-wishers at the end of the street hurtled towards me and me towards them. They reacted to my ride like Red Rum was galloping down that dirt-track and they'd stuck their life-savings on the likelihood of him reaching the finishing post before any of his competitors. But I had no competition on this day – Nixon may have been about to draft his resignation speech and Wilson may have been about to formulate the date of the next General Election to increase his tiny majority; but as far as I was concerned, the world was watching me. And I wasn't about to shame myself when the spotlight was so luminous.
I reached the end of the track and brought myself to a screeching halt before an audience of whooping, cheering fans who swamped me in pats on the back (no hugs, please – we're British) and massaged my ears with applause that still rings in them whenever I summon-up the memory. I had done it – ridden a full hundred yards on two wheels without failing to keep my balance. I could now ride a two-wheeled bike and the next phase of my childhood began with the presentation of a key to a door I couldn't wait to open. I'll no doubt never know who the neighbour was who instilled the conviction I could do it, but I couldn't have done it had he not been there.
I cannot honestly think of a moment in my life since then that has matched the euphoria I felt that day; one could say that's rather sad and pathetic, considering it took place forty bloody years ago. But I'm sure all of you out there have been there. It doesn't really matter what age you were when it happened; what matters is that it did. Care to share it?
Petunia Winegum