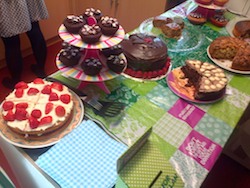 I see that the glitzy behemoth that is the BBC's Children in Need is hoving into view. I have to confess, I don't really like it. How can one not support such a manifestly good cause, you may say? Well, I don't being part of a herd, I don't like being dragooned, and I don't like the endless parade of "celebs". I feel the same with the blooming Red Nose day. Perhaps it is churlish of me. I do, on the other hand, strongly support giving to charities where I know exactly where my money is going. There is a short list; these involve certain local rescue charities for animals, Marie Curie, and the Samaritans – because I have been alone in those wee small hours which pass so slowly and so painfully for some. I will return to this below.
I have spent a fair bit of time apparently doing nothing at all lately. This often involves sitting in one of my favourite cafés, sipping large amounts of fruit tea, and staring into space. In the picturesque Pennines hamlet not too far away there are a couple I frequent. One is run by a gentle couple, Mark and Irene. As Mark often says, he thinks of it more as a public service than a business. It is a quirky place, homely and with a sheltered garden with tables and chairs, in which I can sit and take in the autumn sunshine, or even enjoy the rain under the safety of the large garden umbrella things. I like to see my friends the pair of robins who live there, and I bring them mealworms from time to time. A lovely girl with flame red hair and impossibly porcelain skin works there on the weekend. She looks fragile, but there is a core of steel there; she has just returned from working in an orphanage in India, and that was a tough environment. She was tempted by offers in the modeling world, but had the good sense to back away from the falseness and bitchiness which she encountered. I like her; she has courage.
Across the road is another café with an open courtyard, offering a vista of the high street. They don't seem to mind my endless requests for pots of cranberry and raspberry infusion.
Am I really doing nothing? In a way it is an active meditation. I reflect on life a little, but not too much. Mainly I am just learning to let go and be of the moment. New thoughts, new perspectives come. It is doing nothing, and yet doing everything. F. Scott Fitzgerald said: life starts all over when it gets crisp in the fall. That sounds counter intuitive, but I can understand it. And this is how I feel, like I am starting over again. It is an odd feeling.
There is another café nearby. On the windswept side of a Pennines hill there is what is called a "pitch and put" golf course, with a traditional old stone building that served as the office and storage hut for some ropey clubs for hire. I used to walk my beloved dog up there when I was a lad. I never really thought the place beautiful, but I have changed my mind now. The course was neglected and run down for a long time, but recently it has been taken over by a new manager, a powerfully built man, an ex rugby league player. He has steadily worked on the course, mowing and tending. It is hardly Wentworth, but the place has a cared for feel about it, with fresh signs and new flags. It has become quite popular again. The old stone building has been cleaned out, and turned into a simple, but homely café. Despite his menacing build, the manager is clearly a good soul, always ready with a greeting and time to chat, and his wife and rather lovely daughters help to run the café when he is out and about tending to his course. I get the impression he is a happy man, content with his lot. He looks very healthy from his outdoor life.
There are some simple tables and chairs outside when the weather is fine. I can sit and drink tea (strong Yorkshire tea, no faddy fruit stuff here) and watch the crazy and incompetent golfers, the occasional riders and the many happy and cared for dogs whose owners take them to play on the neighbouring big field. The air is very fresh, and there is a view which on a good day can stretch to Wales. The sunsets can be magnificent.
I popped in last Saturday. I had intended to go to the gym, but I decided to slack, and do more doing nothing. So, to the café I went. They were running a coffee morning in aid of Macmillan Cancer Support. The daughters had baked amazing cakes (above), and the tiny café was crammed with perhaps twenty visitors. Many had had brought cakes of their own to contribute. It will hardly change the world, and yet it was magnificent. It was a far cry form the hullaballoo and hysteria which I feel surrounds the Beeb's Children in Need circus. I gave what I could freely. They had hoped to raise £100. They made £211.  Bravo.
Another simple thing I have found the time to enjoy is music. I have become a fan of some people who go by the name of "The Piano Guys". One hearing of a tune on Classic FM and I was entranced by their style of mashing up classic and modern tunes with considerable skill. As a perusal of their videos on youtube shows, they play not just with considerable virtuosity, but passion, verve, mischief and joy and they make rather fun videos to go with their work. Some people are rather sniffy about their style, regarding them as more showbiz than authentic musicians. I don't care.
Here are a couple of pieces of their work. It may not to be everyone's tastes but take five minutes to see if it touches you. One piece (Codename Vivaldi) is for piano and cello. The second (Beethoven's 5 secrets) is for cello and orchestra.
I wish you a peaceful Sunday.
Gildas the Monk