The Ice-bucket challenge must have seemed positively refreshing compared to the bucket of shite tipped over Brooks Newmark's head by the Sunday Mirror at the week-end. (What is he clasping in his hands?)
A tawdry little 'kiss and tell' by the female concerned; an example of 'revenge porn' – a practice criminalised in several countries; the despised practice of 'grooming' – something for which men have been jailed before now;  a criminal attempt to 'cause a person to indulge in sexual activity without consent', deception, fraud;  you can take your pick this morning of the varied ways in which this story has caused offence. 
The one thing all are agreed on is that far from a fine example of 'holding power to account' by our wondrous main stream media, it was little more than a 'honey-trap' and however you care to castigate Brooks Newmark for falling into the trap, morally it was as turgid and despicable as Kylie or Sharon sending out pictures of their ex-lovers penis on Facebook. Hugging the low ground so to speak.
MPs have been encouraged to 'engage with the public' on social media, and many a drunk, dispossessed or merely dastardly na'er-do-well has obtained a vicarious thrill from adding an MPs name to his latest tweet about his cat in the hope of getting a response from the supposedly 'unreachable' grand folk in the Houses of Parliament. Some are successful. Some find themselves talking to the MPs 'social media expert', hired specifically to respond to the inane chatter.
Brooks Newmark had a particular interest in encouraging the young and female who used Twitter – not out of perverted lust, but because he was charged by the Prime Minister with encouraging more young women to enter politics. 'Somebody' had taken the time to set up a Twitter account last May, four months ago, in the apparent identity of 'Sophie Wittams', an attractively fresh faced, enthusiastic, 'Tory activist'. For four months, Sophie issued a stream of treacly, congratulatory, fawning, purrs of approval in the direction of many Tory MPs. No speech or promotion was too small to escape her attention, and if no one else had noticed that they had asked a question about ringworm disease on aged sea-lions bordering their constituency – they could be sure that the loyal Sophie would.
Come the conference season, and Sophie upped the ante, she would be attending conference and would love to meet one or all of them. Brooks Newmark certainly replied – as he should; it was his job to encourage those such as Sophie.
He initiated a lighthearted chat about his "mundane" political tweets and asked her to follow him on Facebook.

Three days later Newmark invited Sophie to a Women2Win event and told her to "feel free to drop by Parliament anytime for a chat".
There was some light hearted flirting, following which Sophie sent Brooks a revealing photograph and invited him to reciprocate. Late at night, he did so. Unwise surely; morally ambiguous; considering he was married, certainly.
On the evening of July 16, after Sophie told him she was lying in bed, Newmark wrote: "By the way I have no idea what you look like so post a pic to me on Whatsapp so I know what you look like when I meet you." 'Sophie' sent him this picture.

In response, the balding MP sent a picture of himself sitting on his bed and wearing a white T-shirt.
The person behind the 'Sophie Wittams' account was jubilant. Gotcha! Got a story now. Must be worth a few quid to embarrass Brooks, damage his marriage, humiliate him in front of his children…..
Such is the morality of those who would seek to 'hold power to account'. Brooks had been groomed, lured into the honey-pot.
It was a Sunday Times journalist, Robin Henry who first realised that young 'Sophie' of the Twitter account was not all she seemed. Before 'Sophie' had stopped celebrating long enough to take down the fake account, he had reverse engineered the photograph to discover it was of a Swedish model called Malin Sahlén, taken from her private Instagram account.
Not only, but also – Sophie's collars and cuffs didn't match! The revealing photograph sent to lure Brooks was actually of the bottom half of another young woman called Charlene Tyler.
Hot hot hot #sunbathingselfie pic.twitter.com/wqQSbAFDZV

— charlene tyler (@xratx) July 3, 2014
Neither young woman had given their permission for their photographs to be used. You could say that both of them were unwise to publish photographs of themselves for the grubby interest of the sort of journalist who spends his time leering over pictures of half naked Swedish models. Perhaps now they know the sort of individual that occupies himself in this way they will be more cautious of exposing themselves to the prurient gaze of desperate stringers.
Stringer? Well yes, for it was not the Sunday Mirror that was the originator of this story albeit that they are taking all the flack for having published it. It was a 'freelance journalist' who had sat on the story until it could cause maximum damage to the Conservative Party, getting maximum publicity – and thus causing the greatest amount of damage to both Newmark's marriage, his five talented children as they make their way in the world, the newly emerging ability of the public to directly engage with their MPs on Twitter – and the cause of attracting women to politics.
Whilst Robin Henry's Twitter account is getting a lot of attention for his unmasking of the photographs – nobody seems to have looked through his old tweets.
Step forward the grubby little creature at the bottom of this story.
Newmark sent explicit pics to one of Guido's reporters posing as a "young female activist" http://t.co/4YnRLsGZVM

— Robin Henry (@Robin_Henry) September 27, 2014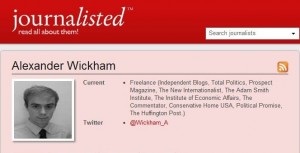 Good God – even Owen Jones considers this 'gutter stuff'!
A male journo sent Brooks Newmark explicit pics of who knows who as part of a sting operation. Gutter stuff. Shouldn't be resigning issue.
— Owen Jones (@OwenJones84) September 28, 2014
Moor Larkin


September 29, 2014 at 2:43 pm

Peter Raite


September 29, 2014 at 3:31 pm

Moor Larkin


September 29, 2014 at 3:48 pm

Moor Larkin


September 30, 2014 at 1:27 pm

Peter Raite


September 30, 2014 at 1:55 pm

Peter Raite


September 30, 2014 at 1:46 pm

Moor Larkin


September 30, 2014 at 1:53 pm

Peter Raite


September 30, 2014 at 1:56 pm

Moor Larkin


September 30, 2014 at 2:03 pm

Moor Larkin


September 29, 2014 at 3:57 pm

Joe Public


September 29, 2014 at 4:13 pm

Moor Larkin


September 29, 2014 at 4:18 pm

Peter Raite


September 29, 2014 at 4:49 pm

Wigner's Friend


September 29, 2014 at 4:59 pm

Anna Raccoon


September 29, 2014 at 4:41 pm

Robert the Biker


September 30, 2014 at 1:53 pm

Moor Larkin


September 29, 2014 at 8:26 pm

Moor Larkin


September 29, 2014 at 11:22 pm

Moor Larkin


September 29, 2014 at 11:47 pm

Frankie


September 30, 2014 at 12:11 am

Peter Raite


September 30, 2014 at 12:44 pm

Not Long Now


September 30, 2014 at 12:33 pm

Peter Raite


September 30, 2014 at 12:43 pm

Engineer


September 30, 2014 at 3:28 pm

Not Long Now


September 30, 2014 at 4:27 pm

Moor Larkin


September 30, 2014 at 1:24 pm

Cloudberry


September 30, 2014 at 2:15 pm