The Poor shall Inherit the Girth.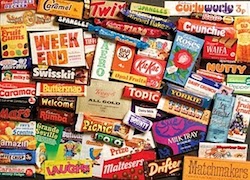 Anyone of a certain age will recall that the chocolate bar Milky Way used to be advertised as 'The sweet you can eat between meals without ruining your appetite', with the emphasis on can. This carried clout with kids of my generation; if this statement was broadcast on TV, then it had to be true – right, mum? Therefore, it's okay to guzzle one before teatime, yeah? It was also a canny tagline by the manufacturers because eating between meals was so frowned upon at the time that a chocolate bar sold as a sweet that wouldn't interfere with the compulsory cleaning of the plate might just be a smart way round the unwritten rules of the nation's children's diet. This diet wasn't dictated by Department of Health guidelines, but by parents who had endured 1950s austerity mealtimes in which nothing went to waste, however unappetising and inedible; their own parents had passed down the belief that to waste any item of food was criminal, a belief born of living through the Great Depression, when regular meals could often be something of a luxury. Handed down from one generation to the next, this regime was imposed with unswerving righteousness and, to be fair, the best of intentions. Inherited memories of emaciated and malnourished urchins encouraged the post-war parents to build their children's strength with everything that was perceived good for them, largely containing ingredients that had been grown when digging for victory. And, of course, they had to be boiled.
This thinking also extended to school dinners; in order to make the far-from desirable recipe of cabbage, beetroot, spam fritters, lumpy mash and hard peas remotely tolerable, the prize at the end of this gastronomic obstacle course was a pudding bathed in custard, awarded to everyone who managed to grin and swallow their way through the first course, and washed down with that most basic of table wines – water. It's no wonder the corner-shop did a roaring trade in penny sweets both on the way to and on the way back from school. Such cheap confectionary was within the budget of most kids (even those who helped themselves when the newsagent fatally turned his back) and wasn't considered substantial enough to damage appetites for the next meal. The main accusation levelled at sweets was that they rotted your teeth if taken to excess, so most parents tolerated them as long as they were consumed in moderation. A proper chocolate bar boasting a big brand name or even a packet of crisps were a little pricier and therefore had an air of 'treat' about them, something one could look forward to perhaps once a week, though not much more often than that. They even used to print the actual price of the item on the wrapper then, as if to emphasise the gulf between it and the more accessible penny varieties stocking the shelves.
Eating-time adhering to a strict daily timetable seems almost reminiscent of an East European Communist state in retrospect, like some grand master-plan engineered to raise a race of strapping young folk who would eventually parade the results of their diet on a sport's field, clad in vest and pants and moving in unison as if choreographed by Busby Berkley. But there were no focus groups or think-tanks to devise this diet; it grew organically from the parents and with the unspoken approval of the powers-that-be. Government rarely interfered, for most of its senior members had themselves grown-up lean and hungry in the 1930s and were secure in the knowledge that their constituents were ensuring their offspring never left the dinner table without having cleaned their plates first. Depending on which part of the country one hailed from, the routine consisted of breakfast, dinner, tea and supper (South of the midlands, dinner was lunch and tea was dinner); and this was enforced with rigid discipline.
I remember there being around three or four 'fat kids' at each of the five schools I attended in the seventies and early eighties, the ones who were inevitably the last to be picked for the teams during a football match in the games lesson; I was usually the penultimate player to be picked, though that was mainly due to my specs as opposed to any deficiencies in my ability on the pitch. I was just as average, weight-wise, as most of my classmates at the time. And these overweight exceptions to the general rule tended to suffer from genetic obesity if anything, for one could always tell which headscarf-clad figures at the school gates come home-time were their mothers; they were invariably fat as well. It ran in the family rather than being solely a product of diet; you had a feeling they would always be built that way. Besides, other than the corner-shop, there were very little outlets for piling on pounds. Wimpey Bars were present, but most towns had no more than a couple at the most; they were a novelty. I only ever remember visiting one once as a child, and the cost of a pineapple milkshake to accompany the burger – 27p!!! – was enough to put my mother off treating me and my brother in such a lavish fashion ever again.
The sudden colonisation of the country by the burger-bar, something that seemed to happen from the second half of the 1980s onwards, is regularly blamed as the biggest cause of rising child obesity, and there's no denying the proliferation of such fast-food quick-fix solutions to the headache of being a weekend dad haven't helped. But the collapse of the old system when it comes to a daily dietary regime probably has more to answer for than the cure-all option of a Big Mac & Fries – specifically, the gradual abolition of the not-eating-between meals rule. At what point did huge bags containing half-a-dozen packets of crisps become an obligatory addition to the family shopping-list? Ditto huge bags containing two-dozen miniature Mars Bars? Possibly when Pound Shops appeared and made one-time luxuries available as regular snacks to fill the gap between mealtimes. Many of today's parents had their childhood eating habits governed by the old order, yet unlike their own parents, have decided not to impose it on the next generation, instead turning their kitchen cupboards into an all-you-can-eat buffet. They no doubt blame McDonald's or blame the electronic gadgets that keep their kids indoors even when the weather is ideal for playing-out. But they should really look a little closer to home. I am not a parent, but I am an uncle, and I've observed the effects of this slackness on my eight-year-old niece over the past eighteen months.
I myself had a couple of years during puberty when I morphed into a 'Row-land' character on account of my parents buying a sandwich shop and routinely dishing-out various sweet 'n' savoury treats for free on a daily basis; had this situation not arisen, the chances are I would never have experienced what is now a commonplace childhood metamorphosis. This unprecedented suspension of the dictum of not eating between meals did enough damage to me, yet within a decade it appeared to have disappeared from the majority of households across the country; and it can never be reinstated. To deprive kids in the 21st century of their between-meal snacks would probably constitute child abuse.
One-hundred years ago it was possible to tell who was rich and who was poor because the well-fed wealthy were usually on the rosy-cheeked, chubby side and those less fortunate were more often than not wan-faced and stick-thin. Now the situation is reversed. Food that is deemed good for you today – sugar-free, organic and deprived of artificial colouring – is expensive and therefore only within the budget of the relatively affluent, whereas food that is deemed bad for you – loaded with sugar, salt and all those other tasty ingredients that clog-up arteries – are all that the poor can afford, or all they are allowed to afford. Those who emanate from the more poverty-stricken corners of the UK are now usually identifiable by the width of their waists. The poor have inherited the girth.