Littler Britain or Scottish Blood, English Heart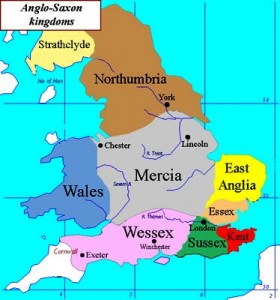 As you're no doubt aware, just over two weeks from now the people who make up one-quarter of the four constituent countries of the United Kingdom will vote to decide whether or not they want to end a three centuries-old partnership they entered into with shrewd economic foresight in 1707. Scotland didn't unite with England because – unlike Wales or Ireland – a megalomaniac monarch with anger issues conquered it; Scotland was smart enough to recognise the financial benefits of such a union at a time when its own finances were far from healthy, and the deal that brought hundreds of years of mutual antipathy to end was sealed by Queen Anne, an English sovereign from a Scottish royal dynasty, the Stuarts. Thanks to the willingness of the Scots to link arms with the Auld Enemy, the collective inhabitants of this violent, quirky, bloodthirsty, ill-tempered and eccentric island were truly united for the first time since the Roman occupation; and what came out of that union surpassed even the global reach of our former Latin subjugators. When Ireland was officially absorbed into the club just under a hundred years later, the journey from Great Britain to the United Kingdom was complete.
Yet, as both Yes and No Scots go to the polls, the other three nations of the British Isles have no say in the potential dissolution of a four-way marriage that has, on occasion, served them very well indeed. Perhaps it's an ironic legacy of a time when the British came together under one banner to lord it over a larger portion of the planet than any country in history that a certain inherited arrogance has convinced some residents of these islands that their clamour for self-determination is on a par with similar demands made by former Soviet satellite states across eastern Europe during the past twenty-five years. For all its innumerable faults, a system of rule from Westminster is not really comparable with the manner in which the Kremlin controlled the vast landmass of the USSR. Yes, the long-overdue introduction of devolution at the end of the 20th century addressed some of the more understandable grievances aired by the Scots, Welsh and Northern Irish, but has devolution not only weakened the Union but the country as a whole?
Around fifteen years ago, demands for regional assemblies followed in the wake of devolution in Scotland, Wales and Northern Ireland, even though half-hearted attempts to instigate greater autonomy in the English regions floundered as, when faced with the prospect of yet another layer of bureaucracy added onto an already-overcrowded bureaucratic system of government, most quickly lost interest. A not dissimilar lack of enthusiasm has greeted the plans to establish new local television services independent from the BBC and ITV; the commercial disaster of the much-hyped London Live, which was supposed to be a trailblazer for this scheme, has surely highlighted that even parochialism has its limits. After all, if the two main television broadcasters in this country, with all their resources, can't produce anything better than the Partridge-esque regional magazine shows transmitted every weekday between 6.00-7.00 why should anyone be interested in a cheaper alternative simply because it's Local TV for Local People?
However, the success of the Scots in finally achieving a referendum has served to give weight to an even more surreal clamour for independence amongst some natives of England that often brings to mind the classic Ealing comedy, 'Passport to Pimlico'. The Cornish have long claimed status as an independent nation and are continuing to portray themselves as the British equivalents of the Catalans as events north of the Border career towards their conclusion. But how far does one take this kind of nationalism? Once actual countries in Britain edge towards separation from the rest, do regions follow suit? Do cities become nation states of the kind that once littered central Europe during the era of the Holy Roman Empire or before the 19th century unification of both Germany and Italy? At what point is enough enough? Will we have the People's Republic of Salford or Southend? Will we have housing estates or streets establishing their own government, currency, judiciary, police force? Or will Britain simply revert to what it was in Anglo-Saxon times, with a series of separate kingdoms, each jealously guarding their own corner of the country and aiming arrows at their nearest neighbours? Depends how far we go in encouraging and desiring division.
Traditional rivalries between nearby towns are played out on a weekly basis in football and rugby stadiums throughout the land, just as rivalries between counties – or at the more amateur level, villages – re-emerge every summer to the sound of leather-on-willow; but however unavoidable and (some might say) illogical pride in one's hometown or home county can be, it's an essentially harmless and largely jocular competitiveness that takes place between one small part of the nation and another, with these feelings of enmity no more malicious than the kind that used to be seen regularly on 'It's a Knockout'. Somebody in Manchester who hates The Beatles doesn't hate them because they came from Liverpool anymore than somebody in Liverpool who hates The Stone Roses hates them because they came from Manchester. Some things are above parochial rivalries and transcend them.
Just as the United Kingdom is not a huge, sprawling continent that cannot realistically expect to contain a dazzling myriad of different languages, religions and cultures without problems, the United Kingdom is not the British Empire; Scotland is not Ceylon anymore than Wales is the West Indies or Ulster is Aden. We are a family of siblings sharing the same house, not distant cousins renting holiday homes from an avaricious landlord. We exhibit the same niggling annoyance with our brother and sister nations as can be seen within any clan, yet beneath the surface there is a common history and, dare I say it, love that bonds us whether we like to admit it or not. We all inhabit a tiny island or (in the case of Northern Ireland) part of an even tinier neighbouring island, yet when not seeking to conquer and kill each other, have mixed and mingled over the centuries to produce an astonishingly fruitful cultural legacy that has changed the world for the better.
The Union was the culmination of a long transformation from warring tribal kingdoms to the mature recognition of the sense in joining together; having done well out of that for 300 years, do we now gradually go into reverse and end up back where we were at the dawn of the previous millennium? I appreciate this is a divisive issue, but it must be fairly clear now that I actually love the idea of the UK, not necessarily a 'cool' admission to make, and not one that automatically means I'm in bed with David Cameron; besides, his feet will no doubt be cold and clammy. You can just tell. No, I love the diversity of the citizens of this country, whether native or immigrant; I love the distinctions between villages, towns, cities and counties; and I love our differences; but I equally love our similarities, everything that unites us, not just what divides us. And union wins hands down over division as far as I'm concerned. I agree it could be better, but I also believe it could be worse. I think it'd be a shame if we get divorced; but I don't have a say because I don't have a vote. And my paternal grandfather was a bloody Scotsman! Does that count for nothing, Mr Salmond?