What are these 'British values' that Nicky Morgan thinks should be instilled in toddlers in an 'age appropriate' manner?
We have a varied assortment to consider today. "Challenging negative attitudes and stereotypes."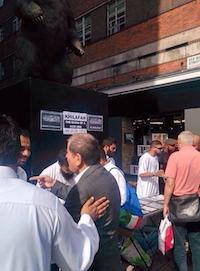 And on your left we have your caring sharing ISIS, the Islamic group that you thought were busy beheading Christians in dusty deserts – not a bit of it! They are fund raising in Oxford Street. Meet them, greet them, hug an ISIS fighter – you will soon be cured of your negative attitude…
This is what we call a 'diverse culture' children.
Tommy! Your little friend's Daddy is in prison in the US – so totally unfair, and British lawyers fought for 13 years to prevent him being extradited – and why not? After all, he was Egyptian and he came to England just because he was one of a group that opposed Sadat and one of them had killed Sadat – can you imagine? Terrible. Anyway, the British tax payers got together and put their hands in their pockets to support some very eminent lawyers for 13 long years to try to stop those nasty Americans getting their hands on him just because, well just because he sent press releases out claiming that Al-Queda was behind the Nairobi bombings – how could anybody think he was a terrorist? He's just like Abu Qatada, he read books, and the Guardian and everything – a fine Briton that we should be proud of.
Anyway Tommy, your friend's Mother had a terrible time after that. Sure, the British taxpayers gave her a fine house in Maida Vale to live in, and we paid the rent and everything – just as well – it would have cost over a million pounds to buy that house, I'm told – but the Guardian's Foreign editor was soon on the case, writing books about how traumatised Mummy Ragaa was after the police put her and her five children in a hotel just because they wanted to search her house…
Ragaa, hurriedly putting on her black hijab and abaya, was told to get into a bus with her five children, one of whom was a small baby. They were taken to a hotel where they stayed in their room for three or four days, without any information about why they were there, or how long it would be. She did not know how to phone her family in Egypt, and felt desperate and alone.
Still, they were soon back home again, and the five little children thrived – the BBC did their best to help, publicising little Abdel-Majed seminal rapping masterpiece 'Keeping them Kaffirs Living in fear' on BBC1.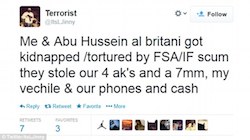 It wasn't long before little Abdel-Majed became disillusioned with life in affluent London courtesy of the tax payer, so he took his iPad and his iPhone and his mate Abu Hussein – and his four AK47s and a 7mm gun off to sunny Syria which was a big mistake, because those nasty terrorists aren't like good British people – and they stole the lot! 
Now Abdel-Majed is famous, and his brothers and sisters can turn on their iPads and iPhones and see his Twitter message –"Chilllin' with my homie or what's left of him".
That's Abdel-Majed – the one holding the severed head on your Twitter feed yesterday. He'll be back home soon – he tweeted "The lions are coming for you filthy kuffs [infidels] . . . beheadings in your own backyard soon. "He also posted a photograph of other severed heads displayed on railings in the square with the caption: "It's beautiful when you see Allah's law's implemented".
He'll be back home with his traumatised brothers and sisters in leafy Maida Vale, reading the Guardian, living in a million pound council house, all paid for by the British people.
British values are really something to aspire to, aren't they children?
So you grow up and pay your taxes like good little people – it's your moral duty.
Somebody is crazy round here – now where did I put that envelope – I have to pay my British taxes today.
Oh, it gets better! I'm speechless now….http://www.breitbart.com/Breitbart-London/2014/08/13/BBC-Tries-To-Interview-Jihadi-About-Jumanji
Robert the Biker


August 14, 2014 at 12:13 pm

Furor Teutonicus


August 14, 2014 at 12:31 pm

Robert the Biker


August 14, 2014 at 12:49 pm

Mudplugger


August 14, 2014 at 5:25 pm

EyesWideShut


August 14, 2014 at 8:08 pm

Mudplugger


August 14, 2014 at 9:38 pm

EyesWideShut


August 14, 2014 at 9:48 pm

Robert the Biker


August 14, 2014 at 2:45 pm

EyesWideShut


August 14, 2014 at 8:16 pm

EyesWideShut


August 14, 2014 at 8:55 pm

EyesWideShut


August 14, 2014 at 10:13 pm

EyesWideShut


August 14, 2014 at 11:28 pm

Woman on a Raft


August 14, 2014 at 9:41 pm

The Blocked Dwarf


August 14, 2014 at 7:28 pm

The Blocked Dwarf


August 14, 2014 at 7:32 pm

Mudplugger


August 14, 2014 at 9:36 pm

EyesWideShut


August 14, 2014 at 9:51 pm

Mudplugger


August 14, 2014 at 9:57 pm

EyesWideShut


August 14, 2014 at 10:31 pm

Wigner's Friend


August 15, 2014 at 7:53 am

EyesWideShut


August 15, 2014 at 2:58 am

sally stevens


August 15, 2014 at 3:53 am