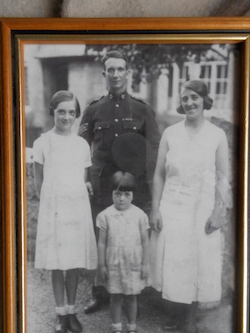 100 years ago today Britain entered a war in which Europe slaughtered its young men on an industrial scale. Two of the men who fought and thankfully survived were my grandfathers. My paternal grandfather fought with the Grenadier Guards. My maternal grandfather Walter Burke (pictured above, in the late 1920's when he was a territorial) was a soldier with a (or the) Manchester Regiment.
He must have been very young, and looked it, because his nickname was "Baby". I never knew him. He died when I was a baby. I know only a little about what happened to him. He was shot and wounded in an attack, and fell into a shell hole. The Germans came across bayoneting the wounded, and he survived by playing dead. Later on the day he was rescued when a counter attack retook the land. 
According to family legend, he was sent to Castle Howard to recuperate, where he and a daughter of a titled family who was serving as a nurse fell in love. But he was a working class lad and they were not permitted to marry. One small remarkable story of an "ordinary" man amongst so many. What horrors they both saw or encountered I cannot really imagine.          
This is my small tribute to those who served, fought, suffered and died. I do not have the proper words for it, so I will borrow some from a man who saw it at first hand, Major John McCrea.
In Flanders fields the poppies blow
Between the crosses, row on row,
That mark our place; and in the sky
The larks, still bravely singing, fly
Scarce heard amid the guns below.
We are the Dead. Short days ago
We lived, felt dawn, saw sunset glow,
Loved and were loved, and now we lie
In Flanders fields.
Take up our quarrel with the foe:
To you from failing hands we throw
The torch; be yours to hold it high.
If ye break faith with us who die
We shall not sleep, though poppies grow
In Flanders fields.
Gildas the Monk