Was Blackmail the Reason the BBC Capitulated?
Alice, the daughter of a tobacconist, has been dating Frank, a young up and coming detective at Scotland Yard. After successfully ditching Frank one evening on a date, Alice instead meets up with a young male artist who she really wanted to be with that evening. After going up to the artist's studio apartment, he tried to rape her. She ended up stabbing him to death in self defence, after which she tried to wipe out any evidence of being in his apartment. Frank ends up being one of the detectives assigned to the case, and he recognises the dead man as the person Alice sneaked off with after she ditched him the night before. Frank decides to hide evidence that implicates Alice, from his fellow detectives. He confronts Alice with it to see what she says. But before she can answer, a man named Tracy implies that he knows what happens and blackmails the pair in return for 

his

 silence. Eventually, Frank learns that Tracy is a wanted criminal. So Frank comes up with the idea of pinning the murder on Tracy. The film's questions become whether such a move will actually work, and if it does, whether Alice's conscience will let her allow an innocent man to be framed.

-0-0-0-0-0-0-0-0-0-0–0-0-0-0-0-
The 1929 film Blackmail is intriguing on many levels – not least it's sociological implications. A Scotland Yard detective falsifying evidence, hiding a crime and then seeking to frame a "known criminal" for his own personal reasons. So much for the notions of an "old order" wherein Dixon of Dock Green always did his duty.
However, perhaps the most illuminating thing about the movie is the dramatic manner in which it deals with the whole issue of sexual assault. To read the UK news media of the 21st Century, one seems to be being told that until October 2012, women would be assaulted in plain sight and be powerless to resist – indeed these women might not even realise they were being assaulted, so hypnotised by Male Hegemony were they – and even if they did protest, nobody would pay their feeble cries of resistance the slightest heed. Enough of the irony. I am told irony never works on the internet. Perhaps this explains the sometimes simple-minded nature of many of the arguments one finds on the medium. Be that as it may, BLACKMAIL is on my mind.
Back in July 2013, I thought I'd discovered a Savile Revelation:
More than one commentator has assured me that the Fiona we watched on Exposure was the daughter of a senior BBC executive.
At the time, I looked back into all the many news media that I could find, and I could see no mention that any of the Duncroft girls had a father who was a senior producer at the BBC. I thought this was something new. But, I was wrong. It had appeared in a mischievous piece penned by Andrew O'Hagan in November 2012, about how the BBC had always sheltered paedophiles – at least I think that's what he was on about – he's one of those very clever "literary" folk, as demonstrated by the site hosting his article.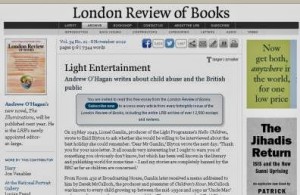 Did Duncroft, a well-equipped approved school for "intelligent emotionally disturbed girls" in leafy Surrey, really require the patronage of "Uncle" Jimmy Savile?' Dan Davies asks in his unpublished book about Savile: 

Many of the 25 or so girls in its care at any one time came from comfortable backgrounds and 

included the daughters of ambassadors and BBC producers.
Some folks were better at noticing things than me. India Knight noticed, but nobody seemed very interested.
She only got one retweet.

The newspapers became full of stories about BBC Paedophile Rings but nowhere was there any suggestion that the girls at Duncroft included the daughters of BBC Producers. The ITV programme that officially lay at the very heart of the entire media cavorting, 'Exposure', never mentioned this fact either, even though it included interviews with former BBC producers and a long interview with at least one woman whose father has since been pin-pointed as the producer of the long-running BBC show, The Navy Lark.
A few Blogposts ago I suggested that the BBC management were actually part of the media/legal process in promoting the Savile Allegations to pass unchallenged. However a doubt about their motivation still rankled within me about quite why the Corporation had bent itself to the will of ACPO/NSPCC to the degree it had. The BBC's position as part of "the Establishment" and their wish to comply with the will of the UK judicial bodies was a fairly good reason, but on the other hand they seemed to have a lot to lose too. Their willingness to coast along with the stories about juvenile sexual abuse in their dressing-rooms perhaps laid them open to possible legal claims for damages, but of course the position adopted by Entwistle and Patten was that these events were engendered by rogue Light Entertainers. There might be some vicarious liability, but no moral liability.
Imagine that the "BBC executives" of today were given to understand by the "investigating authorities" that the juveniles assaulted in those dressing-rooms were actually the daughters of "BBC executives" of yesterday however?
Nothing much more needed to be said did it?
The other allegations were bad enough but imagine a BBC hierarchy who were made aware that the girl's own fathers might be involved too and those fathers were BBC Producers… essentially Executive managers of the BBC itself. How would the great British public respond to that revelation? It's easy to see that a deal might be brokered – an unspoken one of course. If the BBC agreed not to defend their Light Entertainers, then the "Powers-that-be" would leave the 'BBC Producers' out of the story? Was this the Blackmail that would allow Jimmy Savile to be thrown to the Fleet Street Allegators? The price was Silence on both sides?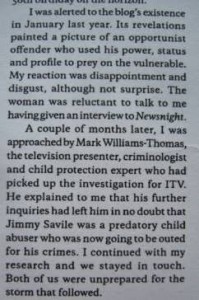 There never was any mention of this aspect that linked the 'powerless' girls at Duncroft to the BBC in such a monumentally direct way. Even Exposure NEVER mentioned it and the massed media made no use of this aspect of the story either.
However, it was a known fact wasn't it? Dan Davies knew about and, through him, so did Andrew O'Hagan and anyone else who knew Dan must have known mustn't they? That list certainly included Mark Williams-Thomas.
It seems quite likely that it was in fact Mark Williams-Thomas who had told Dan Davies about this angle, at their meeting in the March or April of 2012, as revealed by Dan himself in his Esquire article of 2013.
How did Mark Williams-Thomas know? Well, he would have been told by Meiron Jones. In the Pollard Report, the fact that at least one BBC producer was in fact the father of one of the Duncroftees
was actually redacted
from that earlier Newsnight research. Why?

But, why did Meirion Jones never raise the matter of the Duncroft girls having fathers who were actually BBC Producers? He has been primarily responsible for reducing the BBC to a rump of ACPO/NSPCC appeasers. Why did he not want to twist the knife even further into the gut of his hated journalistic parent?
What about Liz MacKean? Unlike Meirion she no longer relied on the BBC for her daily bread after resigning in the fall-out. She could not only have wreaked further revenge on the Corporation but quite possibly got paid for doing so, by the same Channel that financed her programme about another dead bloke from the 1970's. But not a word from Liz about this amazing fact that the Duncroft victim[s] had father[s] who were BBC Producers!!
If not those two, what about that Freelance favourite Miles Goslett? He was everywhere. Ruth, my informant from a while back sent me a snippet from one of her emails from when Miles was hunting down the story as well, that emphasises what an eager beaver he was.
Miles (bloody) Goslett phoned AGAIN this morning and although I sent him a blunt email saying NO! He asked for your telephone number, I did not give it to him but I have agreed that if he has a paper to sell this story 'outing Newsnight' I am NOT prepared to go on record saying anything… I told Goslett that NO ONE will ratify his article and to drop it and not to worry as Journalists are around Duncroft girls, like bees 'round a honey pot. I do hope no one talks to anyone else. I know of, The Independent, The Sun, Sky News and Newsweek. to name but a few!! Goslett said this morning that he is in contact with ITV and that he knows the transmission date….. I did not say anything to him so I don't know. He also said that he had helped Mark with his programme and felt a bit agreived as he has been "dropped like a stone and fed dissinformation". I told him not to worry as he is not the first person I have heard this story from!! … I do think he is fishing and he asked me to tell MWT that he is not fishing! I just don't know…..agh! Goslett has phoned a further THREE times today and witheld his number. He has also left a message on my answerphone asking me to contact him and left a mobile phone number. He then left another message asking if I got his email that he sent at 2.30pm. I will paste it here.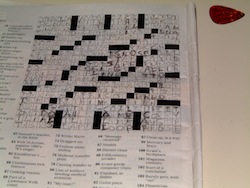 So, there you have it… EVERYONE KNEW but NOBODY SAID. Why was that? Well it's fairly obvious when you think about it. It was all about News Management. If there was some evidence that BBC producers had abused or permitted abuse of their own daughters that would be catastrophic but everyone involved in this scam (except the BBC) knew full well that there was no such evidence. So in fact, the revelation that the Duncroft girls had fathers who were a BBC producers would work diametrically against the story.
If the British Public were made aware that these supposedly under-privileged and powerless young women were in fact the scion of powerful parents who were employed AT the BBC then it would completely undermine the over-arching theme of Elite Power exploiting the weak under-class.
An approach that is totally at odds with the evidence in the Pollard Appendices:
… many of the girls were from the upper echelons…
So this was never mentioned, not by anyone, except an unthinking Andrew O'Hagan, but he made sure to never mention it again. By the time the dopes at the BBC realised that the whole BBC Paedo-Producer angle was just a huge bluff, it was of course all far too late. It already was Apocalypse Then.
Moor Larkin
Anna Raccoon


July 29, 2014 at 4:08 pm

Anna Raccoon


July 29, 2014 at 4:05 pm

Jonathan Mason


July 29, 2014 at 5:26 pm

Ian B


July 29, 2014 at 5:03 pm

Jonathan Mason


July 29, 2014 at 5:43 pm

Ian B


July 30, 2014 at 8:46 am

Jonathan Mason


August 1, 2014 at 6:50 am

eric hardcastle


August 1, 2014 at 6:38 pm

eric hardcastle


August 1, 2014 at 6:45 pm

Anna Raccoon


August 25, 2014 at 12:27 pm