The Wolf in Sheikh's Clothing.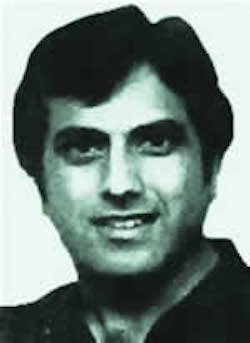 The Fake Sheikh unmasked! http://web.archive.org/web/20060407110856/
http://www.georgegalloway.com/fakesheikhthepictures.html
There is a fine line between the use of subterfuge and the act of entrapment in the journalistic world. It is the thin ice at the edge of the 'juicy story' pond – one false step, two much weight in one direction, and you get dumped in the icy water of 'spending more time with your family'.
Mazher Mahmood, once hailed by one of his employers as a 'senior investigative reporter', will be lingering over his coffee and croissants this morning, his fake jellaba hanging in the hallway; the only thing that lies ahead of him this fine morning is a lengthy session with his solicitor – his latest antics may well end in perjury charges.
I have not had a lot of sympathy with the political bunfight that has been the left wing's attempt to punish the Murdoch press for changing its political allegiance – the so called 'hacking scandal'. Too many fine old school journalists have been hung out to dry on lengthy and demoralising police bail; mortgages have gone unpaid, marriages disintegrated under the strain – and their seats taken by young regional journalists who only know how to regurgitate a press release. We have been left with a despicable media that is mistrusted.
All over a practice that I have always felt instinctively they would neither have disclosed to their superiors – a journalist's alleged 'contacts' are one of the main reasons they are employed by the main stream media; perfecting their prose, and spelling is the job of the sub-editors – nor would they have seen it as any more of a crime than many of us would should we be told by a friend that the cash machine in the petrol station would disgorge a full tank of petrol if fed a defunct oyster card instead of your debit card; we would know it was theft, but the element of 'more fool them' for allowing it to occur would soon overtake the most honest citizen.
Mazher Mahmood's antics were different – and I am heartily glad that he has been stopped in his tracks by a perspicuous judge. It should have happened a long time ago; there have been warnings aplenty.
Mazher grew up in a journalistic household; he was the son of two prominent journalists – is it relevant that they practised their trade in their native Pakistan? I don't know. Perhaps when you have to untangle the corruption that is Pakistani political shenanigans, there is an element of 'the end justifies the means'.
Birmingham-born Mahmood, 44, says that if he wasn't a journalist he would perhaps be in the police force, but that with both parents working as journalists he never imagined doing anything else.
Certainly Mazher employed tactics new to the British school of journalism. He didn't wait for information that something newsworthy had occurred and dutifully report it; he dangled ever juicier carrots in front of those who might be corrupt – or debatably – corruptible, and reported on the results. 
It was that element of 'might be corruptible' that has led him to stand accused off 'entrapment' today.
The trial of the singer and TV entertainer Tulisa Contostavlos over drugs allegations has dramatically collapsed after the judge ruled that the Sun investigative reporter whose evidence was central to the case had seemingly lied on oath.

In scathing comments with potentially significant repercussions for Mazher Mahmood, the veteran undercover reporter often known as the "fake sheikh", Judge Alistair McCreath said he believed Mahmood had lied in the witness stand.

Mahmood has since been suspended by his employers.
Despite Mazher's claims of '260 successful criminal prosecutions' as a result of his methods – a claim refuted by veteran reporter Paddy French,  the solicitors employed by the Leveson inquiry could only track down 94 – there has been a trail of expensive 'unsuccessful prosecutions' along with some damaging 'sideswipes' by the judges involved. 
Mazher's career started by flogging a story to the News of the World exposing some family friends who were selling pirate videos; he moved onto flogging tittle-tattle to other Sunday tabloids, eventually gaining a foothold at the Sunday Times.
Whilst at the Sunday Times, then under the news editorship of Roy Greenslade, he covered up an error in a story by amending a computer file, purportedly to show that the error originated with the news agency supplying the copy. Had he not resigned, he would have been dismissed for 'gross impropriety' – it would be fair to say that Roy Greenslade, an old school journalist himself, has never missed an opportunity since to expose the 'Fake Sheikh's' questionable cavorting.
Murdoch was loyal to the man who fed his audience's appetite for salacious gossip of 'B' list celebrities. He sent him across the Wapping highway to the News of the World, when that closed, then onto The Sun on Sunday. He had a budget that allowed him to generously wine and dine celebrities and minor aristocracy who were clinging to the edges of supporting their 'jet-set' lifestyle, dangling promises of untold riches in front of them as he portrayed himself as a wealthy Arab about to transport them to financial Nirvana.
Would the Earl of Hardwicke have bought Cocaine the night Mazher took him to the Savoy Hotel to 'sign a £100,000 deal' with his struggling Scooter franchise without Mazher's encouragement? The Jury didn't think so:
They pondered over their verdict for seven hours and when they eventually returned last Wednesday they handed the judge a note: "Had we been allowed to take the extreme provocation into account we would undoubtedly have reached a different verdict."

The judge told them: "Were it not for that elaborate sting you would not, I accept, have committed these particular offences."

He then added: "Journalists in general, and those involved in this case in particular, should carefully examine and consider their approach to investigations where it involves no police participation, or indeed until after the trap has been sprung and the story reported in the press."
The actor John Allford, was also jailed for supply cocaine to the Fake Sheikh; in that case the Judge said:
"You were undoubtedly motivated by the desire to earn even more money than you were earning as a successful actor, believing you would be opening a nightclub in Dubai.

"There was a strong element of entrapment but you willingly went along with the idea. You had plenty of opportunity when you left to fetch these drugs to distance yourself from it."
Mazher didn't just target the 'link-bait' celebrities who were prepared to buy cocaine for him and portray them as 'drug dealers' to a salivating audience on Sunday morning; he worked with a bizarre Kosovan parking attendant with a history of mental illness, Florim Gashi, who was later deported from Britain, to set up some of his most famous 'stings'. Amongst them the 'fake kidnap' of Victoria Beckham – for which five men spent many months in jail before the prosecution collapsed over the 'unreliability of the main witness': 
The judge said he was minded to refer the whole matter to the Attorney General "to consider the temptations that money being offered in return for stories concerning celebrities give rise to".
Later Gashi admitted "I am responsible for innocent people going to jail. I tricked them, and I'm ashamed. It's time to tell the truth." He says he persuaded people, usually immigrants from his own Albanian background engaged in petty crime, to commit high-profile crimes that would be newsworthy enough to please Mahmood and his NoW bosses.
We have policemen who want to be journalists – and journalists who want to be policemen.
What we need are policemen who investigate genuine crimes and journalists who report factual news.
The jellaba clad 'Fake Sheikh' had been 'hiding in plain sight' all these years; engendering an atmosphere in the media that it didn't matter how you got your story, nor whether it was factually true – so long as it sold papers. When they ran out of 'B' list celebrities that could be entrapped into producing a story – they started on dead celebrities.
Eventually we had the news dominated by a failed policeman – Mark Williams-Thomas – lauded as an 'investigative journalist' for 'having the courage' to libel a dead 'B' list celebrity as a paedophile.
Untold millions have been expended on the Leveson Inquiry, the Savile inquiries, the failed prosecutions. Now Tulisa Contostavlos' solicitors will go looking for damages – and every penny of this will be paid for by the British public one way or another.
Wapping's Augean Stables should have been cleared out years ago – starting with Mazher Mahmood. 
We deserve better.
Anna Raccoon


July 22, 2014 at 1:13 pm

Joe Public


July 23, 2014 at 11:39 am

erichardcastlte


July 22, 2014 at 12:30 pm

Fat Steve


July 22, 2014 at 3:13 pm

EyesWideShut


July 22, 2014 at 12:46 pm

Johnny Monroe


July 22, 2014 at 7:58 pm

Cascadian


July 23, 2014 at 4:01 am

Duncan Disorderly


July 22, 2014 at 3:13 pm

Engineer


July 22, 2014 at 10:22 pm

Jonathan Mason


July 22, 2014 at 11:59 pm

Engineer


July 23, 2014 at 12:37 pm

Jonathan Mason


July 23, 2014 at 11:58 pm