Busted! -The NSPCC and That Rolf Harris Video.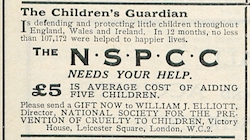 Kids can say 'No'!
Who'd have believed it?  Have you, as a figure of authority –  parent, teacher, relative – ever heard  of a child saying 'No'? When you want them to go to bed, eat their greens, stop persecuting their brother, sister, classmate? I'll leave that to you to decide.
The topic arises because this was the title of a video made in 1985 where Rolf Harris, in the vanguard of a cultural obsession, gave children advice on how to detect, repel and report child sex abusers.  I could have said 'molesters' but that was old talk about stranger danger.  This was new wave and cutting edge – the enemy within – family, friends and figures of authority.
Since Rolf has now, 29 years later, been convicted of various alleged similar offences himself, the issue of the video and its provenance has assumed a minor role of curiosity in terms of why he was allowed to do this, and why he might have done it in the first place, since his own career of alleged similar offending predated and straddled his campaign.
Unfortunately for the powers that be, this was not some kind of cottage industry by the Jekyll-and-Hyde we now know the former-national-immigrant-treasure to be, but a widely praised  and distributed educational package carrying the imprimatur of the NSPCC.  It was still in active circulation and being discussed and fondly remembered by 30 somethings on Mumsnet as recently as 2011. 
But since its existence was revealed at the trial (not  before the jury) the director, Jessica Skippon, has issued a legal warning to media outlets not to broadcast it without her express permission, whilst the NSPCC has distanced itself from any direct involvement.
The video has now assumed samizdat notoriety, almost as if it were child pornography.  The Guardian  did show some extracts, but these only cover abuse by older kids accompanied by what is clearly a scripted response by children, whose images are deliberately blurred for the purposes of the extracts, as if any kids happily taking part at that time might be 'child abuse victims' by default.
From the Guardian text it is clear this was an entrée to more insidious and prevalent familial dangers striking closer to home:
"In the wake of the court case, some details of the video are chilling: one filmed role play portrays a young girl being improperly touched by the father of her friend, an experience mirroring what the former friend of Harris's daughter, Bindi, recounted to the court."
So what was Rolf up to? Was he compelled to re-enact his own offences in the guise of a 'protector' to deter detection? 'Grooming' children in action? Expiating his sins? Or what?  
One possibility of course is that the similarity to the complainant's version of events could be a source mis-attribution 'false memory' but the question of the guilt or innocence of the octogenarian Mr Harris is not the subject of this piece.
What is puzzling is the way the NSPCC have pretended they had no organisational interest in the video. 
An NSPCC spokesperson said: "The film was made independently by Rolf Harris and a film company nearly 30 years ago. We did not commission it, fund it, make it or distribute it."
There have been claims that it was made by a charity called 'Childwatch'. The only charity with such a name in the UK was run by an evangelical Christian lady called Diane Core in Humberside. She set it up in November 1986 capitalising on Esther Rant Zen's Childwatch BBC specials in October 1986 which prefaced the setting up of ChildLine. These developments were a year after the Harris video and Diane Core was an anti-cult and occult campaigner who did much to fuel the satanic abuse panic. 
No, it seems that the Rolf Harris video was scripted by two writers – Anita Bennett and Carolyn Okell-Jones. Okell- Jones was a social worker at the Tavistock Clinic and had previously worked for the NSPCC in senior positions.  The Tavistock Clinic, the psychotherapeutic centre in Hampstead had pioneered with Great Ormond St the new imported received wisdom on sexual abuse from North America in the early 80s. Okell-Jones had in fact been the primary importer.  She had gone to the USA in the late 1970s with a colleague to report on the NSPCCs 'reparenting' project – a failing enterprise which had attempted to use psychobabble and coercion to re-educate failing mothers.  When she arrived she discovered that physical abuse and neglect were passé – it was sexual abuse that was allegedly rife and the cause of societal ills.
The American experts were invited to England and worked with the NSPCC and their associates. Soon dire warnings of it being a massive hidden problem began to materialise. It wasn't that the subject was unknown to people – it was simply marginalised as  molesting, interfering and nuisance crimes. Underage teen sex was seen as a moral choice – right or wrong according to view. Incest, meanwhile, was thought to be rare, and mostly confined to the lower orders, often of low intelligence and moral scruple, and the upper crust – who might be likewise, though there were fewer of them.
All this would change as the concept became homogenised and broadened with the prevalence and dangers as a problem not only hidden from the world, but often hidden from the consciousness of the victims, became promulgated.
Rolf's video package was aimed at the 5-8 year olds thought to be most vulnerable. As well as the scripted video, there was a copy of the Tavistock edited text from 1984 – 'Sexual Abuse in the Family' – and information from Kidscape, the sexual abuse charity founded by Canadian psychologist Michelle Elliot.  
And on the front of the package it said 'Produced in association with the NSPCC'. It's clear it was not just a passing collaboration with the child abuse professionals – for in 1986 he fronted a follow-up video aimed at teachers and schools in setting up child protection processes. (This appears to have Tavistock but not  NSPCC input).
So what, one may ask, was there for the NSPCC to be ashamed of? 
Why is this trailblazing enterprise educational package now shrouded in secrecy and misinformation?  One could say, with the benefit of hindsight it makes the NSPCC and the experts associated with the videos look a little naïve – and heaven forbid that they might, as  many others have been in Yewtree sagas, be tainted by association.  
But I fear, on past form there's more to  it than that.  Because for all its proselytising as an authority on distrusting other people in authority, the NSPCC has itself an unhappy history of not merely overlooking child abuse, but in distorting and creating it where none exists, and at no time was its dominion over the issue greater and more pernicious than in the 1980s in relation to sexual abuse. 
The fruits of that legacy have permeated the entire criminal justice system and led to the age of 'Savilisation'.  And the NSPCC now, as then, has still not been held to account.
In a subsequent article the role of the NSPCC in spreading satanic abuse fears, hi-jacking social work and evading criticism will be explored.
Margaret Jervis is a legal and social researcher and consultant with Chris Saltrese Solicitors. She was formerly a specialist journalist in social work and social policy who has written extensively about the proliferation of false allegations of abuse through systemic flaws in the child protection and criminal justice systems.
Margaret Jervis


July 2, 2014 at 11:26 am

Peter Raite


July 2, 2014 at 11:50 am

Margaret Jervis


July 2, 2014 at 11:36 am

Frankie


July 2, 2014 at 1:21 pm

Lucozade


July 3, 2014 at 4:15 pm

Margaret Jervis


July 2, 2014 at 11:39 am

GildasTheMonk


July 2, 2014 at 7:44 pm

Margaret Jervis


July 3, 2014 at 10:20 pm

Jonathan Mason


July 2, 2014 at 4:02 pm

Little Black Sambo


July 4, 2014 at 12:29 pm

Anna Raccoon


July 4, 2014 at 12:41 pm

Michael Massey


July 2, 2014 at 8:08 pm

Ian B


July 2, 2014 at 6:13 pm

Rightwinggit


July 3, 2014 at 8:19 am

Woman on a Raft


July 3, 2014 at 9:34 am

Ian B


July 2, 2014 at 7:23 pm

Bandini


July 3, 2014 at 4:14 pm

Peter Raite


July 3, 2014 at 1:19 pm

Jonathan Mason


July 3, 2014 at 3:05 pm

Jonathan Mason


July 3, 2014 at 3:16 pm

Jonathan Mason


July 3, 2014 at 4:59 pm

erichardcastle


July 3, 2014 at 5:08 am

Jonathan Mason


July 3, 2014 at 5:19 am

Mrs Grimble


July 3, 2014 at 9:00 am

Peter Raite


July 3, 2014 at 10:54 am

IlovetheBBC


July 7, 2014 at 6:51 am

Anna Raccoon


July 7, 2014 at 7:00 am

Furor Teutonicus


July 3, 2014 at 5:22 pm

Daisy Ray


July 3, 2014 at 12:50 pm

hugh fowler


July 3, 2014 at 7:21 pm

Duncan Disorderly


July 3, 2014 at 8:18 pm

Mrs Grimble


July 3, 2014 at 8:35 pm

Johnny Monroe


July 3, 2014 at 8:57 pm

Mrs Grimble


July 3, 2014 at 9:10 pm

Peter Raite


July 3, 2014 at 9:58 pm

Margaret Jervis


July 3, 2014 at 10:16 pm

hugh fowler


July 4, 2014 at 4:03 am

Peter Raite


July 4, 2014 at 9:38 am

Margaret Jervis


July 4, 2014 at 12:14 am

Fat Steve


July 4, 2014 at 9:41 am

Anna Raccoon


July 4, 2014 at 1:41 pm

Frankie


July 4, 2014 at 10:25 pm

Peter Raite


July 4, 2014 at 11:35 pm

hugh fowler


July 5, 2014 at 12:19 am

Ian B


July 5, 2014 at 5:10 am

sally stevens


July 5, 2014 at 4:19 pm

Ian B


July 5, 2014 at 4:25 pm

Jonathan Mason


July 5, 2014 at 4:41 pm

Peter Raite


July 5, 2014 at 5:19 pm

Jonathan Mason


July 5, 2014 at 6:06 pm

Ian B


July 5, 2014 at 7:31 pm

sally stevens


July 6, 2014 at 7:59 pm

Jonathan Mason


July 6, 2014 at 10:11 pm

Mr Ecks


July 5, 2014 at 11:08 am

Mr Ecks


July 4, 2014 at 6:42 pm

Ian B


July 4, 2014 at 7:16 pm

Margaret Jervis


July 4, 2014 at 7:22 pm

Ian B


July 4, 2014 at 9:31 pm

Margaret Jervis


July 4, 2014 at 9:51 pm

Ian B


July 5, 2014 at 4:20 pm

Margaret Jervis


July 5, 2014 at 4:47 pm

Ian B


July 5, 2014 at 5:14 pm

Mr Ecks


July 5, 2014 at 5:18 pm

Peter Raite


July 4, 2014 at 11:46 pm

IlovetheBBC


July 7, 2014 at 7:30 am

Margaret Jervis


July 4, 2014 at 10:36 pm

Margaret Jervis


July 4, 2014 at 10:50 pm

Margaret Jervis


July 4, 2014 at 10:57 pm

Margaret Jervis


July 4, 2014 at 10:57 pm

sally stevens


July 4, 2014 at 11:19 pm

Margaret Jervis


July 4, 2014 at 11:57 pm

Mr Ecks


July 5, 2014 at 11:12 am

Ian B


July 5, 2014 at 4:18 pm

sally stevens


July 5, 2014 at 7:10 pm

Ian B


July 6, 2014 at 12:09 am

sally stevens


July 6, 2014 at 4:11 pm

Jonathan Mason


July 6, 2014 at 5:26 pm

Jonathan Mason


July 6, 2014 at 5:54 pm

sally stevens


July 6, 2014 at 6:48 pm

Jonathan Mason


July 6, 2014 at 7:36 pm

sally stevens


July 6, 2014 at 6:46 pm

Jonathan Mason


July 6, 2014 at 7:17 pm

sally stevens


July 6, 2014 at 11:10 pm

Jonathan Mason


July 6, 2014 at 11:40 pm

Margaret Jervis


July 5, 2014 at 12:19 pm

Ian B


July 5, 2014 at 8:41 pm

Margaret Jervis


July 5, 2014 at 9:32 pm

Margaret Jervis


July 5, 2014 at 6:06 pm

Mrs Grimble


July 6, 2014 at 7:38 pm

Jonathan Mason


July 6, 2014 at 7:30 pm

Mr Ecks


July 6, 2014 at 10:50 pm

Frankie


July 7, 2014 at 12:25 am

sally stevens


July 7, 2014 at 12:30 am

Frankie


July 7, 2014 at 7:45 am

Frankie


July 7, 2014 at 12:54 am

IlovetheBBC


July 7, 2014 at 7:35 am

Mr Ecks


July 7, 2014 at 1:07 am

Carol42


July 7, 2014 at 1:25 am

Mr Ecks


July 7, 2014 at 1:35 am

Frankie


July 7, 2014 at 8:00 am

Frankie


July 7, 2014 at 7:52 am

Mr Ecks


July 7, 2014 at 9:43 am

Mr Ecks


July 7, 2014 at 10:09 am

Anna Raccoon


July 7, 2014 at 10:31 am

Anna Raccoon


July 6, 2014 at 11:37 pm