Several days ago, I received a Twitter message asking if an organisation could do a guest post on this blog. I'd never heard of the 'Kazuri community' – something to do with Kazakstan perhaps? Turns out it's not a description of a group of people, but a Swahili word meaning 'good, nice'. Which proves to be an interesting choice of name.
I followed the link.  It concerned a Portuguese lady, Mrs Caridade who the authors say 'is the victim of human trafficking and now subject to being sold as a sex object'. Now you might think that someone charged with sending out Twitter messages in the hope that they could do a guest blog on the subject of sex trafficking might do a teeniest bit of research before assuming that the Anna Raccoon blog would just host their piece without looking into it – debunking sex trafficking claims becoming something of a speciality round these parts.
Sending a woman with my black sense of humour a link to a piece telling me that I could save the Portuguese Mrs Caridade from being sold as a 'sex object' by sending them £20 which would result in 10 Portuguese Tarts being sent to my front door was just asking for trouble….
I read the piece again. It seems Mrs Caridade arrived in London six months ago. Her 'traffickers' had thoughtfully 'trafficked' her along with her 28 year old son, who has Down's syndrome, her 15 year old daughter who is now eight months pregnant and another 19 year old who has at least found a job in a supermarket. She was 'promised' a job in catering, but has only found a job 'cleaning'. 
She threw her 'sex object' self on the mercy of Brent Council. Along with the rest of her 'Special Needs' family. According to the article, Brent council are the villains in the piece:
The London Borough of Brent which has statutory responsibility for this vulnerable family, with many diverse needs, has done all that it can to exclude, alienate and force them to return to Portugal, by systematically neglecting their basic needs for the past five months. Brent has jeopardised their health by forcing them to live in an unhygienic environment due to low income, ignoring the basic needs of the disabled and thus creating a hostile environment for a 15 year old pregnant child.
Brent then made matters worse by – the Bastards! – offering to pay the family's fare to go back to Portugal.
To further make matters worse, Kathryn Sleigh the social worker assigned to this case has put aside all of the above, and has instead offered to pay for the family return to Portugal and falsely offering help to re-house them in Portugal.
Did you ever hear of such a thing? Inhumane, I tell you. But hang on a minute; that Tweet I got, didn't it say it was from something called @KazuriHomes? Why would a housing charity be begging for funds to house this woman and lambasting Brent Council for not doing so – why didn't they put her in one of their houses?
Kazuri Properties manages, owns and rents on long term leases properties in and around London. 
Perhaps they've run out of money? Who funds them? 
Over to the Charity Commission site we went. No trace of a charity called Kazuri. Odd, perhaps I need to pick up their Charity Registered Number from somewhere? More googling. Nope, they are not a Charity; they are a 'Social Lettings Agency' regulated by the Property Ombudsman and achieved Community Interest Company designation in May 2012. If you send them £20 you get a free 'Kazuri canvas tote'…. they are not actually doing anything 'wrong' as such by appealing for donations, they are, after all, giving you something in return – 10 Portuguese Tarts for instance. 
It had sparked my interest though. Who was behind this 'social lettings agency'?
Her name is Farah Damji. She is the daughter of Ugandan multi-millionaire property tycoon Amir Damji. She's the niece of Yasmin Alibhai-Brown. And the longer you look at her, the better she gets…
She has written an autobiography, naturally, detailing her life of incest, rape and kidnapping; allegations of an alcoholic father and a mother incapable of love: of pimping – Damji was once a madam for a New York escort agency – and of numerous sleazy, dangerous men, all named. There are drugs and drug-dealing, prisons and escapes – you wouldn't expect anything less from the head of an organisation now devoting itself to 'stopping the sex trafficking trade' – it is de rigueur these days. 
How much of this you can believe, we shall see. Farah has also been described as the 'most dangerous woman in London'.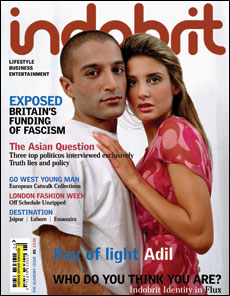 She first gained notoriety in New York during the 1990s, where she spent six months at Rikers Island prison for grand larceny and forgery. By 2002, she was back in London, living in chelsea with her two children.
She launched a magazine called 'Indobrit'. A 'lifestyle' magazine for wealthy Indians living in Britain. Within 12 months, it was in trouble – and she was ordered to pay £28,211.30 to the copyright owner of the 'Indobrit' magazine title. 
Naturally, Farah had a scheme to raise the £28,211.30. It backfired…
Damji was convicted at Blackfriars Crown Court last October of thefts totalling £50,000. She had stolen credit cards from friends and colleagues and gone on shopping sprees.

In January 2005 she posed as a journalist on the Daily Mail to obtain two platinum rings from Boodle & Dunthorne, which were not recovered. Once charged she tried to sabotage her trial by contacting a witness.
The Sabotage was interesting in its own right:
However, before the trial she telephoned the main prosecution witness, Ian Muir, pretending to be from the Crown Prosecution Service and told him that he did not need to attend court. Consequently, Mr Muir did not turn up and the trial had to be adjourned.
Damji also obtained the home phone number of Wayne Cranston-Morris, the prosecution barrister dealing with her case, and called him claiming to be a CPS secretary. She told him that a record of her previous convictions was "unreliable" and that her solicitors were "very good and therefore she was likely to win".
Damji also called the CPS pretending to be a secretary to David Blunkett, the then Home Secretary, saying that it was not in the public interest to go ahead with the trial.
She absconded from open prison, but was recaptured five days later and did finally finish her sentence. It didn't teach her anything though, because by July 2009 she was back in Blackfriars Crown Court pleading guilty to £17,000 pounds worth of Benefit fraud. She got another 15 months in prison.
After her release from jail she registered Kazuri Properties in March 2011 using the name Farah Dan. It is part of the Kazuri Group, which she was then claiming aimed to rehabilitate former prisoners. Jonathan Aitken was conned into chairing a meeting at the House of Commons to promote her intention of accessing millions of pounds put aside by Kenneth Clarke for projects to rehabilitate offenders. That didn't work. 
Now she's back; Kazuri Properties has been reborn as an organisation that seeks only to 'save the survivors of sex trafficking'. And Farah can't understand why Brent Council doesn't want to do business with her.
Quite what Mrs Caridade has done in life that justifies her landing up depending on Farah's brand of caritas is beyond me. I hope she takes up the offer from Brent Council to return to Portugal and out of your dangerous arms.
Perhaps it was one of your interns who was responsible for Tweeting me? Best persuade them to do a bit more research next time.
She would like the Anna Raccoon blog to publicise the matter. As you wish madam. As requested.
Joe Public


June 17, 2014 at 2:52 pm

Archie


June 20, 2014 at 9:03 am

Anna Raccoon


June 17, 2014 at 10:27 am

erichardcastle


June 17, 2014 at 11:33 am

Anna Raccoon


June 17, 2014 at 1:11 pm

Lucozade


June 17, 2014 at 8:25 pm

Lucozade


June 17, 2014 at 9:30 pm

Anna Raccoon


June 17, 2014 at 3:01 pm

Anna Raccoon


June 18, 2014 at 5:23 am

Woman on a Raft


June 18, 2014 at 8:36 am

erichardcastle


June 18, 2014 at 10:14 am

Anna Raccoon


June 17, 2014 at 4:24 pm

Jonathan Mason


June 18, 2014 at 5:01 pm

erichardcastle


June 18, 2014 at 10:18 am

Lucozade


June 18, 2014 at 9:48 pm

Ho Hum


June 18, 2014 at 10:30 pm

Anna Raccoon


June 19, 2014 at 4:45 am

GildasTheMonk


June 18, 2014 at 7:27 am

Ho Hum


June 18, 2014 at 7:49 am

Anna Raccoon


June 19, 2014 at 7:07 pm