The Comfort Eating Gender?
My first impression of Edinburgh was one of being overwhelmed by the sheer scale – not just of the buildings, but the people, particularly the women.
I live in a part of France where the average height for women is around 5′ 3″, and a hand spun waist is still de rigueur. At 6′ tall, and a healthy size 12 I'm used to feeling like Gulliver amongst the Lilliputians. Stepping out of Haymarket station, I had shrunk, suddenly I was a Lilliputian in a city of Gullivers. It was a curious feeling. The buildings towered over me, the women expanded exponentially, the cars were enormous.  It is quite illogical, on evolutionary grounds, that as the island becomes more crowded, so should the people and the vehicles have required more space….
There is some obesity in France, whisper it quietly, but it is said that the average 'obesity level' has increased in direct proportion to the number of citizens from other continents who have arrived. Certainly there is little evidence of the traditional Aquitainois mademoiselle losing her love of a lunch comprised of lettuce leaves and thus her minute waist. You would have to catch her sitting round a table with her work colleagues in a local restaurant to even see her eating – in Edinburgh, I found myself playing 'spot the one who isn't eating'.
They waddled towards me, teeth embedded in an entire baguette filled with half a Gloucester Old Spot, which apparently passes for a sandwich in these parts. Ten minutes before the next train? Time to shift a gargantuan slice of Pizza and a pint of frothy coffee! They clambered onto buses and unpacked the 'supplies' to sustain themselves before their stop two streets down the line. They sat on pigeon crap encrusted walls and munched Big Macs with grim determination. It was positively obsessive.
On the Sunday morning, I wandered out of my host's house in search of my treat for the week – real Sunday papers! A gentle stroll past the wonderful Georgian houses, and I arrived in a world of cobbled streets and a small fishing port. Bliss! Perhaps fifteen minutes from door to destination. I was so busy taking in the early morning scene that I lost my sense of direction, and finding the newsagent, I asked the best way to get back to 'x' street. 'There's a bus in about ten minutes he said'.  'No, I'm walking' – 'Are you? Well done you!' said he incredulously, 'it's a good half a mile from here'.
It is unfair to single out the ladies of Edinburgh; the Lancet has today published a report showing that 'British' girls are the fattest in Europe.  There are various reasons given for 'why'. They are mainly vulnerable victims of the evil food producers who put too much sugar in their nosh-bags, naturally; followed by 'it's the austerity cuts' – they can't afford healthy food; tailing off to the 'bullying effect' of peer pressure on teenage girls. The solutions include using the money saved by not allowing expensive cancer drugs for the elderly to pay for the ladies to attend 'Weight Watchers' and various fat 'boot camps'.
Nobody is suggesting that the Tamworth Tankettes (Tamworth officially has the most overweight women in the Kingdom) eat less, or just eat at meal times, or cook their own meals – not adding sugar!
As a nation, Britain has a more diverse range of restaurants than anywhere else in Europe. We have taken to 'foreign food' with gusto. Actually, we've taken to anything edible 'with gusto', that is the problem. Except our concept of 'foreign food' is slightly askew. We loved the Italian Pasta – the festival, celebratory variety, loaded with goodies, that we enjoyed on holiday. Trouble is, the average Italian doesn't eat like that every night – they might have pasta with just some garlic and a little olive oil; not half a kilo of cheap meat stewed in a ready made sugary sauce. We love Indian food; go to India, eat with a local family – you won't be eating the food prepared by the travelling Sylhet chefs who populate English Indian restaurants, their speciality was preparing wedding feasts; instead you may find yourself eating the ubiquitous 'rice and peas'.
Why have we taken to using the medical term 'obese' – are we determined to prove that plain old 'fat' is actually a medical condition? True, there is a thyroid condition which can cause you to become overweight. There is a simple solution. Thyroid replacement tablets. No need to eat at the 'all you can stuff' bar and tell your friends that you have a medical condition.
It is certainly a medical problem for the East Midlands Ambulance Service. It has been picking up so many fat patients — weighing in excess of the 28-stone maximum — that it needed a new fleet. It had been struggling along with just one ambulance for fatties (a 'bariatric' vehicle), but now all 272 of its ambulances have been upgraded with double-wide stretchers for patients who can weigh in at 55 stone. It cost £27 million.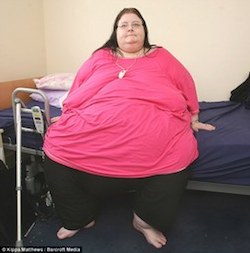 The on-line 'Bariatric Shop' will dispatch an emergency pack containing five pairs of knickers to desperate NHS staff who have recently taken delivery of a knickerless 55 stone wonderwomen – and it will only cost the rest of us £94.75, presumably plus delivery costs. (Warning: do not follow that link in the middle of your breakfast – you will be anorexic by the end of the day).
Doctors have been told not to use the word 'fat' because it may cause distress. We are told that food banks are increasing because the nation is starving. Not starving efficiently enough if the rest of us are going to work to pay the taxes needed for £100 quids worth of knickers when one of the Tamworth Tankettes turns up in A & E thinking she's the Duchess of Cambridge…
Jeez Ladies, 57% of you obese? Eat lettuce! Walk to the newsagent! Take some responsibility for yourselves. In the meantime, give the bikinis a miss.
Meanwhile, would somebody please shoot this manufacturer before his product turns up on a beach near me? A size 28/30 Tankini? Grief. It has a fold over waist? I don't think I want to witness a size 30 lady waddling along the Plage d'Arcachon with her waist folded over into anything, let alone a Tankini….
Anna Raccoon


May 29, 2014 at 9:24 am

Lucozade


May 29, 2014 at 10:07 am

Lucozade


May 30, 2014 at 6:16 am

Robert the Biker


May 29, 2014 at 9:50 am

Robert the Biker


May 29, 2014 at 10:22 am

Frankie


May 29, 2014 at 8:48 pm

Woman on a Raft


May 29, 2014 at 5:42 pm

Engineer


May 29, 2014 at 12:41 pm

Don Cox


May 29, 2014 at 1:43 pm

Anna Raccoon


May 29, 2014 at 2:11 pm

Woman on a Raft


May 29, 2014 at 5:46 pm

Engineer


May 29, 2014 at 10:20 am

Lucozade


May 29, 2014 at 10:33 am

Mudplugger


May 29, 2014 at 11:19 am

KevinS


May 29, 2014 at 1:19 pm

guthrie


June 3, 2014 at 7:10 pm

Mudplugger


May 29, 2014 at 3:33 pm

Pericles


May 30, 2014 at 12:09 pm

guthrie


June 3, 2014 at 7:14 pm

Joe Public


May 29, 2014 at 4:11 pm

Tedioustantrums


May 29, 2014 at 10:23 pm

Don Cox


May 29, 2014 at 7:15 pm

Tedioustantrums


May 29, 2014 at 10:21 pm

binao


May 29, 2014 at 5:20 pm

Ho Hum


May 30, 2014 at 12:14 am

Lucozade


May 30, 2014 at 6:33 am

binao


May 30, 2014 at 1:30 pm