Josie Cunningham – The Abortion Debate.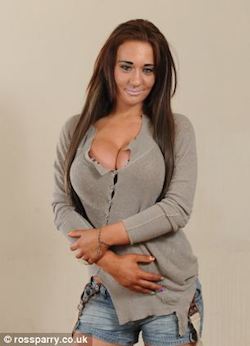 'Kingbingo', a committed Libertarian, writes: The 16 week ultrasound scan was a source of utter delight for us both. Being first time parents, neither of us really knew what to expect. About all I did know was that we were legally well within the 24 week abortion limit, such was the extent of my knowledge of the whole pregnancy thing which up until now was always something that happened to 'other people'. What we actually saw that day was not, as I might have assumed, an embryo, a lump of cells with some rudimentary human proportions, what we saw was our child. It did not just have a head, it had a face with clearly identifiable nose, eyes, ears, chin. It did not just have crude limb like growths, it had arms and legs and waved them around with gleeful abandon during the scan and even performed various acrobatic flips and turns, kicking her little legs and arms all over the place. I felt an immediate and powerful protective urge, and my paternal instincts started to come to fruition.
It also delivered an almighty slap to the face of what I thought I knew about the rights and wrongs of abortion and fractured my previously held comfort in the knowledge that pro-lifers were religious zealots ready to ride roughshod over the sanctity of a woman's right to choose over the needs of a theoretical human life. Furthermore, my guiding morality was based on my libertarianism. People had the perfect right to choose how to live their lives and make choices for themselves. If a woman did not want to carry a child, how dare the state foist that choice upon her, leaving that poor woman at the mercy of unsafe illegal abortions?
The holding of absolute beliefs is generally considerably easier when you are as unburdened as possible by any first-hand knowledge. I always knew that what goes into the process is little more than a few cells and what eventually comes out is a fully formed and very adorable Winston Churchill lookalike. But the actual point at which the termination of an embryo becomes murder, was never clear to me and like many people I just looked at a 40 week term and concluded that if the legal limit was 24 weeks, about halfway, then that seems about right. Now having seen my own child at 16 and then at 20 weeks, I find the idea of terminating at 16 weeks let alone 24 as something that sickens me. I can tell you first hand, those are not a theoretical 'anything', they are not bundles of cells, those are human lives that are getting discarded.
Which brings me to Josie Cunningham a young British 'model' who wants to abort her baby of 18 weeks so that she can appear on the TV series Big Brother and have a career in being a TV celebrity. You and I dear taxpayer, have also recently shelled out £5,000 so that the NHS could give her celebrity size breasts too. Here is the delightful young woman in her own words "This time next year, I won't have a baby, but I will be famous and have a bright pink Range Rover. I'm finally on the verge of becoming famous and I won't ruin it now. An abortion will further my career – nothing is going to stop me." A quick Google search of her name and you will be treated to many more of her musings, all of which will most likely convince you:
1) This woman seems incapable of thinking beyond her own immediate desires and needs. She is callous and shallow.
2) She is utterly deluded over her minuscule chances of becoming rich and famous without any talent whatsoever.
3) She would be an utterly horrendous mother.
4) She will obviously end up having other children in a few years' time anyway, because she is too thick to understand contraception or plan ahead.
I despair that people like this inhabit the same world as me. This woman has evidently grown up never once considering education and hard work as the route to a good life. She just wants to be rich and famous by being on the telly, and even more depressingly we live in a society where every so often a girl like that does actually become rich and famous for no seemingly good reason at all. I was also be sickened by her casual dismissal of her unborn child, although Jose probably does not think of it as a child. But also I was sickened because at her age, and perhaps as recently as before I saw my daughter for the first time on our first ultrasound scan,
I would have not grasped just how awful she was being. I may even have agreed with awful Jose that it was just an embryo, and not a life.
As such I find myself in one of life's most uncomfortable positions, suddenly realising that everything I thought I knew was wrong, and when I try to alight upon the 'right answer' I find there is not one, the issue is too big and complex for any binary answer.
If 'awful Jose' were to have that child, any betting man would have to say with a mother like that it will almost certainly grow up to be a less than productive human being, quite possibly a destructive one. Furthermore, I can't help but be persuaded by the argument made in the excellent economics light-reading 'Freakonomics' that it was the overturning of Roe vs Wade in the US that, 20 years later finally ended the US crime boom. Authors Stephen J. Dubner and Steven D. Levitt argued that the absence of unwanted children, following legalisation of abortion in 1973, led to a reduction in crime 18 years later, starting in 1992 and dropping sharply in 1995. These would have been the peak crime-committing years of the unborn children. Young women after the legalisation of abortion, who knew full well that they could not properly raise a child, did not have them. Often these women would be uneducated, with no father around and would have little hope of reining in a powerful teenage male down the line, or offering a teenage daughter a better life than her own.
I set out in this piece a highly personal case for why I have come to love so deeply my, as yet, unborn daughter. But I like to think I did everything right. I worked hard on getting educated and then a career. I enjoyed my early 20's as a single man then met the right girl and started to settle down. We got married and bought a family home, and all I can think about now is how to offer little 'Princess Bingo' the very best start in life.
But now I have new found respect for unborn human life, does that mean I want to live in a society in which the state forces young unsuitable mothers to have a child they are ill-equipped to raise? Well No!
But I have nevertheless grown as a person recently, and the only thing I am certain of now is just how difficult this issue is and how foolish I once was to assume there is an easy answer.
Kingbingo.