'Going to Work on a Clegg…'. Farage v Clegg.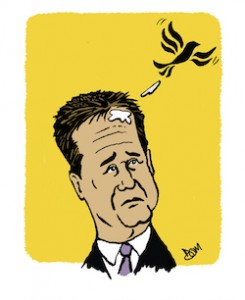 The consummate politician was put in the ring with the consummate debater last night on live television – and guess who won? Without a doubt the consummate debater! Nigel Farage was in his element.
This was the political equivalent of 'Britain's Got Talent'. Lightweight imagery designed for an audience that was as likely to vote for the winner on how successfully he had dyed his hair as on what came out of his mouth.
Nick Clegg in the fetching yellow corner, employed the technique that works so well for politicians in their normal environment – being interviewed by respectful  journalists, keen not to screw their future chances of getting another interview. He used every question posed to him as a chance to extoll the virtues of actions he had taken – invariably on completely different subjects. 'Immigration? I'm so glad you asked that question, it is an important issue, close to the heart of the British voters and  the British public deserve an honest answer – that is why I am proud to tell you that under my stewardship we have ensured pre-school nurseries for every child in the country…'.
However, over in the smoke-filled, beer-stained corner, Nigel Farage, was the heckler extraordinaire, the troll from Hell, no longer confined to Twittering over Clegg's head and landing the occasional 'splat' on his head by proxy, but given equal billing, equal standing. He couldn't be ejected, blocked or ignored. He was there as of right, invited by Clegg no less.
It made for riveting television, a golden opportunity for LBC (and Iain Dale) as they traded punches on the In-Out-Shake-It-All-About EU issue. Did we learn anything? Of course not. Every argument employed had already been aired ad nauseum. The polished responses told of 20 years of arguments over middle-class dinner parties, hustings, TV interviews – the pair of them were merely trading well honed insults. They will do the same thing next Wednesday, by which time both will have armed themselves with well rehearsed answers as to where the missing two million Romanians and Bulgarians have disappeared to since UKIP published the pamphlet claiming that '29 million Romanians and Bulgarians are poised to arrive in the UK'.
Clegg's answer, for which no doubt he was duly grateful to the professional services of the highly experienced civil servants of the government department paid to unearth these figures, is that there 'aren't 29 million Romanians and Bulgarians in Romania or Bulgaria' – not any longer, there aren't, well done clever Clegg's, but a million viewers shouted at the television with one voice 'precisely, and no one knows where they are, thanks to the EU'. The answer is probably Italy and Spain for the moment, the weather is so much better there right now….
Clegg might not have been able to come up with a coherent answer to Farage's main point which was that 485 million Europeans have free movement across British borders and we have no 'quality control' to decide how to ration the available space, services and jobs. Clever-Clegg's answer that leaving the EU would mean not having access to a market of 500 million customers was an insult to intelligence. The argument is whether we have a political union with those 500 million customers, not whether we shoot them all dead! Do you seriously imagine that the allegorical Greek olive grower will suddenly decide that he no longer aspires to own a Rolls-Royce because the manufacturer's government is no longer in a political union where the precise size of the catalytic converter is decided by an un-elected Belgian technocrat?
The issue of 'quality control' has set me thinking though. What is the 'quality control' we employ to decide on who is to run the country? It is all very well the media declaring that 'a YouGov survey of 1,003 viewers found that 57 per cent thought the UKIP leader had performed better, with 36 per cent backing the Deputy Prime Minister', but that doesn't actually tell us how he would run the country. It merely tells us that he can hold the floor better in a debate.
If you were hiring a manager to organise the proverbial piss-up's in your chain of brewery's, you would be asking for references, perhaps suggestions for future marketing plans, looking into their past employment history, relevant experience in this type of work. You wouldn't be inviting applicants to merely trade insults on the factory floor. We don't let applicants into university on the basis of a shouting match in the quadrangle – why would we abandon  standards when looking for someone to run the country?
As it happens, the Institute of Economic Affairs has been running a competition:
An "Out" vote in a British referendum would be a major historic geo-political and economic event, perhaps even comparable with the fall of the Berlin Wall and the subsequent collapse of the Soviet Union and re-unification of Germany. It is time, therefore, that the UK explores the process of withdrawal and its economic and political consequences. This competition is designed to examine the process of withdrawal and, more importantly, how the UK might fit into the fresh geo-political and economic landscape that would follow.
It is due to announce the 100,000€ winner in a few days time – the 8th April to be exact. Might I suggest that the winner of that competition, or even some of the runners up, would be more suitable to run the country – at least they would have examined the issues from a practical viewpoint. Perhaps instead of an election and non-binding manifestos we should be inviting applicants to submit a formal cv and evidence that they have researched in depth and reached a conclusion based on fact – whatever their conclusion!
It would be an improvement on 'Politicians Got Talent' with freshly applied hair dye and tired old sound bites.
Edited to add: Ms Raccoon has not proof read this blog, nor even considered whether it is 'fully formed' and ready for publication.  It was a post in gestation, started in the early hours of this morning, and subsequently over-run by events today. So apologies, it is all you are getting, I'm off to hospital again – behave yourself whilst I am away, and this time, would some of you at least make an effort to pay for the pork scratchings – there was 3p and a button in the jar last time, and two entire cases of pork scratchings consumed.
Hopefully back before closing time…
Mudplugger


March 27, 2014 at 8:25 pm

Moor Larkin


March 28, 2014 at 9:18 am

gareth


March 27, 2014 at 9:57 pm

Moor Larkin


March 28, 2014 at 9:14 am