Whither the NSPCC in ten years time?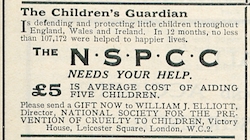 In the autumn of last year, a memo was leaked to The Times newspaper, written by the RSPCA's deputy chairman, Paul Draycott, which discussed the charity's aims for 'ten years hence'. It reminded me of the RSPCA's remarkable powers, based on the 2006 Animal Welfare Act, to mount prosecutions instead of the Crown Prosecution Service, and to simultaneously act as chief investigator. It is the only charity to have such quasi-official powers.
There has been a lot of disquiet about this dual role, and the 'headline' and expensive cases which it has used its powers to bring. Something that is probably not too far removed from the charity's decision to ensure that its chief executive 'stepped down with immediate effect', suffering from a medical complaint that was not defined as being either physical or mental, last week. The truly cynical might think that had the cause been physical they would have been at pains to remove any possible misunderstanding from the minds of the general public.
It made me wonder what the NSPCC's 'game plan' for the next ten years might be.
As the months have passed, I have revisited the question from time to time. Generally as a result of yet another press release from the NSPCC or their 'apprentice' – NAPAC. They arrive with monotonous regularity.
"Police and CPS leave survivors of child sex abuse in the lurch' said the latest from NAPAC. 'Justice' system still fails victims despite Jimmy Savile's exposure as Paedophile.
'Despite Jimmy Savile's exposure as Paedophile' – just read that again.  Neither the Police nor the CPS have 'exposed' Jimmy Savile. Naming Jimmy Savile as a paedophile was the work of the NSPCC charity in their 'Giving Victims a Voice' confabulation. They went even further in their September 2013 report on 'focus groups' comprised of a handful of those 'victims' who reported to Yewtree and they 'were able to trace'. (Will we ever be told how many of the '600' have vanished following their late night drunken phone call to Yewtree?)  In their latest report they refer to 'crimes committed by Jimmy Savile'. The word 'vulnerable' appears in every sentence, as though even 'alleged' victims of sexual assault are a homogenous group, who react to the alleged offence in identical manner. 
The only Police involvement in 'Giving Victims a Voice' was to write down the statements of the many people who phoned 'Operation Yewtree' – they didn't 'investigate'. In some cases, it was not even current police officers who took down statements. Ex-police officers are merely member of the public. They may remember how to write out a statement, but they have no more authority or standing than you or I writing down what our neighbour has said. 
Yet on the basis of this, the NSPCC has appointed itself both Judge and Jury, and is 'dissatisfied' with the work of the police and the CPS. Mark Williams-Thomas kept up a chorus of criticism of every police force, the CPS, and every other authoritative body. The lawyers complain loudly that their clients should not be cross questioned in court. They demand that putative victims remain anonymous and are shielded from view in court. It was beginning to seem as though the only people the NSPCC felt were competent to speak to an alleged victim, investigate crimes of child abuse, or pronounce guilt were, er, the NSPCC.
They couldn't be looking to go down the RSPCA route could they? To be the sole investigating and prosecuting body for child abuse? Surely I was being paranoid – England is the home of the Magna Carta, of Common Law; it was unthinkable that a branch of the criminal law should be handed over to a private charity. Wasn't it?
Yesterday, Lord Thomas, the lord chief justice, emerged from his ermine and queried whether:
"so many criminal cases need to be sent to the crown court, a change that would significantly restrict the right to trial by jury."

"An inquisitorial system might be an improvement' he said. Justice dispensed "whilst doing so within limited and reducing resources".
So, we've done away with the jury as a cost cutting exercise, but surely an experienced Judge investigating and pronouncing guilt is a long way from my nightmare scenario of the NSPCC being both prosecutor and investigator? Wait, what is this he said?
Research would have to consider whether an inquisitorial procedure would require more judges or a "new cadre of junior judges".

Circumstances have changed: […] the crown court is heavily overburdened by a significant proportion of its work relating to serious sexual offences. Surely it is time again to consider this issue again given the financial circumstances in which we are now placed."
I have never been a fan of a separate category of 'sexual offences'. I don't believe that Parliament, or by extension, the law, has any business deciding what sexual practices are or are not acceptable. ALL violence should be criminally prosecuted, as violence, or rather bodily harm. It should make no difference whether it is a punch on the nose or rape. If you have been physically harmed you should expect redress from the criminal courts. It is where the law tries to legislate in respect of emotional or moral harm that it comes unstuck.
Take the example of the laws against, and now permitting, homosexual behaviour. What exactly IS homosexual behaviour, what is normal, what is it that is permitted? Is it 'whatever' goes on between two people of the same sex, excluding issues of consent? How is, for example, a young man supposed to judge whether what is asked of him in a homosexual environment is reasonable or not? Nailing his nipples to a bread board? That one was answered in R v Brown, but I could point you to as many 'unusual' examples of sexual practices between homosexuals as there are between bizarre heterosexuals. By first proscribing, then permitting, homosexuality they have left a grey area which is capable of confusing a young person.
Professor John Ashton, president of the Faculty of Public Health, called for a national debate on the age of consent. A debate. Re-opening the question of whether 16 is still appropriate 100 years after that age was settled on. It may be that we need to raise the age to 18 – but that is never discussed. In an age when a third of teenagers have sex before they reach 16, we react to the mere suggestion of re-opening the debate with the same horror that we should react to being told to consume our youngest for breakfast. As barrister Barbara Hewson found out when she mooted such a debate. She was assassinated by a sycophantic squad of columnist minions, all of them infected with hypocritical and gleeful spite, ready to vomit out a uniform screed. 'They are children'.
Indeed they are – because the law says they are – perhaps the law should continue to say they are until they are 18? 21 even?
As I left the UK, to return to the land of spoken English in the streets around you (!) I passed a young woman who I assume was no longer a child, in that she was flying unaccompanied on a Ryanair flight without the luminous tag they place round the necks of 14 year olds. She was wearing a t-shirt that barely reached below her ample chest, exposing an equally ample 'mid-riff'. At first sight the t-shirt bore the legend 'Gagging for it'. It was only when she drew a deep breath that you could make out the bottle and glass pictured underneath….
I hope, for her sake, and whoever allowed her out unaccompanied, that wherever she was flying to – Ibiza? Lesbos? Read the full t-shirt message and offered her a drink before getting themselves into trouble with this vulnerable potential 'victim'.
Your thoughts on my spectre of the NSPCC carving out prosecutions of sexual offences as their specialist area?
Anna Raccoon


March 5, 2014 at 1:42 pm

Daisy Ray


March 5, 2014 at 3:34 pm

Duncan Disorderly


March 5, 2014 at 4:44 pm

Margaret Jervis


March 5, 2014 at 6:48 pm

Moor Larkin


March 5, 2014 at 2:19 pm

sally stevens


March 5, 2014 at 6:04 pm

Anna Raccoon


March 5, 2014 at 2:36 pm

Jonathan Mason


March 6, 2014 at 3:07 am

Lucozade


March 6, 2014 at 4:18 am

Moor Larkin


March 6, 2014 at 9:07 am

Lucozade


March 6, 2014 at 9:29 am

Lucozade


March 6, 2014 at 4:26 am

Moor Larkin


March 5, 2014 at 10:41 pm

Anna Raccoon


March 6, 2014 at 7:38 am

Moor Larkin


March 6, 2014 at 9:00 am

Lucozade


March 6, 2014 at 9:23 am

Moor Larkin


March 6, 2014 at 9:44 am

Anna Raccoon


March 6, 2014 at 9:57 am

Moor Larkin


March 6, 2014 at 10:01 am

Eyes Wide Shut


March 6, 2014 at 12:13 pm

Anna Raccoon


March 6, 2014 at 11:51 am

Margaret Jervis


March 6, 2014 at 12:17 pm

Fat Steve


March 6, 2014 at 7:50 pm

Anna Raccoon


March 7, 2014 at 2:25 pm

Fat Steve


March 7, 2014 at 4:51 pm

Margaret Jervis


March 8, 2014 at 9:12 pm

Fat Steve


March 9, 2014 at 11:19 am

Margaret Jervis


March 9, 2014 at 12:05 pm

Anna Raccoon


June 28, 2014 at 6:07 am