"Nineteen and a big Doughnut….."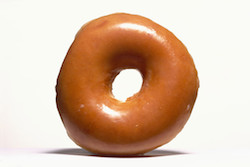 Morning folks!
Back from my hols, and fully refreshed, so it is back to work.
A lot has happened over the past week, and I have been busy researching in England. Let me fill in that doughnut 'hole'.
The High Court case has taken place – and the outcome was not exactly as portrayed in the media (a small detail that will come as no surprise to regular readers!).
The 'Third Sector ', the charity world's own news letter said it was the "Charity's court bid to block compensation payments to Savile victims" – making it sound as though the Trust wanted to ban payments to genuine victims, if there were any – er, No, it wasn't! The case was the Trust wanting to remove the Nat West as executors, because their solicitors, Osborne Clark, had been excluding the beneficiaries – Help for Heroes, etc – from any discussions on who and under what circumstances, any compensation payments were made.  Solicitors for the claimants, Slater and Gordon, wanted to carve up the money in the estate between their present 139 claimants, on an agreed tariff, without any over sight – otherwise known as investigation – from those who may hold information that conflicts with their clients 'memories'. 

Although the judge didn't agree to a change of Executor, he did agree that the Trustees have every right to be included in those discussions and to add their own input – otherwise known as research into the claims – to the discussions. He also agreed with the Trust that confining the available funds to just those claimants who had already signed up to one commercial firm, Slater and Gordon, was potentially unfair to other claimants and that advertisements should be placed in two national newspapers in case anybody else feels that they might be entitled to a share of the Savile Trust and has yet to come forward. Remember – you will be believed! – but also remember, that your claim will now be subjected to scrutiny by the Beneficiaries who have amassed a large amount of unpublished information over the past few months…
Slater and Gordon have run a very slick media campaign over the past few months, with regular stories appearing in the compliant press presenting their client's case, whereas the Trust made the decision that it would not feed media speculation. Hence my silence on the matter – and galling it has been at times to see how things were twisted to fit that media narrative. Not least over the matter of the cost of that court action.
Liz Dux of Slater and Gordon was out on the airwaves claiming that the Trust's decision to bring this case was 'costing £10,000 an day' – or was it an hour? It could well have been an hour – for when the Trust's two lawyers, who were charging not a penny for their appearance, arrived for the hearing, a hearing merely between themselves and the Nat West Bank, they discovered that Slater and Gordon had invited themselves along for the day along with a phalanx of nineteen solicitors and barristers, including 3 QCs….to demand that the Judge agreed a tariff on the same day. That is where the £10,000 came into the picture. Potential claimants who find that the pot is empty when it comes to their compensation might care to remember that.
Alan Collins, principal lawyer at Slater & Gordon, said he was not entirely sure why the charity felt it was entitled to the money. "My interpretation, which they may not agree with, is that these cases ought to be defended, that they go back many years, that some cases are spurious and that they should be thrashed out in the court – but that is rather unrealistic," he said. "For reasons that are not clear, the charity wanted the money."
For reasons which are not entirely clear…Slater and Gordon want their clients to be paid on the basis of an undefended case, and don't mention the spurious! That will not now be happening. All that has been agreed is that IF any claims are met, IF any money is left after the army of lawyers have been paid, it will be at an agreed 'tariff'.
Those claims will be scrutinised against a vast volume of reliable evidence that we have amassed over the past few months – that I will not be sharing with you at present, much as I would love to. I have no intention of making life easy for those who think that the NSPCC holding itself up as the law in this land and stating the 'crimes committed by Jimmy Savile' is any substitute for our judicial system of 'innocent until proven guilty' means that all you have to do is dream up an occasion when your path might have crossed Jimmy Savile's for a quick payout.
I will share one nugget with you, just because it made me laugh so much. Remember Karin Ward's first excruciating 'Poor Me' tome? Remember how she said that after, aged '14', whoops, actually 16, she was allowed to go to Clunk-Click along with the some other girls and staff from Duncroft, at the BBC TV Centre, whoops, Shepherds Bush Theatre, Jimmy Savile took them out to an 'exclusive' and celebrated restaurant where they mixed with the rich and famous and she filled her 'autograph book'. Oh dear, her age and the venue weren't the only things she got wrong…
When you appear on TV, you get paid, and you sign a 'consent form'. So, the BBC dutifully handed out 50p pieces to each of the girls and got them to sign a consent form. Then Jimmy Savile, ever the true Yorkshireman, took them out to, where? 'The Ivy', or maybe 'Le Gavroche', something to turn the head of a naive 14 16 year old, surely?
…..The doughnut shop two doors away from the Theatre, for a cup of tea and a doughnut…and collected up all the 50p's to pay for it! If ever there was a definition of 'Yorkshire grooming' it has to be 'pay for your own bloody doughnut'! It was such a memorable piece of 'Savilisation' that there does exist a formal record of it…I have it.
There will be another post today, need to do some more research…
Ho Hum


March 5, 2014 at 10:39 am

Ho Hum


March 5, 2014 at 11:00 am

Lucozade


March 5, 2014 at 1:06 pm

Anna Raccoon


March 5, 2014 at 12:28 pm

Anna Raccoon


March 5, 2014 at 12:27 pm

Anna Raccoon


March 5, 2014 at 2:33 pm

Angry Burd


March 5, 2014 at 2:59 pm

Johnny Monroe


March 5, 2014 at 8:46 pm

Lucozade


March 5, 2014 at 11:10 pm

Anna Raccoon


March 6, 2014 at 11:47 am

Fat Steve


March 6, 2014 at 4:50 pm

Anna Raccoon


March 6, 2014 at 4:54 pm

Anna Raccoon


March 6, 2014 at 11:46 am

Margaret Jervis


March 6, 2014 at 11:51 am

Moor Larkin


March 6, 2014 at 12:12 pm

Eric Hardcastle


March 7, 2014 at 3:32 am

Moor Larkin


March 7, 2014 at 9:34 am

Lucozade


March 7, 2014 at 2:14 pm

Anna Raccoon


March 6, 2014 at 4:51 pm

Ho Hum


March 6, 2014 at 10:25 pm

Anna Raccoon


March 18, 2014 at 11:22 pm

Moor Larkin


March 19, 2014 at 9:38 am