The Inside story of tomorrow's High Court 'Savile' hearing.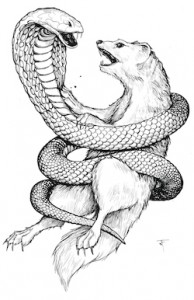 I should have been, and have been for some time, respecting an embargo on what I am about to describe. But it seems that others involved in what was supposed to be a 'private case' listed for hearing at the High Court tomorrow have decided to break rank and give – or even sell? – their version of events to the downmarket Daily Star and Daily Record this morning. So no reason for me to keep quiet any longer.
I am not surprised. The amount of skullduggery that has surrounded the issue of 'compensation' to the 'alleged victims' of a man who has never stood trial or had the chance to defend himself is extraordinary.
Human beings come with many different personalities. Some fiery and challenging like the Cobra, some as meek and retiring as a Mongoose. It may surprise you to learn that lawyers are human beings too.
Some, those with street fighter instincts, choose the hurly-burly of the legal chaise-longue – the 'no-holds barred' areas of personal injury and negligence litigation. They are happy in the public eye, at ease with their intimidating reputation that sees less than 10% of torts ever reaching the judicial bench. They raise their heads and hiss – and mostly accept battle honours with no battle.
Other personalities head for the legal equivalent of the marital bed – a post-menopausal marital bed at that. 'Trusts and Probate' – that arcane area of English Law where an unhealthy proportion of your clients are not even sentient and 'battles' mostly consist of firing 'paper aeroplanes' at your opponent, there is rarely any hand-to-hand fighting.
Each to its own. The two legal personalities rarely meet.
Tomorrow in the Chancery Division, 'Personal Injury meets Probate' in a grim battle over Claim No:HC13F00335.
Those who have been at pains not to publicise the forthcoming case between 'Luke Lucas and Roger Bodley v. National Westminster Bank' did so because what is at stake is essentially the reputation of the Nat West bank as executors of estates. They have a large probate division, which brings a healthy income to the bank. They are trusted by many people to carry out their wishes after their death. Whether their behaviour has been totally above board, reflecting the trust placed upon them by a testator to carry out his/her wishes, or whether they have allowed themselves to become too close to those who would wish to see the testators wishes frustrated, for whatever reason, is what is at stake tomorrow.
Who is Luke Lucas? Who is Roger Bodley? Why should we take an interest?
Well, Luke Lucas is a reclusive Swiss resident who used to have a bird's eye view of the English Channel, and Roger Bodley is a man building a house of hemp overlooking the Tasmanian Bass Straight. No obvious connection yet? Let's dig a little deeper? Pretend we are old style journalists, shall we?
Luke lives in Switzerland and here is Roger speaking at the 3rd International Hemp Building Symposium – in Switzerland. Give in yet?
OK, both Luke and Roger were long time friends and trusted confidantes of Jimmy Savile and they are the named trustees of  the Jimmy Savile Charitable Trust and the Jimmy Savile Stoke Mandeville Charitable Trust. They are the people who were burdened with the task of ensuring that Jimmy's assets were distributed to "provide funds for the relief of poverty and sickness and other charitable purposes beneficial to the community", as well as "provision of recreational and other facilities for disabled persons".
The 2013 accounts for the Jimmy Savile Charitable Trust showed a shade over three and a half million pounds in hand. Three and a half million pounds that should be working hard for disabled and underprivileged people. People like Help For Heroes, or even victims of abuse through the many charities set up to advise and support such victims. It should be supporting Leeds University undergraduate medical students, funding – among other things – a bursary for the students to conduct research during the holidays.
It isn't. It isn't, because within weeks of Jimmy"s death, a woman called Georgina Reay decided that she looked so much like Jimmy Savile that she 'must be' his secret love child. She dismissed the idea of DNA tests, 'forget about DNA' she said, – just give us a slice of his assets. A year later when it had been comprehensively proven that she categorically wasn't Jimmy's child – she decided that actually, since there was no money on offer, she no longer wanted to be associated with 'that' Monster.
Meanwhile the dispersal of funds to good causes had been held up as the Executors, the National Westminster Bank, waited to see whether Jimmy really did have a daughter who might be entitled to claim on his estate. Held up just long enough to allow the 'fearless crusader' on child protection matters, Mark Williams-Thomas, to take the story that he had been hired for as a £500 researcher on by the BBC, over the road to ITV and turn it into the pot-boiler that he apparently 'risked his career' to produce. Quite how you 'risk' a career cleaning chewing-gum off Westminster streets by labelling a dead man who cannot defend himself in court as 'a paedophile' is a mystery to me. Nor whether you can really call 'stringing' stories to the local papers, whilst employed as a police constable, much of a career? In some quarters, like Operation Elvedon, such antics are described as being a possibly criminal career.
By the time that the NSPCC had jumped on the bandwagon, the lawyers were encircling the Savile Trust on behalf of unnamed clients who had just remembered how deeply traumatised they were since 40 years before when their path had crossed Jimmy Savile's.
Not traumatised in the manner of the severely disabled clients of 'Help for Heroes', you understand – missing arms or legs in the service of their country.
Just traumatised in a manner that required, if the Nat West bank as executors of the Estate would be so kind, quickly mind you, to divide up Jimmy's assets between all of them (after their legal fees had been paid, naturally). As the months rolled by, the legal fees mounted, and the remaining pool to be potentially divided between these new and far more 'deserving' clients than mere legless veterans, shrunk. Legless veterans can provide unequivocal proof that they are indeed legless veterans. The clients of these lawyers merely 'allege'; un-investigated, unproven allegations, that  they are more deserving of Jimmy's assets.
I said 'clients' because we are not talking about all Jimmy's 'alleged victims', no, no. This pot had just been ear marked for the 'use' of the clients of just two firms of personal injury lawyers. Or should I say, just one, since one firm seems to have eaten the other firm whilst marking time….
Should the Nat West pay these claimants without investigating? Should they have paid Georgina Reay without a DNA test? Obviously not! How many other confabulatory Georgina Reay's are there in the pool of remaining clients?
Will this battle between dry and dusty 'Trust and Probate' lawyers (Jo Summers of PWT Advice, on behalf of the Trustees) who are possibly not best equipped to handle the sort of media bunfight that this case has elicited and the Nat West Bank under pressure from media savvy 'Personal Injury' lawyers throw any light on this matter?
Not many Chancery cases are worth watching – but this one is. The application is for nothing more than the replacement of the National Westminster lawyers as executors of the Savile estate – by an executor who will ensure the claims are investigated before any charity is deprived of money in favour of 'alleged' and un-investigated claimants.
I'll leave you to judge who might have had a vested interest in deciding to help the Daily Star run a story headlined: "Jimmy Savile's victims fear his charity wants to block a proposed compensation scheme."
The Cobra may have a fearsome reputation – but the Mongoose can surprise.
Ho Hum


February 23, 2014 at 1:01 pm

Eyes Wide Shut


February 23, 2014 at 1:04 pm

Ho Hum


February 23, 2014 at 1:08 pm

Eyes Wide Shut


February 23, 2014 at 1:15 pm

Ho Hum


February 23, 2014 at 1:19 pm

Frankie


February 24, 2014 at 4:51 pm

Michael


February 28, 2014 at 12:26 am

Anna Raccoon


February 23, 2014 at 1:44 pm

Ho Hum


February 23, 2014 at 2:43 pm

Eyes Wide Shut


February 23, 2014 at 5:08 pm

Eyes Wide Shut


February 23, 2014 at 5:07 pm

Dunstan


February 24, 2014 at 5:35 pm

Eyes Wide Shut


February 24, 2014 at 5:45 pm

La Bendita


February 24, 2014 at 9:03 pm

Mr Ecks


February 26, 2014 at 1:25 pm

Acoustic Village


February 23, 2014 at 8:43 pm

Anna Raccoon


February 23, 2014 at 2:26 pm

Mudplugger


February 23, 2014 at 5:22 pm

Wellwisher


February 24, 2014 at 1:01 pm

Duncan Disorderly


February 24, 2014 at 9:32 am

Ho Hum


February 24, 2014 at 9:38 am

Moor Larkin


February 24, 2014 at 9:54 am

Moor Larkin


February 24, 2014 at 9:43 am

Moor Larkin


February 24, 2014 at 10:52 am

SpectrumIsGreen


February 24, 2014 at 11:35 am

Ergathones the Philosopher


February 24, 2014 at 3:44 pm

Mr Ecks


February 26, 2014 at 1:30 pm

Moor Larkin


February 24, 2014 at 11:01 am

Eyes Wide Shut


February 24, 2014 at 11:21 am

Moor Larkin


February 24, 2014 at 11:26 am

Eyes Wide Shut


February 24, 2014 at 11:44 am

Dim Spark


February 24, 2014 at 12:11 pm

Anna Raccoon


February 24, 2014 at 12:34 pm

Anna Raccoon


February 24, 2014 at 12:36 pm

Moor Larkin


February 24, 2014 at 12:40 pm

Anna Raccoon


February 24, 2014 at 1:04 pm

Margaret Jervis


February 24, 2014 at 3:14 pm

Anna Raccoon


February 24, 2014 at 3:19 pm

Eyes Wide Shut


February 24, 2014 at 3:23 pm

Lucozade


February 27, 2014 at 6:03 am

Moor Larkin


February 24, 2014 at 11:36 am

Eyes Wide Shut


February 24, 2014 at 11:52 am

Lucozade


February 27, 2014 at 6:29 am

Anna Raccoon


February 24, 2014 at 1:49 pm

Moor Larkin


February 24, 2014 at 1:54 pm

Eyes Wide Shut


February 24, 2014 at 2:14 pm

Anna Raccoon


February 24, 2014 at 2:28 pm

Eyes Wide Shut


February 24, 2014 at 3:34 pm

Margaret Jervis


February 24, 2014 at 3:42 pm

Moor Larkin


February 24, 2014 at 3:47 pm

Eyes Wide Shut


February 24, 2014 at 3:58 pm

sally stevens


February 24, 2014 at 9:43 pm

Eyes Wide Shut


February 24, 2014 at 3:51 pm

Anna Raccoon


February 24, 2014 at 3:57 pm

Jonathan Mason


February 24, 2014 at 8:12 pm

Carol42


February 24, 2014 at 8:19 pm

Anna Raccoon


February 24, 2014 at 3:44 pm

Eyes Wide Shut


February 24, 2014 at 3:57 pm

Anna Raccoon


February 24, 2014 at 4:00 pm

Margaret Jervis


February 24, 2014 at 4:22 pm

Carol42


February 24, 2014 at 4:25 pm

Anna Raccoon


February 24, 2014 at 3:49 pm

Moor Larkin


February 24, 2014 at 4:01 pm

Eyes Wide Shut


February 24, 2014 at 4:10 pm

Lucozade


February 27, 2014 at 6:14 am

Eyes Wide Shut


February 24, 2014 at 4:26 pm

Eyes Wide Shut


February 24, 2014 at 5:31 pm

Moor Larkin


February 24, 2014 at 5:33 pm

Moor Larkin


February 24, 2014 at 3:35 pm

Eyes Wide Shut


February 24, 2014 at 4:07 pm

Duncan Disorderly


February 24, 2014 at 4:24 pm

Eyes Wide Shut


February 24, 2014 at 5:51 pm

Eyes Wide Shut


February 24, 2014 at 3:41 pm

Anna Raccoon


February 24, 2014 at 3:36 pm

Margaret Jervis


February 24, 2014 at 3:47 pm

Anna Raccoon


February 24, 2014 at 3:56 pm

Eyes Wide Shut


February 24, 2014 at 4:03 pm

Anna Raccoon


February 24, 2014 at 4:05 pm

Margaret Jervis


February 24, 2014 at 4:33 pm

Eyes Wide Shut


February 24, 2014 at 6:56 pm

Anna Raccoon


February 24, 2014 at 11:27 pm

sally stevens


February 25, 2014 at 12:46 am

Anna Raccoon


February 25, 2014 at 7:15 am

sally stevens


February 26, 2014 at 6:25 pm

Carol42


February 26, 2014 at 6:34 pm

sally stevens


February 26, 2014 at 6:57 pm