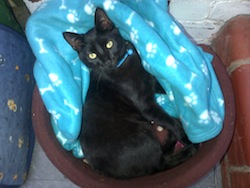 Some time ago I wrote a little piece about the battered, somewhat feral cat that turned up in the back garden.
The Cat with No Name was a battered, worn out little thing. He was entirely traumatized by something, and whether he had ever had a home at all or whether he had lost his home and been forced to live wild was a matter of conjecture and I suppose I will never know the answer. My suspicion is that that he had never had a loving home because the idea of play and handling were and are entirely alien to him, poor chap. Ever so slowly, over months and now years, he has become more trusting, although it is still not possible to pick him up.
He is never going to be a pure domestic cat. He does not play. He still resists any attempt to pick him up and he would never jump on my lap and rest, but he has come to love being petted and brushed. Indeed, he truly loves that, and will stand for ages whilst I run a brush over him, and he has learnt to purr, after a fashion. A funny gurgling noise.
He lives very well now. One real problem has been that he has issues with his tummy, and for a while he seemed tired and there was an occasional small amount of slightly bloody discharge from his bottom. This proved a real ethical dilemma, because to get him to a vet would have meant trapping him and I know deep down he would be traumatized again. I consulted my friend the vet Dr Pesta. She appreciated my dilemma, and on her advice I cut out many of the little "treats" of rich food and sachets of cat food, and trimmed his diet with plenty of biscuits and casseroled chicken – yes, your humble writer has got into the routine of setting up the slow cooker to cook this cat what is in effect delicious chicken casserole. It is not for nothing that many of my Twitter friends refer to cats as "The Overlords". With this his tummy seems to have healed, and he certainly has the most glorious shiny coat.
For reasons which are far from clear he has now decided that he will refuse to go into the purpose built straw and newspaper lined cat house that I bought and put in the garden for him (£45! – Any suggestions as to how to rectify this would be welcome). So to make sure he is OK for the winter I have bought him a thermal cat igloo (£20) and a special disk that heats up in the microwave and then slow releases heat over the next seven or eight hours (£15). Overlord indeed.
However, into this ordered state of my serfdom and service has come a little and rather joyful bundle of chaos. For a moment I will digress, if I may. Many years ago, when I was still a young man, I was quite keen on a topic known as generally as "girls". Whether they were keen on me is a different and quite distinct matter. Be that as it may, one Friday evening found me taking the train down, or up, to London to attend a rather grand dinner, so I was suited and booted to the best of my ability and seated contentedly in cattle class on the way to Euston when, as young men do, I noticed a rather pretty girl pass my seat doubtless heading for the buffet bar. Let me just say that at this ppint I realised that going to the buffet seemed a good idea and I decided that I go too. Just a coincidence, mind. So, entirely by chance, I soon found myself behind this young lady of medium height in the queue at the buffet bar. I remember she was wearing rather tight black leggings and a short, rather fetching jacket with sparkly embroidery, which reminded me of the sort of coat a matador might wear. She immediately endeared herself to me by buying two miniatures of gin and, for reasons I can't quite remember but I think because there were no plastic glasses left, proceeding to stick a straw in each bottle. Purely in an effort to assist and in a spirit of disinterested humanitarian concern (perhaps she was lonely and had no friends? Yes, that was quite likely) I offered some helpful and purportedly witty observation this matter, which I likened to a fuel injection system. I was, after all, altruistically concerned for the poor waif, perhaps travelling all alone in the world on this cold evening. And thereupon I found myself a tad hoist by my own purely humanitarian petard, because she turned to look up at me (I being quite tall, and she of medium height) and shot me in the head.
OK, no, not really, I just said that for dramatic effect. But what happened had much the same effect as I found myself looking into the cool, slightly amused and very mischievous gaze of the most beautiful ocean blue eyes I have ever encountered. She wasn't a "rather pretty girl"; she was a truly beautiful young woman. If you would like a comparison, I can only say: think Vivien Leigh, and you get the general idea. And, it transpired, her name was Lucy. Or to be precise Luce J-; I will not give the surname away. But you will have surmised that we talked. Did Lucy and I ever become what might be called "an item"? In fact, no. She was one her way to meet her impossibly cool photographer boyfriend, and though in fact that was not quite the end if the matter, the Fates were against us, or me. Such is life.
Why this digression? Well, pray let me explain. A couple of months ago I was getting out of my car one evening when I heard a plaintive little squawk, and what looked like a tiny slim black shadow came running up and wound itself around my feet. It was very young cat, still a kitten really, and my immediate impression was that it was too young to be out at night. It was also obviously a "she". She was obviously incredibly loving and trusting as she generally pestered me and I picked her up at once. She was tiny, jet black and very, very beautiful. She immediately purred and seemed quite content to be in my arms. I was instantly smitten. I knew straight away that I would have a role in looking after her, and that I would call her Lucy.
Lucy's "owners" are my next door neighbours. To cut a long story short, I do not trust them to look after her properly, for reasons upon which I will not elaborate here. I don't think they are "cat people" or indeed "animal people" at all. And this was confirmed when I found her regularly shut out on filthy nights when I judged she was still too young to be left in this way. So, "Operation Cat Rescue Number 2" swung immediately into play. So far, because of the proximity of my neighbours, my brief has been to provide a safe and fun "alternative" home where she can be secure and warm knows she is loved. This has involved Operation Install a Cat Flap, Operation Cat Basket, and Operation Riot Control as I now have to cope with two cats at feeding time.
It is fair to say that Cat with No Name has probably been a bit disturbed by this arrival. I can well understand it. He is by definition insecure and must have felt that his home had been invaded and his position and sanctuary under threat. I appreciate that, and I have made many efforts to compensate with extra brushing and attentions. On the other hand, it has also been quite good for him. Apart from certain issues about who gets fed first, they seem to get on pretty well, and of course he has a ready made girlfriend – and no, don't go there, I have all sorts of ethical issues about whether and how to get her spayed and so forth. But then technically she is not my cat. I will just have to face that problem when it happens.
Cat with No Name is very quiet, undemonstrative and polite and chiefly just sits by a radiator indoors or wherever he feels most comfortable in the little garden. He watches, and sits. I have never seen him hunt and as I mentioned, you can't pick him up. Lucy is quite different. Upon her arrival she is always swept up and cuddled, much to her delight, before being placed carefully back down. She is highly inquisitive, trusting, loving and brave. My early morning work is now regularly interrupted by a jet black cat that will leap via my lap onto my desk and sit on the keyboard, before starting to inspect behind the screen and look out of the window and attacking the pencils. She is highly playful, and a killer. What she does to the feathers on the end of the bendy stick thing s quite terrifying, and her favourite toys are the jingly coloured balls with a rattle inside and a feather on top which she chases and attacks like nobody's business when some poor serf spends part of his evening throwing them down the hall.
I have all sorts of dilemmas with these two very different cats, but the Good Lord didn't put me here to be all wise, he put me here to do my best, and that is what I am doing.
Some have observed that Cat's plight mirrored my own. One can read too much into these things, but in some way's that is very true. And perhaps Lucy presages a new start, on many fronts. I am not quite so sure, but I hope so. For the moment, I serve the Overlords, and find some joy in that.
Et HS2, Brute?
Talk of trains made me think of HS2. A few months ago I read a real hatchet job on it by Dominic Lawson in the Sunday Times (7th June) who argued that it had always been one of Gordon Brown's vanity project and that the case that it would benefit the regions was unproved – it was more likely to suck work people and work into London rather than the other way round.
My own views are purely instinctively somewhat sceptical. I am not an economist, although I suppose anyway if economists were so clever we would be in the national mess we are in now. However, I found myself, for once, agreeing with the most irritating man in British Broadcasting, Richard Bacon. He presents the afternoon show on BBC Radio 5 Live, and took over from the estimable Simon Mayo, who made listening to an afternoon of discussion, interviews and features on all things and everything with guests of all and every type. Politicians, Nobel Prize Winners, "Celebrities", historians, cancer survivors, authors and whomsoever. It was always a delight and informative. Whilst Mayo has a gentle conversational technique which drew out the guests views and allowed the listener to actually engage with the conversation, carefully never directly inserting his own views, Bacon is brash, full of ego and interrupts in the manner of a teenager who is full of his own and utterly and completely misguided sense of intellectual superiority. And if I hear one more time about what a lovely time he had at the Gaucho Club or wherever it is "celebs" hang out" I am going to vomit. I have had to resort to "Talk Sport" at times.
However, when it came to HS2, I actually found him making sense. He thinks the money could be better spent upgrading the coaches. I agree.
I used to travel to London from Leeds and Manchester very regularly. I found the journey time perfectly fine, especially on the East Coast Line when it was usually dead on time. Particularly when I used to buy an upgrade to First Class, before the chill wind of near personal ruin blasted in upon me on two fronts at once, it was two hours and fifteen minutes of pleasantness, usually accompanied by a glass of wine.
The fact that I could have made the journey in 30 to 40 minutes less would have been of almost no consequence. In fact, a rather enjoyed my First Class trips, and I could use my new fangled lap top PC to listen to music or watch a movie on DVD, and hope that another Lucy J- would turn up. No, the real issue is the standard of transport, and now how much it costs. First Class was fine, but from what I can gather is now totally prohibitively expensive. Second – or "cattle class" – in British Railways is now very expensive too in normal times, and was and is completely bloody awful.
I well remember making my first trip from Paris to Brussels by train back in the day. I seem to remember wide and comfortable leather bench seats, a smooth ride and a particularly pleasant coffee served from a trolley. This is about as far removed as you can get from the experience of British mainline rail. It isn't faster journey times I would want. What I want is a train carriage with seats I can actually fit into, not sit squashed like a sardine unable to work properly or feel comfortable. One with air conditioning that actually works, and that doesn't stink and make me feel dirty when I get off. I want toilets that aren't all blocked up and stink as well, and Wi-Fi that is simple and free and easy to use. I want a buffet car with proper food, not just crisps at £5 a packet and a selection of utterly putrid micro waved cheese burgers that cost more than I earn in a week and have all the culinary appeal, and much the same practical effect, as a Sarin nerve gas attack. I want proper fresh coffee and not the disgusting stuff they sell which makes me want to vomit and soon as I taste it. I want real milk not that UHT crap. I want enough space to put my luggage.
I am still open to persuasion, but I think the real problem with the rail link between North and South is not the journey time, it is that the carriages and conditions are bloody horrible. I can't help but feel that the real answer is not to spend billions on the faster trains, but to make the journey a pleasant experience with better rolling stock and more trains, and stop charging so much for the "pleasure". I wonder if you need £50 billion to achieve that.
Over to you, Raccoonistas.
Gildas the Monk
Roy Fernley
November 6, 2013 at 08:51

Amfortas
November 6, 2013 at 10:08

Furor Teutonicus
November 6, 2013 at 10:46

Giggletree
November 5, 2013 at 20:36

CherryPie
November 4, 2013 at 00:38

Curmudgeon
November 3, 2013 at 22:52

Bill Irvine
November 3, 2013 at 22:01

Bill Irvine
November 3, 2013 at 21:54

GildasTheMonk
November 3, 2013 at 20:57

Moor Larkin
November 3, 2013 at 15:55

Furor Teutonicus
November 3, 2013 at 15:51

The Blocked Dwarf
November 3, 2013 at 19:29

Furor Teutonicus
November 3, 2013 at 20:09

The Blocked Dwarf
November 3, 2013 at 20:33

Furor Teutonicus
November 3, 2013 at 20:54

Mudplugger
November 3, 2013 at 14:51