What a Starr! – Freddie Starr.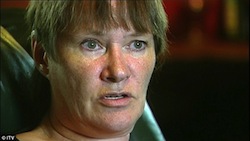 Wow! The confabulations that showed up in the original Duncroft allegations continue to unravel.
Freddie Starr is to sue Karin Ward for slander and malicious falsehood.
Karin Ward, or Kat Ward as she likes to be known, was the ex-Duncroft girl, now middle aged and suffering from serious cancer, who fell in with a group of Duncroft girls who had been trying to spin the tale of 'Jimmy Savile – paedophile' for years.
Too frightened of getting sued themselves, they declined to sign an affidavit for the Mirror that the tale they told was true; they declined to, or couldn't, offer the police any verifiable evidence against Mr Savile when the police went to the trouble of tracing all their class mates from the 1970s and could not find any who could corroborate their tale – but they did have success when Karin Ward went onto Friends Reunited asking for help jogging her failing memory of her days at Duncroft for the latest 'Miseri-lit' on-line book she was writing.
Her original book made no claims of sexual abuse against Jimmy Savile, but by the time her new found 'friends' had helped to jog her memory, she had been persuaded/persuaded herself that, amongst other claims, not only Jimmy Savile but Freddie Starr had committed sexual offences against her. She had also been introduced to Miss Jones' nephew, a BBC producer who would be only too happy to use her on screen to bolster his story 'that any journalist would have wanted' that his Aunt ran a children's home where paedophiles were free to prey on children.
The fact that, at that time, Karin was in the middle of chemotherapy, and had had major bowel surgery mattered not a jot to ambitious journalists. Jimmy Savile had died, and they could get this fantastic tale 'out', libel free. They said, in response to the Pollard report, that they had known of his 'danger to children' months beforehand, but been too tied up with pressure of work and annual holidays to do anything about it – however, now that he had died and was no longer able to sue for defamation, they could drop everything, bring Miss Ward into studio – nothing was more important to them!
When BBC producers demanded proof of veracity, like a copy of the letter that one of the merry band of Duncroftians was gaily telling everyone who would listen to her that she had, stating that the only reason Savile had not been prosecuted was because he was 'too old and frail' – a letter which later proved to be a cheap forgery – Meirion Jones had a hissy fit, and 'somehow' the story was leaked to Miles Goslett on The Oldie magazine that Meirion's film had been suppressed in some sort of conspiracy to protect Savile's – and the BBC's – reputation.
Mark Williams-Thomas, the publicity hungry Chewing GumShoe who had continued to hone his investigative skills on the mean streets of Westminster – plucking chewing gum from the side walk, had taken the information he gleaned from being a £500 researcher on Meirion's programme, and the contact he had with the FriendsReunited group, over to ITV. There, the tale was resurrected as the infamous 'Exposure' programme.
On the day of the Exposure programme broadcast, Karin's book was re-released, now containing serious allegations against 'JS', and has made a lot of sales following the media fest that the Savile 'revelations' set off in the post-Leveson media.
I have always had sympathy with Karin, perhaps misplaced, but to me she was the first victim of an unholy alliance between a journalist who wanted to put out a derogatory programme about his aunt and her life's work, an unwarrantedly ambitious ex-plod who billed himself as a 'child protection expert', and a group of bitter middle aged women who loathed the BBC. If any one of them had actually cared about the protection of children they would have reported their concerns, anonymously if necessary, to the authorities whilst Mr Savile was alive.
Karin had an unhappy past, a fractured family, no money – and at the time – no future. She can have had no inkling of the acres of misery she was unleashing on hundreds of innocent individuals as a result of her decision to include the infamous 'Savile allegations' in her latest book. However much I understand the state of mind she was in at the time, anxious to leave some money for her family, feeling bitter against the hand life had dealt her – she did make those allegations, and now she will have to prove, if possible, the truth of them – or give Freddie Starr the money from her book.
I salute Freddie Starr, for the landscape is full of ex-celebrities who have been too frightened to speak out following the Exposure programme – I know, I have had e-mails from many of them, applauding my attempts to get to the bottom of it – but always prefaced 'this is in confidence, please don't mention my name'. Many of them have been on police bail since shortly after the programme was transmitted. Unable to have unsupervised contact with even their own children, never mind anyone else's. Their lives ruined, reputations besmirched, by the very public nature of the witch hunt. Others worked at the BBC with Savile, or other odious individuals who have chosen to jump on the bandwagon. I have spent many hours listening to tales of woe on the telephone from people who do not know which way to turn after the bandwagon has rolled over them.
I never wanted to turn my happy little political blog into 'anti-witchunt central' with continual articles detailing the latest travesty of justice – but it happened, and I apologise to those of you who have found it uncomfortable reading. As it happens – perfect timing – I have two major articles coming out tomorrow and Tuesday detailing the changing nature of the Duncroft stories as they gear up for the High Court to take what they can from Help the Heroes and other charities that Savile left his money to – morphing from 'I'll tell you a story so long as you promise not to name me' into 'he's dead now, so for 'x' pounds I'll tell you an even better story' right through to the latest version – 'I've got a great free lawyer and I can sue for some of his millions, so here's how I say it was now'…..I was in the middle of putting the finishing touches to those articles when the Starr bombshell arrived.
So congratulations Freddie. You are a Starr – and a brave man. For all my sympathy for Karin, for all my sympathy for your ex-colleagues who are too frightened to speak out for fear they will be next – I admire you. You have the courage of your convictions. You haven't allowed yourself to be cowed by the threat that it may make the police try harder to 'nail' you; you haven't let the depression of your curtailed contact with your own children get to you; you have your new young wife standing by you – and you are taking the fight right back to where it belongs.
You must know that Karin's lawyers will be portraying her as a pitiful vulnerable creature, and you as a bully for trying to clear your name. You must know that she will probably get financial help whereas you must dig deep in your pocket. You could have kept quiet until you found out whether you were to be charged or not. You could have stood with the multitude too frightened to speak out. But that is not your style is it? You go ahead and fight for your reputation – others will stand on your shoulders with gratitude. You know I will do whatever I can to help you.
Besides which you have really pi**ed off that odious little toad, Chewing GumShoe. See, it messes up his whole media career, having people like you saying 'right, prove it'!



September 2, 2013 at 23:46










September 3, 2013 at 01:05










September 3, 2013 at 01:21







September 2, 2013 at 23:33







September 2, 2013 at 20:39







September 2, 2013 at 22:09







September 2, 2013 at 19:02







September 2, 2013 at 21:15




September 2, 2013 at 18:29










September 2, 2013 at 18:36










September 2, 2013 at 18:40







September 2, 2013 at
20:01








September 2, 2013 at 20:36




September 2, 2013 at 18:24







September 2, 2013 at 18:03










September 2, 2013 at 18:06







September 2, 2013 at 17:25










September 2, 2013 at 17:49







September 2, 2013 at 17:11







September 2, 2013 at 17:01







September 2, 2013 at 15:00







September 2, 2013 at 14:36







September 2, 2013 at 13:58




September 2, 2013 at 13:33










September 2, 2013 at 12:18




September 2, 2013 at 12:16




September 2, 2013 at 11:38







September 2, 2013 at 17:58







September 2, 2013 at 11:25







September 2, 2013 at 10:41










September 2, 2013 at 10:59




September 2, 2013 at 09:26










September 2, 2013 at 01:47




September 2, 2013 at 01:31







September 2, 2013 at 01:45










September 2, 2013 at 01:50







September 2, 2013 at 01:25







September 2, 2013 at 01:36










September 2, 2013 at 02:24




September 2, 2013 at 01:11




September 1, 2013 at 23:23




September 1, 2013 at 20:25







September 1, 2013 at 20:07




September 1, 2013 at 20:04







September 1, 2013 at 19:58




September 1, 2013 at 19:27




September 1, 2013 at 18:44




September 1, 2013 at 18:28







September 1, 2013 at 21:04







September 1, 2013 at 22:46







September 2, 2013 at 15:08




September 1, 2013 at 18:05










September 1, 2013 at 18:00







September 1, 2013 at 17:33







September 1, 2013 at 17:09




September 1, 2013 at 17:05




September 1, 2013 at 17:00




September 1, 2013 at 16:58







September 1, 2013 at 16:57




September 1, 2013 at 16:45




September 1, 2013 at 16:40







September 1, 2013 at 17:57




September 1, 2013 at 16:36




September 1, 2013 at 16:34







September 1, 2013 at 16:16










September 1, 2013 at 15:52







September 1, 2013 at 16:09










September 1, 2013 at 16:32




September 2, 2013 at 02:11







September 2, 2013 at 07:22




September 1, 2013 at 15:24







September 1, 2013 at 15:20










September 1, 2013 at 15:27










September 1, 2013 at 15:33










September 1, 2013 at 15:42







September 1, 2013 at
16:01





September 1, 2013 at 15:17










September 1, 2013 at 15:44




September 1, 2013 at 15:07