Gathering Winter Fuel Statistics….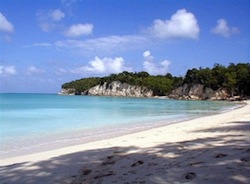 This is Guadeloupe. Pretty little place isn't it? A Caribbean island located in the balmy Leeward Islands, in the Lesser Antilles. As December descends on those of us in the northern hemisphere, so the balmy summer days of the Caribbean become increasingly attractive. Travel advisors say the best time to go there is December 'when the weather remains warm and dry and daily highs rest in the mid-80s.'
Guadeloupe has everything that you could want to escape shivering through the British winter and sky high fuel bills. From surfing schools to beach bars to long stretches of beautiful sand and temperate water to bathe in. Superb food, first class hotels, modern transport connections, even an easy to understand currency – the Euro.
Language could be a problem if you fancy living there permanently – very few people speak English, French or Antillean Creole is what you need to communicate – and if you are British and need the help of your embassy, you will have to go all the way to Venezuela before you find consular assistance! How about Martinique? Lonely Planet tells me that Martinique enjoys a year-round tropical climate though its busiest tourist period is during the dry season, from December to May, when temperatures average about 26°C. Oooh, 26° in December, lubberly. Hobnobbing with Pierce Bronson, topping up your tan alongside bill Gates, it is the ultimate luxurious – and discrete – playground for the rich and famous.
The marina is where many of the rich and famous pull up on yachts that take up 100 feet of dock space. Others rent exclusive villas, complete with staff. It is not a budget destination. Still if you can afford it – not on a British pension obviously – December in Martinique offers yet again, superb food, 'five star and then some' hotels, and though Pan Am no longer run 'first class only' flights from New York, Air France will still whisk you there in style if your private plane is otherwise occupied.
Like Guadeloupe, few English speakers, reputedly the American star George Benson had to find an interpreter so that he could order lunch there. No British embassy, and nowhere to cash in your British pension.
Maybe if we leave the Caribbean and travel across to the Indian Ocean we will find somewhere affordable for a British pensioner to live? How about Réunion? Like Hawaii, it is located above one of the hotspots in the earth's crust. The climate is tropical and humid, with December temperatures averaging 26° – year round the sea temperature rarely drops below 23°! Air Mauritius will get you back and forth to England if you really have to see the grandchildren – once you've taken the boat to Mauritius.
Still, why would you ever want to leave? Er, the volcanos that erupt out of season or perhaps the fact that part of the island hold the record for the most rainfall in 72 hours – 154 inches – that's er, 12 foot something! Great place for a winter holiday, but year round?
Language is still a problem – French is the language – by law. You can still use your Euros but not easy to collect your pension. Great beaches and balmy water – but 11 shark attacks, including an 11 year old girl bitten in half, in the past two years would be enough to put me off. Still in the Indian Ocean, just off the coast of Madagascar, how about the island of Mayotte? December is the height of summer there, and temperatures are much the same as Réunion – around 26°. Hard to get into or out of, Dzaoudzi Pamandzi International Airport now proudly boasts a 'paved runway' – as of 2002. The population is mostly Iranian muslims, and the descendants of Arab traders.
Language is still a problem – French is the language – by law. However, not many people actually speak French, and definitely not English – Kiantalaotsi, a western dialect of the Malagasy language, heavily influenced by Shimaore and Arabic is what you need to communicate the fact that you are starving and in need of a roof over your head. There is a total of 45 miles of paved roads, so you might be tempted to think that there is not much point in importing your car if you went to live there, but with no railway either, how else are you going to get around?
Still not tempted you to life abroad as an English pensioner?
OK, let's zoom off to South America, right next to Brazil – French Guiana! It's very close to the equator, so you'll have no need to be gathering winter fuel, summer or winter. Most of it is inaccessible forest land, but there are a few coastal townships. December temperatures around 30°.
French Guiana has some of the worst soil on this planet – so don't expect good food to be found there. Fish and bananas are a pretty staple diet.
You'll need to speak good French, the locals don't but you'll never master the Saramaka language, so conversation will be confined to the few French speaking officials.
The penal colony that the murderer Charrière was so keen to escape from in the novel Papillon was here – and things haven't changed a huge amount since those dire days.
Still not tempted by any of these blazing winter temperatures? Why did I think you might be? I didn't!
But the Department of Works and Pensions in dear old Blighty thought it entirely possible that thousands of British pensioners might be sitting sipping Sangria in Guadeloupe, or Martinique, Réunion, Mayotte or even reliving the adventures of Papillon in French Guiana – not on a well earned holiday, but living there as permanent residents, and unfairly and unnecessarily claiming their winter fuel allowance….
Which is why they have excluded all British pensioners living in France from claiming Winter Fuel allowance. See, when they compared average winter temperatures in the whole of Spain and Italy with winter temperatures in little old Cornwall, they conceded that yes, indeed, Spain and Italy were colder than little old Cornwall, and thus British pensioners living there get to keep their winter fuel allowance.
But when they came to perform the same calculation for France, they included as 'France' the overseas territories, like Guadeloupe, Martinique, Réunion, Mayotte or French Guiana – and the sum effect of including all those near equatorial islands half way around the globe, (which experience summer in December anyway) – was to conclude that December temperatures in that one little county, Cornwall, were indeed colder than France….
And that, children, is the true story of how the government came to take a miserable £200 a year away from people such as our esteemed commentator Eleanor 'Andcart, still cutting grass day after day at the ripe old age of *(a damn sight older than me anyway) in order to eke out her pittance of an English pension – because she lives in France, all of 174 miles from Cornwall – but one Hell of a lot colder in winter, so long as you don't include the equatorial territories when comparing it with one English county!



September 2, 2013 at 13:10







September 2, 2013 at 10:47







September 1, 2013 at 14:29




September 1, 2013 at 12:41




September 1, 2013 at 12:35




September 1, 2013 at 12:07




September 1, 2013 at 12:06







September 1, 2013 at 12:00




September 1, 2013 at 11:20







September 1, 2013 at 11:14







September 1, 2013 at 18:25







September 1, 2013 at 19:19







September 1, 2013 at 09:48







September 1, 2013 at 09:16