Mark Williams-Thomas – The Mark of a Man?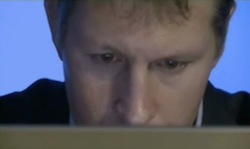 Back in 2010, the British Daily Mail newspaper in the UK was reported as likely to be sued by the American internet giant Facebook.
The Daily Mail faced legal action from Facebook, after wrongly naming the social networking site in an article about child safety online. The Mail published an online retraction of the article by child protection expert Mark Williams-Thomas, which was originally published under the headline:
"I posed as a 14-year-old girl on Facebook. What followed will sicken you."
Whilst the newspaper was busy retracting, the reporter Mark Williams-Thomas, was tweeting his innocent role in this catastrophe that he claimed had been totally caused by the Daily Mail.
In a message sent via Twitter, author of the piece Williams-Thomas said he had "made it very clear in final copy to the Mail that the experiment was conducted on a SNS [social networking site]" with "no mention of Facebook".
It was a terrible mistake that Williams-Thomas bitterly regretted had happened and his representative at the Daily Mail expressed her clients' legal position quite categorically. The Guardian picked up on the contretemps. Williams-Thomas was reported as even having utilised his police training by taking notes of his 24 hour day and who he had spoken to at exactly what minutes of that day. This sort of detailed reportage always sounds convincing. The Mail was forced to apologise and take the rap.
"The paper apologised in print today and online yesterday for the error, which the author of the piece, Mark Williams-Thomas, insisted had been introduced at the paper despite being told it was wrong. Williams-Thomas, a former policeman who now works as a criminologist, subsequently explained:
"At 19.48 hours on Tuesday 9th March I sent amended copy to the interviewing journalist at the Daily Mail in which I had made small but significant changes to the copy she had sent to me which I read at 19.21, including removing the word Facebook and replacing it with 'well known social networking site'. I made it very clear to the journalist and her alone that the changes I had made were necessary before publication. It is clear that the changes were not made… At no stage prior to publication did I have any communication with any editors at the Daily Mail."
The protestations by Mr. Williams-Thomas became absolute and irrefutably clear in the Guardian:
"Williams-Thomas insists that he was not using Facebook but had been using another, unspecified social network."
So, you can imagine my surprise when I clicked on this old youtube clip that has been on youtube since April 2011 and watched the first 37 seconds.
http://www.youtube.com/watch?v=y1lfp2xFQ5M
Just as Bill Clinton did NOT have sex with that woman………
So Mark Williams-Thomas did NOT use FACEBOOK……..are you sure?
In case your computer cannot do video, here are some image captures and a verbatim transcript of the dialogue "My latest investigation has uncovered shocking new evidence of how paedophiles are posting horrific images and videos of child abuse on Facebook." "At first glance these could be innocent images of young kids posted by themselves or their families…" "but a closer examination of their profile page, and the friends linked to them, reveal some truly disturbing images of children being sexually abused, along with keywords that direct other paedophiles to other places where they can trade them."
So we are left with a few questions after all.
Did Mark Williams-Thomas lie to the Daily Mail and pretend that his story was not about Facebook?
Did the Daily Mail know it was about Facebook but then simply wanted to avoid a costly legal battle?
If there are horrific images of child abuse easily accessible on Facebook why have Mark Williams-Thomas and the Daily Mail attempted to hide this fact from the world by insisting their investigation was not using Facebook?
Facebook of course may have their own list of questions.
One thing is for sure, we have not heard the truth, the whole truth and nothing but the truth.
So Help Me God!



August 19, 2013 at 02:58







August 18, 2013 at 18:42










August 17, 2013 at 16:43










August 17, 2013 at 17:33







August 17, 2013 at 17:37







August 17, 2013 at 21:11




August 18, 2013 at 01:44







August 18, 2013 at
14:55


August 16, 2013 at 15:36




August 15, 2013 at 23:43




August 15, 2013 at 20:17










August 15, 2013 at 20:50




August 15, 2013 at 20:00







August 15, 2013 at 19:34










August 15, 2013 at 19:43







August 15, 2013 at 18:33




August 15, 2013 at 16:16







August 15, 2013 at 16:13







August 15, 2013 at 10:50







August 15, 2013 at 01:28







August 15, 2013 at 00:33




August 14, 2013 at 23:16







August 14, 2013 at 19:37







August 14, 2013 at 18:47










August 14, 2013 at 19:17







August 14, 2013 at 18:41




August 14, 2013 at 17:20










August 14, 2013 at 15:49




August 14, 2013 at 09:09










August 14, 2013 at 10:30







August 14, 2013 at 10:35




August 14, 2013 at 08:53







August 14, 2013 at 02:40




August 13, 2013 at 22:09










August 14, 2013 at 02:43










August 13, 2013 at 21:46




August 13, 2013 at 18:44







August 13, 2013 at 17:20







August 13, 2013 at 15:03









August 13, 2013 at 14:24







August 13, 2013 at 14:22




August 13, 2013 at 10:05







August 13, 2013 at 03:59




August 13, 2013 at 03:56







August 13, 2013 at 01:53







August 13, 2013 at 00:34




August 12, 2013 at 23:55




August 12, 2013 at 22:41







August 12, 2013 at 21:20









August 12, 2013 at 19:53




August 12, 2013 at 19:51







August 12, 2013 at 18:46







August 12, 2013 at 19:01







August 12, 2013 at 19:13




August 12, 2013 at 19:34




August 12, 2013 at 19:52




August 14, 2013 at 11:25




August 12, 2013 at 18:13










August 12, 2013 at 18:31







August 12, 2013 at 18:35










August 12, 2013 at 22:25







August 12, 2013 at 19:24







August 12, 2013 at 20:24




August 12, 2013 at 18:03










August 12, 2013 at 18:42










August 12, 2013 at 18:55







August 12, 2013 at 18:02










August 12, 2013 at 18:40







August 12, 2013 at 18:59




August 12, 2013 at 16:37







August 12, 2013 at 16:30







August 12, 2013 at 15:35




August 12, 2013 at 14:43







August 12, 2013 at 14:15







August 12, 2013 at 13:50




August 12, 2013 at 13:29







August 12, 2013 at 13:23







August 12, 2013 at 13:42







August 12, 2013 at 13:46







August 12, 2013 at 11:05










August 12, 2013 at 12:34







August 12, 2013 at 10:48




August 12, 2013 at 10:25







August 12, 2013 at 08:56







August 12, 2013 at 08:15










August 12, 2013 at 07:37







August 12, 2013 at 07:03