Oy! You Left Something Behind Abu Omar!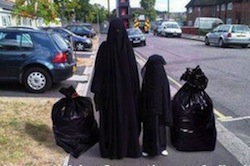 Abu Omar ibn Mahmoud ibn Othman al-Filistini used to live in a dusty fly blown house in downtown Amman. He shared the house with his wife, three children, his elderly parents, and 18 other individuals all related by varying degrees. I believe that makes 25 people in all. They all had to eat and help to pay the household bills.
One day, he had a bright idea; 'I know' he said to his wife, 'let's go to England; just you, me and our three kids – leave this lot here to fend for themselves'.
'But Omar bey' said Mrs al-Filistini 'who will pay for the food if we don't take your parents with us, you're not considering getting a job, surely?'
'Trust me' said Abu Omar ibn Mahmoud ibn Othman al-Filistini, 'Allah ibn National Handbag will provide, you shall see Mrs al-Filistini'.
Thus it was that Omar put all his belongings into black bin liners, yeah, even his wife and three children, and spake thus to the immigration officer he met on England's fair and gentle shores.
'I'm terrified of living in Amman, anything might happen to me, I might have to get a job, you just don't know the terrors in store for me there.'
'I say, old chap' said the immigration officer, 'that's appalling; is there a specific threat against you that I might be able to quote to help you stay here'.
'Well, nothing specific, but I mean, I might have broken some laws there and they might take me to court in the future'.
'Bloody heathens' said the ex-plumber who was on duty that day as an immigration officer 2nd class, half trained, 'says here I can give you asylum; what's in all those bin liners you've got with you'?
'Well, the big one is my wife, and the three little ones are the kids'.
'Any specific threats against them?'
'Nope, but its their 'uman rites to be with me, their loved and honoured head of their household, besides which, who would feed them if I'd left them behind'?
'OK Abu, just the one wife is it'?
'So far!'
'Just the three kids'?
'So far!'
'Here's yer papers then, welcome to Britain'.
Thus it was that Abu Omar ibn Mahmoud ibn Othman al-Filistini and Mrs al-Filistini and the three little al-Filistinis went to live in leafy Wembley in a three bedroomed house with a nice garden. Time hung heavily on Abu Omar's hands with no work to worry about and not having to queue up for three hours behind the other 24 adults to get into the lavatory every morning – and Mrs al-Filistini was looking more attractive with every passing minute. In no time at all, there were two more little al-Filistinis but Allah ibn National Handbag expanded accordingly and everybody had enough to eat, and the older al-Filistini's were being given a top class education and the sun did shine occasionally.
Trouble was that someone remembered that Abu Omar had changed his name when he was 19 and become Abu Qatada, and the Amman authorities did want to take him to court.
'No worries' said the half trained legal clerk (an ex-Comet washing machine salesman, as it happens, with spiky hair and a shiny suit) at the legal aid authority; 'fill in this form, and you can go and get yourself a top flight lawyer – how about Gareth Pierce – and Allah ibn National Handbag will pay for it all'.
'This is an amazing country', said Mrs al-Filistini, 'you mean Allah ibn National Handbag is paying the top flight lawyer to get you out of this country, and paying the top flight lawyer to prove you can stay here'?
'Yep, several million pounds, and that's not including the £50,000 a year to keep you and the five little al-Filistini's'.
'The Landlord's a bit up tight though, I told him I was a single Mum with five kids, and now he's found out you are here he's a bit pissed off and wants us out'.
'No worries, my little كيس قمامة, we'll tell them we want a bigger house, we've got more kids now'.
In no time at all, Abu Omar had a bigger house, same area – well, the kids were all in local schools – double glazing, bigger rooms, more bathrooms, bigger garden; and those nice men from the police station came round and put in panic alarms, and cctv cameras and everything so they wouldn't be disturbed. It only cost the Allah ibn National Handbag £28,800 a year…
Things didn't go smoothly all the time; some of the Britons got a bit uptight themselves and started marching up and down the street at night, shouting out nasty things things like 'why don't you get a job' and 'piss off back to Jordan'. Mrs al-Filistini was really upset about it, it ruined her Qahwa morning with the al-Qaeda women's sewing circle, so she shot off to her lawyers, Bindman's this time…and had those nasty Britons prevented from demonstrating outside her house.
Meanwhile, Abu Omar's lawyers found that for all the millions they'd been paid, they had come second in the finals of the all-England extradition ping pong game, and Abu Omar had to pop off to Jordan.
'Never mind', they said, 'there's still fat fees to be earned out of this. We'll defend Mrs al-Filistini and the little al-Filistini's human rights to be close to their loved and honoured head of household, the Government will have to fly them out to fly-blown Jordan, first class naturally, and she'll be back in the bosom of the family along with the 23 others in that house, and, and….'
'What d'you mean, she left a message on the answer phone telling us to piss off and leave her alone in leafy Wembley with her half million pound house and garden with all bills paid – all of a sudden she doesn't want to be with her husband already? Oy Vey!'



July 9, 2013 at 12:02







July 8, 2013 at 12:35




July 8, 2013 at 11:28




July 8, 2013 at 10:48




July 8, 2013 at 10:42







July 7, 2013 at 20:54




July 7, 2013 at 18:55




July 7, 2013 at 18:11







July 7, 2013 at 15:35




July 7, 2013 at 13:56




July 7, 2013 at 13:51