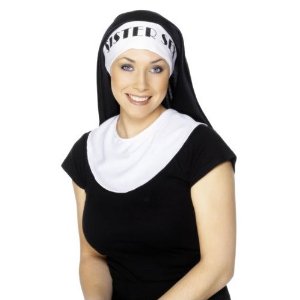 Dear People of the Internet and Raccoon Readers,
I am writing to you in search of help and advice and consolation, because it seems that I have lost, or rather been locked out of what my SPECIAL FRIEND Gildas calls my G-spot!
Now, let me explain. It is true that, although I have certain womanly skills not least in ways in which it is very appropriate so to have them and which keep my SPECIAL FRIEND Gildas the Monk very happy on most Saturday nights (provided his favourite football team has not lost, in which case MATCH OF THE DAY is switched OFF and there is terrible gloom and doom and ranting) and also on certain appropriate HOLY DAYS and BANK HOLIDAYS.
However, neither I nor my SPECIAL FRIEND Gildas has any ability at all when it comes to technology or the web. (Ed: Your words, not mine!)
Therefore it was a matter of extreme excitement when a few weeks ago I managed, with no help at all from the useless Gildas, to set up a Gmail account. To be precise SexySubEva@gmail.com. Or some such. PRAISE THE LORD!
This seemed to strangely amuse Gildas, and the naughty monk seemed most amused to be endlessly talking about what he called my G-Spot mail, although the source of his amusement was not that clear to me.
So armed with the e-mail of G I began correspondences with many notable and exciting persons, including a NIGERIAN gentleman who has discovered I have MILLIONS of dollars in unclaimed legacies from numerous previously unknown relatives (I have to send him some details, so Gildas' CREDIT CARD statements seemed a good idea). Also a nice young lady called SVETLANA from VLADIVOSTOK who is very beautiful and is always proposing that she comes and MARRIES me, but needs some cash to make the trip. But I expect she is easily confused by the language, even though her bio says she was a Professor of Biophysics and also runner up in the MISS SIBERIA 2011 contest and just 21, and very lonely.
I also enjoyed a Dalliance or two on http://www.uniformdating.com/. Mainly with the Red Watch at the Newton Abbot Fire Station. Please don't tell Gildas, and anyway I know what he likes to read after vespers – Trying to convince me that FIFTY SHADES OF GREY was a manual about undercoat paint was NOT going to work.
But WOE is me and thrice woe! For I cannot now access my G-Spot mail! It is most curious. For when I go to the book mark for my G Spot account I get a letter from Google, thus:
Add Gmail to your Google Account
Name First name First Last name Last
Choose your Gmail address @gmail.com
You can use letters, numbers and full stops.
Mobile phone
Your phone number helps us with things like keeping your account secure. For example, we can send you a text message to help you access your account if you ever forget your password.
Your current email address
We will use this address for things like keeping your account secure. For example, we can send you an email alert if we see unusual activity in your account.
By completing this form, you're upgrading to Gmail, email from Google.
Now this is a very nice letter, but it HELPS ME NOT AT ALL. For I KNOW I have my Google Account, and all I want is to access my G Spot! I do not want a new one! If I enter my G Spot mail address in the little box called "choose your G mail address" it tells me "That address is already taken". I BLOODY KNOW THAT. It is taken by ME! And I just want to get into it! And ROUND AND ROUND we go.
In my distress and anxiety I took counsel from my SPECIAL FRIEND Gildas, but he was useless as ever and just prodded the computer with a stick. This did no good at all. So I bared my heaving soul to my Twatter account, and lo! I was inundated by others carping of the HORRORS OF THE G SPOT MAIL. It seems like G-Spot mail is much like an incompetent and confused jailer, ever intent on LOCKING PEOPLE OUT.
So, people of the interweb, what is the solution to MY GREAT G-SPOT MAIL CONUNDRUM, and what is the low down on G-Spot mail in general?
In love and light!
July 7, 2013 at 17:34




July 7, 2013 at 15:03







July 7, 2013 at 13:46




July 7, 2013 at 10:45







July 7, 2013 at 09:22










July 7, 2013 at 07:48