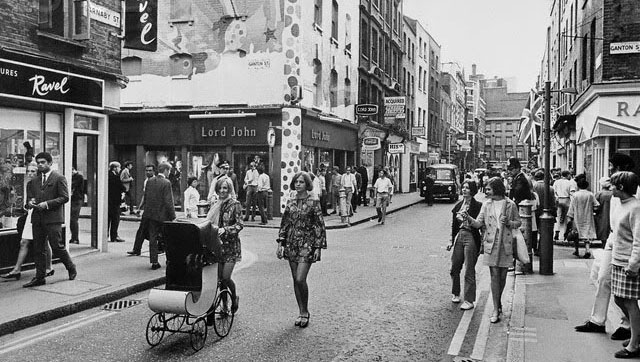 Today, an exhibition opens in London of an event, a life changing event, that transformed lives far more effectively than anything the Nu-Labour activists could dream of. It was a genuine revolution, a relatively bloodless one.
Today, Carnaby Street is 50 years old. That is not quite true, Carnaby Street was around in Dicken's time, a grimy backstreet at the wrong end of Oxford Circus, unloved by retailers – and hence an area of dirt cheap rents.
Today, the re-invented Carnaby Street, centre of 'swinging London', is 50 years old.
Carnaby Street was my 'beginning', where I started my life as an independent adult, and I loved it with a passion. I was far too young to work legally, and totally unqualified in anything, but Carnaby Street was a place where new life was forged, where no one had any experience, where everyone was young.
The characters that were around were legendary.
Colin Wilde, the tailor who designed the first cat suits, decided that my ridiculously long legs and skeletal frame (this was 50 years ago folks!) were the perfect vehicle to advertise his product. In return for a supply of free clothing, made to measure for me, I spent my days measuring some of the most famous inside legs around and advising on suitable pouches for 'padding' for that all important skin tight cat suit appearance on Top of the Pops. One of the perks was tickets for a show that was the centre of every teenager's universe. Occasionally I see clips of Top of the Pops and I can recognise myself or Dawn bopping around in the background like demented meerkats. I didn't actually get paid, but there was a regular supply of the novel 'hotdogs' from the Greek Cafe in Beak Street that sufficed. For a teenage runaway, free clothes and a life spent crawling between legs that other teenagers could only dream of being close to, was an education in itself.
My best friend was secretary to Don Arden, then a rising pop entrepreneur, (where are you Dawn?) and she and I would babysit the young Sharon Osborne in his office. We went off to the Galway Bay Oyster festival in grand style in the first Rolls Royce that Charlie Simpson, an ex-East End paraffin salesman, had awarded himself from his Kleptomania chain of shops – and left behind a trail of devastation as Carnaby Street met Anglo-Irish gentry at what was then a very 'county' event. I still can't face Guinness and Oysters to this day.
I had taken refuge with a family of Australian potters who produced something called a 'mug' – an item unheard of in those days, and I sold them to Liberty's – an event which completely overran the 'we're artists – not artisans' ethos of Hatton Beck, so I journeyed up to Stoke-on-Trent and managed to persuade the Liverpool Road pottery to make me 200 mugs, with a Union Jack on the side.
Liberty's were far too snooty for such an item, hand thrown pottery, yes, china, nooooo! So they went into John Paul's new 'I was Lord Kitchener's Valet' shop on Piccadilly, in return, not for money, but for two days helping to paint the shop black – black being the cheapest way of concealing the shop's previous history. A curious arrangement – John Paul would take your goods on sale or return, in return for your labour!
The mugs sold out within hours, and I hitch-hiked up to Stoke to pay the bill and order more. On the way back, standing on the side of the M1 in pouring rain, a sleek jaguar pulled up and offered me a lift to London. Polite conversation ensued as to what this bedraggled rat in a skin tight cat suit was doing standing on the side of the M1, and when I explained, the driver roared with laughter. 'You mean you hitch hiked up here just to pay a bill'. 'Yes', I said. 'You'll never have to do that again' he said.
The driver was Percy Baskerfield, owner of the pottery. A great friendship followed, he gave me a £1,000 line of credit, an unimaginable sum in those days, and credit for a woman was equally unheard of. When he left his wife and ran off with Ruby, his secretary, improbably to open a fish and chip shop in Tangier, I visited and acquired a new line in kaftans, hugely popular after the Beatles followed the Maharishi to India. Lengths of leather, and a job lot of silver bells turned into necklaces for the hew hippies, and proved a big seller in Portobello Road.
Looking back I realise one curious fact – none of us had any money. We bartered our youth, our energy, our enthusiasm. There was no such thing as social security for teenagers, or dole money. No outreach workers, or social workers. Even at the centre of swinging London, I didn't know anyone who had ever actually taken drugs, though rumours abounded. The pill hadn't been invented, so we were remarkably circumspect in our relationships.
And yet they were great times, fun times, and happy memories. We changed the world, we turned pop music into a potent economic force. We shocked, we challenged, we rebelled. We changed the clothing industry. We changed hairstyles and lifestyles. We invented the world teenager. We changed society. We did it all without a mobile phone, without the Internet, without support workers; for most of us, without any visible means of support whatsoever.
Will today's teenagers effect such a revolution and turn this country round?
*'In the beginning' was first published on February 26th 2010.
** Ms Raccoon is on her hols until Sunday, so has been digging some old posts out of the bottom drawer of the filing cabinet to keep you amused…as it happens, she is 65 today and being wined and dined in great style, wearing a beautiful silk hippy kaftan (all clothing has to be 'hippy' these middle-aged spread days) to what I am told is the best Thai restaurant in Morocco. She still intends to return – but you never know…
June 3, 2013 at 11:01







June 2, 2013 at 08:58




June 1, 2013 at 23:41




June 1, 2013 at 23:07




June 1, 2013 at 22:55




June 1, 2013 at 20:17




June 1, 2013 at 20:12







June 1, 2013 at 18:29




June 1, 2013 at 16:41







June 1, 2013 at 14:32




June 1, 2013 at 12:56







June 1, 2013 at 11:46







June 1, 2013 at 10:46







June 1, 2013 at 10:30







June 1, 2013 at 10:08




June 1, 2013 at 09:53




June 1, 2013 at 09:42







June 1, 2013 at 08:03