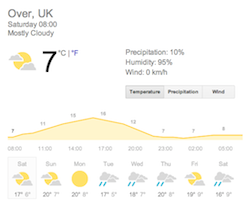 How is the weather in your part of the Bank Holiday British Isles?
Looking at the weather map, I see that West Freugh (I had to look it up too – 5 miles south east of Stranraer, over on the west coast of Scotland) had the best chance of seeing the sun and yesterday reached the dizzy heights of 15°C. If they are to be believed – the temperature was recorded by the same outfit that claimed they saw a UFO back in 1957.
Elsewhere in the UK, I am reliably informed it hovered around the 7° mark. Brrrr! Dear old Cromer recorded an aquatic 20 mm of rain, and hailstones rain down over parts of the Watery Isles as I write.
Fear not, the Government is spending your money wisely. Public Health England, our newest, shiniest, Quango has had minions toiling away for weeks, committee meetings by the bucketful, project managers rushing back and forth, and phew! just in time for the bank holiday, has rushed out their latest glossy report.
The Heatwave Plan for England 2013!
"There is consistent and extensive evidence from around the world that exposure to excessive heat kills."
"The Heatwave Plan is an important component of overall emergency planning and sets out a series of clear actions that can be taken by healthcare organisations, local authorities, professionals working with vulnerable people, and individuals to help keep people safe during extreme heat. To avoid the devastating consequences of a heatwave, we strongly encourage each locality to consider the actions in this plan and adapt them to their local situation, as a component of wider resilience planning and long-term climate change adaptation arrangements."
Yes, despite the gurgling sound from the submerged exponents of global warming; notwithstanding the time spent hunting fresh heating supplies for their miserable offices; the global warming enthusiasts are still on message.
Download a copy here, excellent for fire lighting purposes…
Enjoy your holiday!



May 27, 2013 at 08:02




May 26, 2013 at 08:22




May 26, 2013 at 01:00







May 26, 2013 at 00:38







May 25, 2013 at 20:01










May 26, 2013 at 09:15




May 25, 2013 at 19:25




May 25, 2013 at 17:51




May 25, 2013 at 16:15







May 25, 2013 at 13:40







May 25, 2013 at 12:34










May 25, 2013 at 09:57




May 25, 2013 at 09:28