Save Your Freedom – Please Retweet!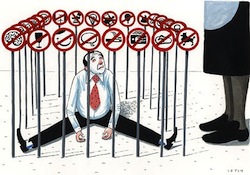 We need to 'gird our loins' and go to battle folks, I need your assistance on this one! Please retweet this post to anyone you think might pay attention, and kick into action those who you think will continue dozing. I know its easier to continue playing solitaire – but you could put your computer to better use this morning, trust me.
I shall explain.
A year ago, I wrote of a worrying case where Social Workers went to the High Court for permission to enter the home of a person of sound mind because 'it was thought' that possibly they were making decisions as a result of 'undue influence' by their son who lived with them. No one actually knew whether they were or not, but on the basis that they might be – such permission was granted. Fair enough, a judge had listened to the arguments from 'a' social worker – we are not allowed to know who – and a document was drawn up delineating what subjects the son was allowed to speak of to his parents in their own home…in particular, he should not discuss with his parents any arrangements for securing the family home. What happened to the home in which he and his parents lived was to be entirely a matter for the local authority to decide if and when they thought it should be sold…..presumably if and when the parents became vulnerable through mental incapacity.
Social Workers were outraged – why should they have to grovel before a judge and explain themselves before they could enter a home and decide the basis on which family relations should be conducted? The fact that they wanted to do so should be perfectly sufficient! They lobbied hard to be given an automatic right of entry to any household they wished, irregardless of whether the occupants were vulnerable for any reason…in order to dole out health advice or dictate how individuals conducted their family affairs.
The Government agreed to consult on the matter. Raccoon readers were kind enough to make a magnificent response to the survey! The results of that consultation were published a few days ago. The Government were not minded to give that power to Social Workers:
We believe it is highly significant that members of the public were far more strongly against the proposal compared to health and social care professionals […] it is clear that some people perceive themselves at greater risk of unwarranted intervention by social workers than of abuse in their home.
The Social Workers have thrown a hissy fit! We, the public, don't understand! Nanny knows best! We have to be encouraged to eat our 'five a day', and Social Workers are the people to do it… no sooner was the Government's conclusion to the survey announced than the Social Workers flounced into print:
A survey of social workers carried out by the College during the consultation had found overwhelming support for the power, with practitioners citing cases where they would have used it had it been available. Walker said:
"It seems that the weighting [the government has] given to individuals' responses doesn't reflect the evidence or the professional view."
They are mobilising 'the professional view' to lobby the Government before the second reading on the 21st May of the Bill that would give them this power. This is becoming a battle of wills. Nobody is objecting to them going to court if they really believe that there is a specific problem in a specific household – but that is a world away from all Social Workers having the power to enter any house at any time and dictate how the occupants live!
Remember that Social Workers do not have to be publicly named, nor do the local authority have to be publicly named – There have been 358 applications from Bristol City Council, South Gloucestershire, North Somerset and Bath & North East Somerset councils in the last 3 years alone demanding the right to take control of households, their finances and the welfare of the occupants. Just in one relatively small area!
Newcastle MP Paul Farrelly has written to the Lord Chancellor demanding to know why Stoke on Trent City Council has requested that some families be imprisoned for challenging orders governing the welfare of their loved ones. (No public record exists of Judge Cardinal's ruling on Miss Maddocks and secrecy rules forbade anyone to name Stoke on Trent City Council who had requested that Miss Maddocks be imprisoned. The social worker who gave evidence against her could not be named either.)
Kingswood MP Chris Skidmore said:
'It cannot be right that local authorities and council bureaucrats should run roughshod over the lives of individuals and their families. At the centre of elderly care must be the concept that families and loved ones must have a right to care and look after the best interests of patients, whatever their condition'."
I have spoken to John Hemmings MP on this matter, and he told me this morning, quoting yet another case:
'Although the senior judiciary have now moved to stop secret imprisonments for contempt of court, it remains that we have a number of other secret prisoners where there is no public accountability as to why people have their liberty denied. I have passed the Rachel Pullen case to the Grand Chamber of the European Court of Human Rights (RP v The United Kingdom). The key to this case is that as with many others in fact she does have capacity. It is simply that the courts have ignored all the evidence that she has capacity and only taken into account the single expert that says she doesn't. I have provided examples of a number of cases where the capacity assessment is plainly wrong.
In England we allow a single social worker to imprison someone by claiming that they don't have capacity – and the Courts will accept this. That is basically wrong.'
They are misusing the power they have at present, a power that they argued was essential to protect the vulnerable, the young, the elderly, the mentally incapacitated. Now they seek to extend that power to all of us, at any time, under any circumstances, just because they think they should – and they don't want a nosy judge overseeing how they use that power.
They don't like the fact that the Government listened to the public in that consultation – they want our voices to be overruled. What do we know, ignoramuses that we are?
Lord Reid once said:
"English law goes to great lengths to protect a person of full age and capacity from interference with his personal liberty. We have too often seen freedom disappear in other countries not only by coups d'état but by gradual erosion: and often it is the first step that counts. So it would be unwise to make even minor concessions."
Please help to reinforce the will of those in parliament who are listening, and will try to protect our freedom. Lord Howe will be introducing the 'Care Bill' into the House of Lords for its second reading on May 21st 2013. Make sure he doesn't think the public's response to the consultation was a 'fluke' – and drown out the voices of the professionals!
Its in your 'best interests'. You can e-mail Lord Howe via this link. Tell him that you do want your voice to be heard!



May 21, 2013 at 14:06







May 20, 2013 at 16:28




May 15, 2013 at 19:08




May 14, 2013 at 22:52










May 15, 2013 at 10:46







May 14, 2013 at 19:34




May 14, 2013 at 19:31




May 14, 2013 at 18:23







May 16, 2013 at 11:15







May 14, 2013 at 16:41







May 14, 2013 at 11:36










May 14, 2013 at 11:40










May 14, 2013 at 11:45










May 14, 2013 at 11:24







May 14, 2013 at 11:16







May 14, 2013 at 11:13




May 14, 2013 at 10:26




May 14, 2013 at 10:19




May 14, 2013 at 09:37