Nigel Evans MP is not Dead; Nigel Evans MP is Gay!
Blimey! If we ever doubted the veracity of the two statements in my headline, we have only to take a quick run through the media today. Even the various pictures of Nigel Evans MP that are selected by the different thundering organs of Canary Wharf tell a story.
Nigel Evans MP has been arrested and accused of various sexual offences concerning 'vulnerable victims'. Not one paper describes him as 'creepy', nor goes on to interview a talking head discussing the 'rumours which have circulated for years'. Instead a raft of the great and the good have been interviewed at length to tell us what a charming, delightful, 'good, decent man' he is. I'm sure he his.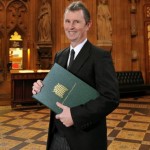 The Sunday Times went with a 'studio' portrait of a youthful and blushing Nigel, holding his copy of the Green Book with the portcullis prominently displayed to emphasise his establishment position. They still managed a sly 'Deputy Speaker in rape arrest' to tickle the fancy of the conspiriloons breathlessly waiting for news of arrests in the 'Top Tory Paedophile ring' that they lust after, before going onto to point out that this is an allegation of Gay rape.
The Sunday Times failed to mention that Evans was interviewed by the then Chief Opposition Whip, Patrick McLoughlin, now Transport Secretary, over claims of 'inappropriate sexual behaviour' in 2009, coincidentally the starting date of the offences of which he is now accused. Allegations which were dealt with without being referred to Police. Why ever would that be? The Sunday Times has been a forerunner in the 'he could have been stopped earlier' articles regarding Savile. Ah, but Nigel Evans is alive and well! Fully entitled to a decent hearing to clear his name of heinous allegations. This is no time for 'premature adjudication', says the legal department. Possibly why the 'comments' are permanently closed. The Sun claims 'an exclusive' – despite the Mirror having broken the story, and the Police confining themselves to a discrete "A 55-year-old man from Pendleton in Lancashire, arrested on suspicion of rape and sexual assault has today, May 4, 2013, been released on police bail until June 19, 2013."
They go for the full house: Tory+Deputy Speaker+Gay+Rape. Helpfully adding a picture of Nigel with David Cameron to emphasise his connections, though in Savile's case, they were only too keen to show pictures of Savile with Margaret Thatcher or the Pope in order to emphasise how 'protected' he had been. No such suggestion in Nigel Evans' case – they have given him column space to point out that his accusers 'know each other'…
Mr Evans said: "Yesterday, I was interviewed by the police concerning two complaints, one of which dates back four years, made by two people who are well known to each other and until yesterday, I regarded as friends. "The complaints are completely false and I cannot understand why they have been made, especially as I have continued to socialise with one as recently as last week.
The Sun also hedges its bet by including pictures of Our Nige with Ed Miliband, and two scantily clad young ladies (not all in the same picture regrettably…!). The Mirror, which originally broke this story, must take the prize for the most bizarre sideways wipe at poor Nige, with their headline of "Rape accused Tory uses make-up to disguise forehead bruise as he faces cameras to deny claims" – accompanied by a close up shot of said bruise, but no explanation, even speculative, in the accompanying article. I guess you don't need to lead with the 'Gay rape' line when you've pointed out that Nigel is using make-up? Was he beaten up by the Police? Spent the night banging his head on the head board? We need to know!
They do give space to fellow MP Mark Pritchard.
Mark Pritchard, Conservative MP for The Wrekin, Shropshire, said: "Nigel Evans is a very popular MP and has established himself as a first-rate Deputy Speaker. "These are shocking allegations – but they are allegations and not proven. Time will tell if they stand up to proper legal scrutiny."
The Telegraph use exactly the same photo as the Mirror, credited to Reuters, but without the bizarre 'make-up' claim – but then are the only paper to dig into their memory bank and reveal that Nigel was questioned by Parliamentary staff in 2009 over 'inappropriate sexual behaviour', which was apparently, a misunderstanding and was never referred to Police. They also helpfully hint that Nigel had been threatened with blackmail in the past over his sexuality. Comments are not open, any more than they were in the Mirror. Are they not interested in what their readers think of this latest development in the war against 'inappropriate sexual behaviour'? Seems not.
Nigel Evans feet had not 'touched the ground' after his arrest before there were calls for him to stand down as Deputy Speaker – presumably the sight of him in the Speaker's chair would have potentially traumatised other vulnerable victims, had they been one of the handful of people that actually watch Prime Minister's Question Time. Not that 'feet not touching the ground' has been a handicap to sitting in the Speaker's Chair in recent times… The Guardian, who surprisingly, go for the most flattering and youthful picture of Nigel, with just a hint of a fey blush to his cheeks, find an MP who is 'disturbed' by news of the arrest:
Brian Binley, Tory MP for Northampton South and a friend of Evans, said: "I was just deeply disturbed and shocked.
"I've known him ever since I've been in parliament and I came in in 2005. I consider him to be a very good friend. I know him to be caring, compassionate and in no way would he inflict himself violently on any other person".
Not a single word of empathy with the alleged 'vulnerable victims'…no in-depth articles regarding the difficulties of 'coming forward' or 'being believed', not one.
Nor is anybody 'giving a victims a voice' via publishing an 'anonymised' account from a brave 'victim' who has come forward to spell out the details of the allegations against Mr Evans.
Nobody has even mentioned Savile, or 'Savile Police' not even in an html link. I checked!
Indeed, although Mr Evans has been bailed until the 19th June, 'he hopes that these matters will have been cleared up long before then'. He has not been charged with any offence as yet.
A quite remarkable show of unified and dignified responsible reportage.
What could be the reason for the main stream media coming over all coy between the last celebrity arrest and the arrest of Nigel Evans MP?
May 9, 2013 at 17:29







May 9, 2013 at 13:36







May 9, 2013 at 13:20




May 9, 2013 at 09:31




May 9, 2013 at 09:19







May 9, 2013 at 07:57




May 8, 2013 at 20:16




May 8, 2013 at 19:51




May 8, 2013 at 19:44










May 8, 2013 at 20:04







May 8, 2013 at 19:01




May 8, 2013 at 18:56







May 8, 2013 at 10:10




May 8, 2013 at 09:50




May 8, 2013 at 09:22




May 7, 2013 at 19:35




May 7, 2013 at 19:27







May 7, 2013 at 18:04




May 7, 2013 at 17:49







May 7, 2013 at 19:49







May 7, 2013 at 17:14




May 7, 2013 at 16:05







May 7, 2013 at 14:56




May 7, 2013 at 14:52




May 7, 2013 at 14:44







May 7, 2013 at 13:11







May 7, 2013 at 12:54







May 7, 2013 at 12:18







May 7, 2013 at 11:43










May 7, 2013 at 19:33







May 7, 2013 at 10:26







May 7, 2013 at 10:12




May 7, 2013 at 09:59




May 7, 2013 at 09:55










May 7, 2013 at 09:22







May 7, 2013 at 08:54




May 7, 2013 at 08:38




May 7, 2013 at 07:08




May 6, 2013 at 23:23







May 6, 2013 at 23:22







May 6, 2013 at 22:09













May 7, 2013 at 00:04







May 7, 2013 at 00:10










May 7, 2013 at 01:40










May 7, 2013 at 09:41










May 7, 2013 at 00:17







May 6, 2013 at 20:43







May 6, 2013 at 22:12










May 6, 2013 at 20:21










May 6, 2013 at 20:38







May 6, 2013 at 21:59




May 6, 2013 at 23:19







May 6, 2013 at 18:24




May 6, 2013 at 17:26







May 6, 2013 at 16:22




May 6, 2013 at 16:10




May 6, 2013 at 14:59







May 6, 2013 at 23:14




May 6, 2013 at 14:51







May 6, 2013 at 14:33




May 6, 2013 at 14:02







May 6, 2013 at 13:52










May 6, 2013 at 13:04







May 6, 2013 at 13:55







May 6, 2013 at 12:55










May 6, 2013 at 12:36




May 6, 2013 at 12:11




May 6, 2013 at 12:09




May 9, 2013 at 07:11