Borgias – the Black Legend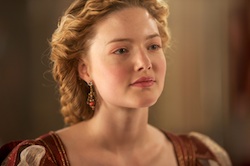 In the Italian press this week there have been reports of "intrigue, corruption and blackmail amongst senior clergy" concerning the forthcoming Papal election:
http://www.france24.com/en/20130223-vatican-condemns-media-reports-blackmail-corruption-catholic-church
This has been condemned as misinformation by the Vatican's own propaganda machine. But intrigue, corruption and blackmail are not entirely foreign to Rome. Prompted by these headlines, and also by the suggestion of regular commentator Saul, I embarked on another of my historical Odysseys this week to find out about "The Borgias," a family of such ill repute that their story is sometimes referred to as "the Black Legend". Indeed, they are all the rage these days, what with Jeremy Irons and co besporting themselves across our screens on Sky as the eponymous "First Crime Family". I don't know, I haven't seen it, but I am told it is quite hot stuff, and rather well done.
As has happened in the past, my researches not only surprised me but in this case produced a surprising and very personal modern connection…
There is a well known and long running Radio 4 programme called "In Our Time". In this programme Melvyn Bragg takes a potentially interesting historical topic such as the Battle of Hastings or the spread of syphilis, chairs a panel of experts on the subject and makes it dull as ditchwater. Now, here at the Raccoon Arms we want none of that! We want our history like it really was: raw, extremely violent, full of sex, greed, power and glamour. We get all this with "the Borgias".
What are the charges against the Borgias? Here is a handful:
• Abuse of the position of Pope and other high offices of the Church: see also greed for money and power and position, and nepotism.
• Corruption and bribery in pursuit of the above.
• Multiple murders and assassinations, particularly by poisoning, but with stabbing and suffocating people acceptable options. To be included under this head is the particular charge of fratricide.
• Sex. Not just shagging around but serial adultery and orgies, including in the Vatican. Here is a description of the infamous "Banquet of Chestnuts" recorded by Rodrigo's master of ceremonies Joannes Burchard:
"In the evening of the last day of October, 1501, Cesare Borgia arranged a banquet in his chambers in the Vatican with "fifty honest prostitutes", called courtesans, who danced after dinner with the attendants and others who were present, at first in their garments, then naked. After dinner the candelabra with the burning candles were taken from the tables and placed on the floor, and chestnuts were strewn around, which the naked courtesans picked up, creeping on hands and knees between the chandeliers, while the Pope, Cesare, and his sister Lucrezia looked on. Finally, prizes were announced for those who could perform the act most often with the courtesans, such as tunics of silk, shoes, barrets, and other things."
Another writer embellishes this with the Pope eagerly keeping score of the number of orgasms achieved by the men.
• Ιncest, with Lucrezia Borgia – a poster girl for immorality – allegedly being on "very close terms" with both her father the Pope and possibly her brother Cesare as well
• General arrogance, pride and showing off to an unhealthy and distasteful degree.
I hope this salacious list gets the readers attention. The Borgia family was very extensive and I can't do justice to all of it in a blog, but I will relate a little of the key players, set the scene, and give a verdict on the main charges.
The players
Rodrigo Borgia.
Born in 1431, he was actually of very aristocratic Spanish/Catalan descent and his real name was Roderi Lancol i de Borja. "Borgia" is the Italianized form. He was the nephew of a Pope called Calixtus III. He studied canon law at Bologna University and passed the notionally five year course in one year; it is assumed money changed hands. He was made a cardinal at the age of 25, and got his hands on the Papacy in 1492 at the age of 60, and took the papal name of Alexander IV. He remained Pope until his death in 1503, according to some poisoned by his son Cesare. Others say that he poisoned himself accidentally during an attempt to poison a Cardinal who swapped his wine cup back. There is a vivid description of his naked body being displayed already and very rapidly in a state of putrefaction, oozing and dripping foul juices, shortly after his death.
He was clearly brilliant and a hugely able administrator. He was devious, shrewd, avaricious, ambitious and ruthless. His offices and family had made him immensely rich, and there are contemporary descriptions of his clothes embroidered with gold and silk and pearls, and the magnificence of his furnishings and tapestries and palaces. As a mere cardinal his personal palace had more than 200 servants and slaves, all clad in the mulberry red and yellow Borgia colours. He was also charming, witty and very good looking. All accounts agree that he was very handsome, tall and powerfully built with black eyes and a hooked nose. A former tutor described him as follows:
"The beautiful women on whom his eyes are cast he lures to love him, and moves them in a wondrous way, more powerfully than the magnet influences iron."
His master of ceremonies Burchard called him "a man of endless virility."
And he clearly did love women. A Siennese garden party held when he was a 29 year old cardinal was described by his outraged then Papal boss in an admonishing letter as a total orgy, with dancing, lewd women and lascivious conduct all round. He was always careful about such events thereafter.
He fathered eight, or possibly, nine children, the first three were by unknown mothers. However he had a long standing love affair with a beautiful and intelligent courtesan with a suitably beautiful name, Vannozza Cattanei. For the sake of propriety she took on a couple of convenient semi sham marriages with compliant husbands. They seem to have had a genuine affection for each other and by Vannozza he fathered his favourite children, Cesare, Juan and Lucrezia.
His womanizing ways continued into his late middle age and whilst he was Pope. Aged 60 he developed a passion for a plainly very beautiful 19 tear old girl called Giulia who had been married to one of the rival Orsini clan, a squint eyed malevolent looking fellow. Because of her looks her nickname was "La Bella". Rodrigo made her his mistress and her unfortunate squint eyed husband was shrewd enough to keep his head down and keep out of the way in the countryside. Giulia probably bore him a daughter. It seems Rodrigo took great care to keep himself in shape and virile, eating sparingly and hunting and wrestling. It was all happy families in the Borgia clan, and Giulia lived with his daughter Lucrezia, who was just a little younger and with whom she became firm friends. Eat your heart out, Jeremy Kyle.
Cesare Borgia.
Rodrigo's fourth child, his first by his long standing paramour Vannozza, and certainly his most talented, ambitious and dynamic son, he was one of the most handsome men of his day. He was not only handsome but clever, charming, witty, "merry and fond of society". He was described as a very gifted student, physically very strong and skilled in arms.
With the assistance and at the direction of his father he had been accumulating rich ecclesiastical "benefices" from the infancy and at 15 he was appointed Bishop of Pamplona. He had never been ordained as a priest.
He shared with his father a love of hunting and riding, and he was also a skilled bullfighter. Like his father he could be utterly ruthless and had also had a murderous, vengeful streak. He was also keen on sex, but I have the impression that his abiding passion was obtaining power, and he had been groomed for it by his father. It is not for nothing that his father named him Cesare – a play on "Caesar". And neither is it a no coincidence that his personal motto was "Aut Caesar, Aut Nihil" – either Caesar, or nothing. He was the role model for Machiavelli's work "The Prince".
Cesare married Charlotte of Albret. They had a daughter, Louise Borgia, Duchess of Valentinois. Cesare was also father to at least 11 illegitimate children, among them Girolamo Borgia, who married Isabella Contessa di Carpi, and Lucrezia Borgia (the younger), who, after Cesare's death, was moved to Ferrara to the court of her aunt, the elder Lucrezia Borgia.
He was also captain-general of the papal army and busy, with French help, in campaigns north of Rome to re-establish Papal authority in Central Italy and carve out a principality as a permanent Borgia family power base. He was an able commander in the various wars and skirmishes that were always going on at the time, and in the end met his death in one, to be left stripped of his armour, naked and covered in blood.
He was plainly, brave, capable and inspired loyalty amongst his men. He was also amoral and extremely dangerous.
Juan Borgia.
Cesare's somewhat weedier little brother. Vain, arrogant, mindless and dissolute, although sharing his brother's good looks. He met an unfortunate end, taking an early bath in the Tiber, having been knifed in the back and other places. One theory is that Cesare was behind it.
Lucrezia Borgia.
Lucrezia Borgia was Rodrigo's fifth child and the third by his long term lover the beautiful Vannozza.
A contemporary writer described her thus:
"She is of middle height, and graceful in form. Her face is rather long, the nose well cut, hair golden, eyes of no special colour [Note: probably meaning green or hazel]. Her mouth is rather large, teeth brilliantly white, her neck is slender and fair, the bust admirably proportioned. She is always gay and smiling."
Indeed, all the contemporary sources agree that she had a fabulous bust. There are others who speak of her having blond hair that fell to her knees, a beautiful complexion and natural grace so that she appeared to "walk on air".
It is clear from contemporary accounts and from the behaviour of her three husbands that she was in fact an extremely sexy, vivacious and lively and highly intelligent. She was devoted to her father and big brother Cesare and this was clearly mutual. But she was also used as a pawn in their dynastic ambitions. She was twelve when her father became Pope and immediately offered up as a potential match in her father's dynastic ambitions. Her biographer Sarah Bradford puts it this way:
"She lived in an ambience which was virtually a papal harem. Lucrezia was brought up in an atmosphere of male sexual power and dominance, in which the women were entirely subject to Rodrigo's will and desires."
The name Lucrezia means or symbolized "Chastity." This may or may not be ironic, depending on your point of view. There are the well known rumours of close carrying on with her father and/or brother, and when it became necessary to annul her first marriage on the grounds or pretext that it had not been consummated and she remained a virgin, one contemporary commentator – perhaps partial – scoffed that this was ridiculous, as she was well known to be the biggest whore in Rome. Later in her life she was described by another contemporary as "Machiavelli in skirts".
The context
It is important to set the scene. In the late 1400s Italy as such did not exist. There was just a series of warring city states or miniature kingdoms, all vying for power and supremacy and with the French sticking their noses in and invading and vying for control as well. This again from Sarah Bradford's biography of Lucrezia Borgia:
"At the time of Lucrezia Borgia's birth in 1480, Italy was famously a geographical expression rather than a country, a peninsula divided into independent states bound by the weakest sense of common nationality. Neapolitans, Milanese and Venetians were Neapolitans, Milanese and Venetians first and foremost: the concept of Italy as a whole did not exist beyond a vague xenophobia in which non Italians were perceived as barbarians. Italians saw themselves as richer, more cultivated and sophisticated than the rest of Europe. At that time Europe was unified by the Catholic religion the Pope, wielding both spirituals and temporal powers, at its head. Rome, as the seat of the Papacy, was the centre of the Western World, or Christendom as contemporaries would have known it."
The Pope at the time was not simply a spiritual leader, but a Prince as high as or in fact even higher than any other of the major kings of Europe. The Papacy had its own armies, lands, and exchequer, all the machinery of a modern state. And there is another factor not always referred to in the history books: Alum. Alum is a chemical compound which had many important uses at the time. In particular, it was very important in making and fixing coloured dyes in clothes, making the colours much more pronounced and vivid and long lasting, and I think that this was very important to the medieval mind, with its love of colour and display and status. The compound had had to be imported from the Middle East and Asia making it very expensive. But by the time of the Borgias, alum had been discovered in the Papal lands in the hills around Rome. It was the equivalent of striking oil or finding gold, and vast wealth flooded into the Papacy.
When we think of the mind set of these petty princes, doges and Popes or would be Popes, we have to understand them as being akin to drug barons running rival cartels, all out for themselves and all striving for control of wealth and power.
There is another factor to be taken into account. The Borgias were not Italian, but Spanish, of Catalan stock from minor noble family which had displayed great skill in climbing the greasy pole of aristocratic connection. That meant that to the other Italian noble families who were rivals for the Papacy they had the flavour of being dangerous, non Italian upstart interlopers. This coloured later perceptions of the family. History is, as we all know, written by the victors, and in the end the Borgias lost.
The verdict
On the charge of corruption and nepotism and the quest for control of the Papacy, the verdict is "guilty". It is quite clear that Rodrigo Borgia used vast bribes to get control of the Papacy, and there were contemporary allegations of train loads of mules laden with silver passing from his palace to key allies, and there was plenty of swapping of high offices and wheeler dealing. On the other hand, he was a prime candidate on merit anyway, and he could have used the now well known "Lance Armstrong defence" – everyone was at it, it was just the way the system was. In that regard this was no big deal. Neither was it a big deal to appoint sons and nephews as Cardinal and to top jobs. All Popes did that too. What was a big deal, however, and what shocked his contemporaries is that they felt, with some justification, that he wanted to turn the Papacy into the personal property of the Borgia family and create in effect a dynastic succession rather than the usual election in which the other players could have a go at getting their own noses in the trough.
As for murder, there were multiple murders and assassinations. In the whirling and swirling world of alliances and invasions there were all kinds of plots and "hits". In one famous act of treachery two rivals tricked, trapped, set upon and tied up and then garroted. The same evening three more of the rival Orsini family were taken on a slow ride home, and met the same fate. Back in Rome, Old Man Borgia had the head of the Orsini family lured to the Vatican and thrown into the a cell, where he died whilst his family's goods and land were seized, his mother thrown onto the street and many other members of his family were arrested or fled. Many of these plots and scandals centered on Lucrezia – but they were not of her making. For example, it also seems that Cesare's little sister Lucrezia had her own albeit relatively minor extra marital adventures, one with a very handsome young Spaniard called Perotto, who served in the Pope's chamber. Perotto and his unfortunate maid were found floating in the Tiber, face down. It seems Cesare was not too pleased with his sister's dalliance. It may have not been that she was bonking that would have troubles Cesare, but that she was a vital diplomatic card and anything that interfered with the value of that card would not be tolerated. Another explanation is that he had his own interests in mind when it came to Lucrezia.
Aside from her probable lover Perotto and his unfortunate maid, her second husband Alfonso D'Aragon was also assassinated in one of Cesare's most notable crimes. When his political star began to wane and more attractive alliances became available, someone (i.e. Cesare) tried to have him knifed. When that failed and the injured Alfonso retired to a sick bed to recuperate, Cesare's chosen henchman and some of his ilk burst into the room, sent Lucrezia and her maids away, and tied him up and smothered him. Which was rather unfortunate since Lucrezia seemed to actually care for him. She was quite upset.
Cesare is often accused of having his feckless brother Juan murdered and thrown in the Tiber. In fact, it seem more likely that it was one of the rival families, maybe the hated Orsinis. So the Borgias can be acquitted of fratricide. In fact they were remarkably close. 500 years before Sir Alex Ferguson, they adopted an "us against the world" mentality of which the Scot would have been proud.
Use of a white arsenic based poison called "cantarella" is often laid at the Borgia's door. I cannot find any serious historical evidence for this save for the circumstances of Rodrigo's death and the fact that Cesare fell seriously ill at the same time. There are some accounts that his skein peeled off, but he survived. But as for poison, I can find no direct evidence. That they killed is clear, but of that particular method there is no proof. The Scottish verdict of "not proven" is the best I can say.
As for the sex, it is abundantly clear that Rodrigo, Cesare and most of the family were highly sexually driven and without any particular qualms about who or what to do about it. In fact, what shocked Renaissance Italy was not so much that the Pope had previously fathered children by a mistress, but that he continued to behave in this way, taking a girl 40 years his junior as his lover in the Vatican. Cesare used and abused women at will, and for a long time was enjoying the pleasures of his sister in law Sancia. Forgive me if I get her name wrong, there were a lot of people in the family doing a lot with other people. Even Lucrezia had her moments. Buts as for the particularly infamous allegation of incest, I can find no direct evidence. There was something odd going on at the time of the murder of Perotto, with the possible birth of a child who as later accepted into the family, and it is sometimes suggested this was the child of Cesare and Lucrezia. I can't say I am convinced. What is clear is that as a family they were very, even extremely loving and devoted, and I think on balance the incest story is more likely than not to have been a deliberate slur after the event.
I think there is a lot of slur, despite the murder and corruption. The description of the legendary "Banquet of Chestnuts" may well be talked up after the event. But what cannot be denied is the family's love of extraordinary wealth, and display of it. The biographies I have read are stuffed with first hand accounts of extraordinary displays of wealth and fashion. There is one in particular which struck me; a Borgia family party where the whole family turned up in satin costumes designed to make them look like animals; a sea goose, and elephant, a fox, a stag, a lion and giraffe. They all came in dancing in line and danced and drank till morning. On other occasions they dressed in costumes dripping with gold, diamonds, pearls, and cut of the most expensive cloths, riding in chariots or on white chargers and accompanied by fawning servants. And that was just the men.
So, that would be an overview of the Borgias.
But there are two ways in which this investigation produced unexpected results. The first was how much I liked Lucrezia. She was not only a very beautiful and also sexy woman (the two don't always go together) but also charming, smart, and capable and likeable. Here is another contemporaneous description:
"She is most beautiful of face, with vivacious, laughing eyes, upright in her posture, acute, most prudent, most wise, happy, pleasing and friendly"
Her father adored her and for a time in her very early twenties left her to administer all his correspondence in the Vatican. This too caused outrage, and perhaps fuelled those snide innuendos. But despite all this, she was given no choice in her private life; she was contracted to be married at age thirteen, the marriage annulled for political reasons, sent off to her second husband, and then after he had been murdered by her brother, sent off to a third. She had no say in any of that. And all the while she was surrounded by an atmosphere of hedonism, sex, plotting, greed, ambition and fear.
My abiding impression of her is of a smart, sexy, woman, loyal to her family. She may have had a wayward side, because despite being married in the family tradition she probably had an affair with one of her brothers in law called Francesco. It may be no coincidence that he was apparently rather similar in appearance to he father – you can do the psychology. And it was that sort of family. She also famously had a love affair with a poet called Bembo, although whether it was physical or a purely platonic display of "Courtly Love" is unclear.
However, her third and final husband clearly adored her. She was to become Duchess of Ferrara, and her husband Alfonso became a successful military commander in the complicated wars of the time. In his long absences she ruled that principality well and justly and displayed great wisdom and insight on matters of policy and diplomacy. She became very devout, and died at the age of 38 or 39, shortly after the birth of her eighth child, worn out by the multiple pregnancies, childbirths and miscarriages that life as a woman and Duchess brought in Renaissance times. She lies buried under a simple marble slab in the convent of Corpus Domini, her last husband and two of her children beside her.
In the whole Borgia story, she strikes me as the one with the most redeeming qualities and gentility. She was a beautiful and intelligent woman in a ruthless male dominated world, and deployed as a chess piece on the board by her father and brother with no regard for her happiness. As far as I can tell, her reputation as a nasty piece of work is entirely propaganda. I think I would have liked her.
Meanwhile, what of my own connection to the Borgias? Well, a little while ago through the magic of social media I became acquainted with a woman of some intellect who occasionally goes by the name of "Venus de Mileage". Last summer I had the honour and privilege of meeting her. She possesses an exceptionally brilliant mind, a kind personality, and is a woman of both beauty and strong and implicit sexuality although I would like to make plain she is very modest, and our relationship is purely platonic. "Venus'" family history is astonishing, and her lineage can be traced back to Medieval France, and to a particular chateau in the mysterious Languedoc, of which I have written before, now sadly in the hands of a slightly cranky and creepy "charity" or cult. Her family history is documented and I spent an afternoon studying it in great detail. It includes descent from a mathematical genius and astronomer who came close to getting longitude and latitude right, well before anyone else. There is also a mystery about what was kept in the Chapel crypt of the chateau, about which I shall say no more….for now.
"Venus" is a highly accomplished author, and her latest book "Cupid's Scythe" is astonishing work of art:
https://www.annaraccoon.com/politics/borgias-the-black-legend/%22
It is not easy fiction; it is a complex but beautiful psychological study of love, lust, sex and life. Some find it very humorous, some see a darker edge. It is astonishing and profound, and for the Raccoonistas of literary mind I commend it.
Be that as it may, this week I innocently mentioned on Twitter that I was in the course of researching the Borgia family. "Venus" was in touch quite soon after. There is Borgia blood in her veins, she said. I considered this. Her family history would bear that out, but more than that "Venus" is a striking woman, with brooding Mediterranean looks and a strong physical presence. As an intellect she is second to none. Is "Venus" really a descendant of this formidable clan? I have really no doubt about it at all. I was suddenly struck by similarities to the descriptions and portraits of both Rodrigo and Cesare, and more by the deeply intelligent and extremely sensual personality. Yes, I am quite sure "Venus" is indeed a descendent of our subject family, and the same blood flows in her veins. I am therefore pleased to be able to relate that I have had dinner with the Borgias, and survived un-poisoned, and all the better for the experience.
Gildas the Monk
March 3, 2013 at 21:47




March 3, 2013 at 15:42












March 3, 2013 at 12:44










March 3, 2013 at 12:45




March 3, 2013 at 11:00







March 3, 2013 at 09:54




March 3, 2013 at 09:38










March 3, 2013 at 09:50




March 3, 2013 at 08:15










March 3, 2013 at 09:33







March 3, 2013 at 10:20







March 3, 2013 at 10:29










March 5, 2013 at 21:08




March 3, 2013 at 07:52