Going to Work on a Clegg.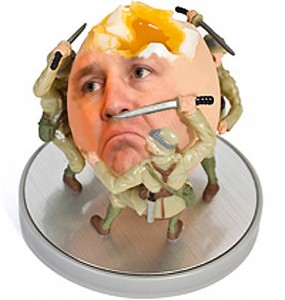 The media are enjoying dipping their soldiers into a Clegg this morning; he is such a bumptious, Holier than thou, 'I promise you a different kind of politics', new metro man, that seeing him boiled and served up on a silver platter by unimpeachable sources – women! – has proved an excellent start to their day.
For Women are the new truth and light, the new orthodoxy, their words a bible for our age. 'She says' – therefore it happened. Clegg can do nothing except apologise for not handling their complaints in suitably bureaucratic fashion. Five full length inquiries, at least five QCs involved, a couple of million quid out of party funds, and a wholesome apology all round should do the trick. Anything less will not satisfy the shrill voices on his doorstep. Don't even think of querying whether there was any truth in the complaints, Nicky boy – they'll flay you alive.
That said, if there is truth in the allegations of inappropriate groping, I'll allow that it can be a problem. Not a problem in and of itself – for a slap in the face often serves as solution – but the place and the circumstances can turn the grope into a major social conundrum where the slap in the face is equally inappropriate.
That place, and those circumstances, are inevitably where you must maintain an on going relationship with the groper. You know damn well that if you deliver that slap on the face that would put an end to the furtive fumbling whenever the opportunity presents itself, that there will be repercussions, and I suspect, having been in this position, that part of the fury that infuses women is the knowledge that you will have to continue to treat the individual as a respected member of the human race when he has treated you as nothing more than a farmyard animal. When it is your Uncle, or your husband's best friend, or your boss doing the fumbling, there is more to consider than just the grope.
There is a class of man who grew of age at a time when dancing meant getting the chance to feel the thickness of a girl's waist and her child bearing properties, did she freeze from your grip or did she bend into it? Suddenly in the 60s, he was plunged into a world where dancing meant flapping your hands in imitation of an autistic meltdown whilst appearing to climb a flight of stairs in time with the music. Not only was he unable to master this art in gainly fashion, he was also deprived of the only way he knew to sort out the girls who 'would' from the girls who 'wouldn't'. It was the heterosexual version of the time honoured question in homosexual circles of "Are you a friend of Dorothy's?"
The young made the cultural transition with ease – 'You up for a shag?' was considered a perfectly normal question in the dance halls of South London, I seem to remember; a question that one was free to respond to with as much venom and invective as required. No offence taken on either part. Our ex-Viennese-waltzing male, now of a certain age, was excluded from this discourse. I am convinced that at least half of them picked up their early retirement pensions and moved to France during this period – they seem to be under the impression that the asexual French bisou greeting can only be improved by a good old fashioned English check on the thickness of your waistline. I have been groped more times by wine sozzled Englishmen since I lived here than I ever was in England. Yeah! At my age! Some of them are truly desperate.
How to deal with it when it is your Uncle, your husband's best friend, or your boss? Personally I would advocate avoidance. Yeah, I know, that dastardly middle class white male should be punished, humiliated; it's not your fault you're attractive, you shouldn't have to take the punishment etc, etc – for heaven's sake don't let's mention the victim blaming meme. But do you really want to ruin a political party ten years later, or create a family rift for all time with your Aunt, or engage the services of an expensive lawyer to sue for sexual harassment? Are there really not the words in your vocabulary to put him in his place, make him feel about yea high, deliver a stinging rebuke that no one else hears? Women's Lib was supposed to empower women, not turn them into helpless wimps.
We seem to have spawned a generation of women more timid, more fearful, than any Victorian maid. The slightest indent in their desired world and they demand an army to go barging in on their behalf to sort out the 'evil bastard'. The entire Savile shenanigan was originally about just such a grope, if the witness was to be believed. A grope, a stolen kiss, an inappropriate suggestion. That has been swollen by the media into 400 women traumatised for life, too frightened to speak out for 30 years, requiring an army of lawyers, millions in compensation and world media attention to put right.
Crikey, Women's Lib and the new fangled dances have a lot to answer for – the 60s generation would have whispered in his ear – 'Piss off you old Goat' and pulled their hand smartly away. We knew how to stand up for ourselves. Our Mother's generation had run the country whilst the men were off playing football in the trenches…
February 27, 2013 at 11:03







February 27, 2013 at 11:22




February 27, 2013 at 07:25










February 26, 2013 at 22:59







February 27, 2013 at 00:14




February 26, 2013 at 21:58




February 26, 2013 at 15:43










February 26, 2013 at 12:31




February 26, 2013 at 09:28







February 26, 2013 at 06:46










February 26, 2013 at 08:21




February 26, 2013 at 10:27




February 25, 2013 at 22:51










February 25, 2013 at 23:43







February 25, 2013 at 21:50




February 25, 2013 at 18:21







February 25, 2013 at 16:21







February 26, 2013 at 08:11












February 25, 2013 at 14:04










February 26, 2013 at 23:38




February 25, 2013 at 12:20







February 25, 2013 at 11:53










February 25, 2013 at 12:25







February 25, 2013 at 13:27




February 25, 2013 at 11:39







February 25, 2013 at 11:29







February 25, 2013 at 11:24







February 25, 2013 at 10:39







February 25, 2013 at 10:29