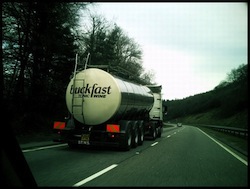 The peaceable Benedictine Monks who settled on the banks of the River Dart thought the place quite perfect – like many a modern day monk (who Gildas? perish the thought) they were none too fond of the taste of water, and so they stuck to wine – with added caffeine. Gave them extra enthusiasm for all those early mornings in quiet contemplation. By 1890 they had perfected the recipe and were selling it to the general public with the slogan "Three small glasses a day, for good health and lively blood".
The firm of J Chandler & co still sell Buckfast Tonic wine to this day, across the UK. However, their sales in Strathclyde, Scotland have attracted particular attention after BBC Scotland published a report showing that ' in a three year period 5,638 crime reports had mentioned the use of this one brand of drink'. The usual suspects climbed aboard the bandwagon – Helen Liddell and Cathy Jamieson were two politicians who joined the fashionable clamour to ban Buckfast Tonic wine, resulting in lawyer's letters going out to at least one of them.
Now the Police are also under the impression that if you can't buy Buckfast Tonic Wine you will stay sober and not commit any crimes, a curious theory, but there you go. They have issued special stickers to shopkeepers in Strathclyde so that they can trace sales of Buckfast Tonic Wine back to the shop where it was bought in the event of it showing up in a crime incident or being consumed by underage drinkers.
Lawyers for J Chandler & Co will ask a judge to find that Strathclyde Police has unlawfully encouraged retailers to label bottles of Buckfast or withdraw the product from sale.
No, I'm not sure how knowing where a bottle was bought is going to prevent crime either, but I can see this idea spreading:
Apparently black cars are the most likely to be involved in road traffic accidents – so will they have a sticker attached to them by the police?
You are allegedly more likely to be burgled by someone wearing denim jeans – so another anti-crime sticker on Levi's – or Nike trainers?
Any other products you can think of deserving of a special police sticker?
February 25, 2013 at 11:15







February 24, 2013 at 10:45







February 24, 2013 at 09:47










February 24, 2013 at 12:44










February 25, 2013 at 13:04




February 24, 2013 at 09:00




February 24, 2013 at 08:41




February 24, 2013 at 08:14







February 24, 2013 at 06:22




February 23, 2013 at 22:02











February 24, 2013 at 12:20







February 23, 2013 at 19:22




February 23, 2013 at 19:12







February 23, 2013 at 18:53




February 23, 2013 at 18:24




February 23, 2013 at 18:10









February 23, 2013 at 17:50







February 23, 2013 at 17:38