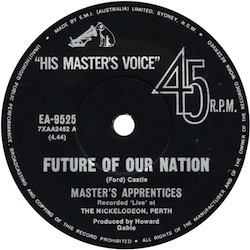 Why should the sepulchral tone of Ed Miliband's voice offend me so? Fill me with dread that creates a shiver the length of my spine?
I should be impervious to personal characteristics; ignoring the style of dress or hair that are merely personal choice; the vestiges of another culture inherent in a strong accent – and generally I am. I don't draw conclusions on policy from Theresa May's selection of shoes; or Tom Watson's ratio of body fat to healthy muscle – yet let me hear just half a dozen syllables from the Miliband verbal orifice, as instantly recognisable as John Wayne's, and my prejudice tumbles out pre-formed.
I never want to see a government presided over by that man!
I don't hear the policy announcement; I hear the whining tone of the school bully, unexpectedly finding himself on the other end of retribution, full of self entitlement, bloated with indignation. I hear the nasal twang of 'Malcolm' in the Vick advertisements – the self pity of the man with 'man flu'. I hear the child in the back seat – 'are we nearly there yet?' – that total absence of appreciation of the realities of the grown up world of Bank Holiday traffic jams.
"S'not fair" it calls to me.
A voice should not affect me so; though Margaret Thatcher had to lose the Hyacinth Bucket timbre of middle class Grantham before Arthur Scargill imploded – perhaps I am not alone in my reaction to a voice. I had a Mynah Bird called Arthur Scargill once, who had grown up in a Gay pub in Vauxhall and amused me no end with his Kenneth William's camp voice lisping 'You're a big boy, you're very naice' – he fell off his perch, downed by laryngitis eventually…I digress, as usual, but filled with hope.
It's the voice of the 'Supergrass', the man who has grown fat on the proceeds of just that which he would now deny others; the man who would seek the protection of being on what he perceives as the winning side, now that it suits his purposes. The Changeling, the Quisling. The voice of Lord Haw-Haw.
It is a voice of aspiration, to be sure, but aspiration merely for what others already have. The childish pleading that says 'all my friends have got one'. Would we ever see aspiration for the pursuit of excellence with such a mentality in charge? Would Thomas Chippendale rise from a poverty stricken background by dint of his pursuit of excellence for its own sake, or would he be bemoaning the lack of jobs for coffin makers in Otley and demanding that the gentry of London increase his benefits?
There was another of the Daily Mail's 'whohoo the foreigners are coming' piece on Friday:
Under a loophole in EU immigration rules, Big Issue sellers can claim 'self-employed status', thereby gaining a National Insurance number and, with it, an instant legal foothold in the British labour market.
Last year, it emerged that an astonishing one in three of all of the title's street sellers in Britain comes from Romania. Most of them — like Iordan — also hail from the country's Roma gypsy community.
'My uncle says you make £40-£45 each day selling the magazine,' he explains, speaking through a translator. 'Here in Romania, I sometimes don't make that in a week. That's why many people like me are putting their hope in your country.'
Iordan, 35, will be treading a well-worn path. So far, 15 of his cousins have gone to the UK, joining around 100,000 of their countrymen. They, too, supported themselves by hawking The Big Issue, but have mostly graduated to higher-paying jobs.
'Once you are set up in London, they say there is plenty of work,' he says. 'I'll soon find something in construction, or at car washes; wherever the money is best.'
Where was Miliband's response to the news that there were jobs aplenty at £40-£50 a day – and more – in London? That people who barely speak english can travel halfway across Europe in the rush to take them up? His answer to the poor of Britain was a Mansion Tax, take from those who have to give to those who haven't; and a 10p tax break – tax break? The Government have already raised tax free allowances, essentially a zero tax rate – by several thousand pounds!
That, I realised finally was my objection to his voice. It is not that I dislike it intrinsically, it is that it has come to represent a 'one nation Britain' that involves bringing those who make no effort up to what is left of the level of those who have strived – and leaves no room for the pursuit of excellence or altruism. It is a dour Marxism, that would have been the death knell for Miliband senior, an immigrant himself, who prospered under a very different Britain.
It is the authentic voice of Hypocrisy. The voice of Gordon Brown. Devoid of substance, determined to suppress initiative; pandering only to the willful child.
It makes me cringe.



February 20, 2013 at 10:00







February 19, 2013 at 20:13







February 19, 2013 at 23:13




February 19, 2013 at 18:46







February 19, 2013 at 01:48




February 18, 2013 at 22:43




February 18, 2013 at 21:54







February 18, 2013 at 21:04




February 18, 2013 at 17:53







February 18, 2013 at 17:38




February 18, 2013 at 14:37




February 18, 2013 at 12:57




February 18, 2013 at 12:04




February 18, 2013 at 11:44




February 18, 2013 at 11:42







February 18, 2013 at 11:18










February 18, 2013 at 11:06




February 18, 2013 at 10:49