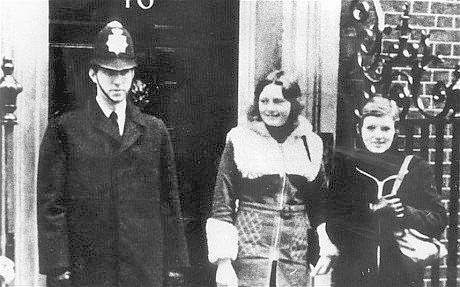 Two fine young women, photographed in time-honoured fashion with the ubiquitous smiling policeman outside the home of the British Prime Minister. It is a scene impossible today; the days when disagreeing with the prevailing politics meant writing a letter in green ink to your local newspaper – whilst not forgetting to doff your cap to the vicar en route to the post box, have gone forever.
Today you must have an 'event' to mark your displeasure. You must destroy another human being, preferably several at the same time, to ensure that your voice is heard. It matters not that several of those humans being might have been of the same political hue as yourself – who knows what political persuasions could be sitting next to each other on the No 16 bus in the morning – the entire membership of the Libertarian Party, though they would probably be in a taxi.
What matters is that people should be 'shocked' by what you have done, prepared to make concessions to you in order that you shouldn't be tempted to do it again. For we could all do it; there is nothing innately difficult about carrying a bomb into a crowded place, nothing intellectual about figuring out how to make that bomb. You merely need to believe that seeing the flag of which you approve flying over the public buildings that you frequent is more important than the life of total strangers.
Dolours Price and her sister Marian never stood a chance to think otherwise; they had been groomed since childhood to believe that unnatural practices were acceptable, normal even. That they should abuse their fellow human beings as their Father had, and their Grandfather before that. That sort of grooming is lauded in some circles, eulogised in song, feted by Hollywood celebrities, immortalised in art.
Price's links to the IRA go back to before her birth. During the 1950s, her father, Albert, was interned by the Irish Government in the Curragh Camp, alongside Ruairi O Bradaigh, who would go on to become president of Sinn Fein and later of Republican Sinn Fein. Her aunt, Bridie Dolan, also an active republican, lost her sight and both hands after hand grenades she was handling exploded prematurely.
Dolours was not the first to believe that blasting human beings to smithereens was a reasonable response to the Irish political conundrum. That dubious honour belonged to James McCormick in 1939. He was bombing Coventry when the Luftwaffe was just a twinkle in Hitler's eye. Dolours was the first woman though.
It was not only the terrible injuries inflicted on 200 Londoners outside the Old Bailey that frosty March morning in 1973, nor the death of one man that the Guardian this morning only grudgingly admit may have been the result of being caught in the bomb blast, that shocked us. It was the sheer disbelief that this carnage was the handiwork of two women.
We never quite allowed ourself to believe that it was intentionally so. When she tried to starve herself to death, we fed her. When she complained that she was suffering psychological injuries as a result of being so fed, we let her go home. There she became an alcoholic and a drug addict –
Price had been counseled for depression and alcoholism for more than a decade after being convicted of using forged prescriptions to acquire drugs in 2001.
She married the Belfast bus driver's son, turned quintessential Hollywood 'Irishman', Stephen Rea, along the way. Stephen Rea was to become the 'voice' of Gerry Adams, when Margaret Thatcher stopped the BBC from hanging onto Adams' measly words 'live' on the six o'clock news. Before she and Stephen divorced, she gave birth to two sons, Danny and Oscar – have they too been groomed to relish the thought of leaving parts of human limbs hanging from trees several metres away from their owner's body as a political solution?
One of the ironical repercussions of Dolours' girls 'day out in London with fellow bombers', is that today, the politicians in Downing Street are hidden away behind high gates. No longer can teenage girls be photographed next to the front door of Downing Street – we are more divorced from our politicians than we ever were in 1973. We are angrier than we ever were. We have less voice than we ever did.
Hundreds of people have lain in hospital beds in agony and anguish to achieve this result. Too many have died.
Dolours and her sister Marian were released from prison on 'compassionate grounds' in 1980. A Royal Prerogative of Mercy, which included a licence relating to the life sentence they received for their part in the Old Bailey bombings. Marian is now back in prison, recalled under that licence for continuing to take part in dissident IRA activities. There are calls for renewed 'mercy' for her.
Last night, Dolours died peacefully in her own bed. In Belfast, Northern Ireland. Still part of the United Kingdom.
Gerry Adams said: "Dolours had a very tough life, like many people.
Nowhere near as tough as the life she inflicted on those who held different political views from her. Some would say – not tough enough.



January 27, 2013 at 10:32















January 26, 2013 at 07:41







January 26, 2013 at 10:47










January 26, 2013 at 13:11







January 26, 2013 at 14:40




January 26, 2013 at 12:02







January 26, 2013 at 17:27










January 26, 2013 at 18:27




January 26, 2013 at 14:22







January 25, 2013 at 20:25







January 25, 2013 at 20:06










January 25, 2013 at 20:21







January 25, 2013 at 20:29










January 25, 2013 at 21:18




January 25, 2013 at 20:59







January 26, 2013 at 10:31










January 26, 2013 at 11:49







January 26, 2013 at 12:21







January 26, 2013 at 12:45










January 27, 2013 at 11:59




January 25, 2013 at 20:01




January 25, 2013 at 19:57










January 25, 2013 at 20:19










January 26, 2013 at 09:23




January 25, 2013 at 19:26




January 25, 2013 at 18:09







January 26, 2013 at 13:51










January 26, 2013 at 17:16







January 26, 2013 at 19:35










January 26, 2013 at 22:49




January 25, 2013 at 16:34




January 25, 2013 at 16:13







January 25, 2013 at 16:38










January 25, 2013 at 17:14




January 25, 2013 at 17:18







January 25, 2013 at 18:53