Past Lives and Present Misgivings – Part Three.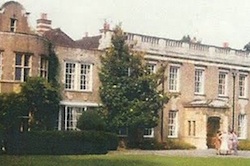 Duncroft! I never thought I would hear that name again – and suddenly it is on everybody's lips! It is nearly 50 years ago that the car I was in drew up outside that familiar facade and I prepared to enter yet another 'boarding school'.
You need to be aware that I was well used to 'new boarding schools', approximately one every year of my life. Always 'well heeled' as they say, my Father wasn't short of a few bob (I believe, though whether the reason for so many different schools was that he was not fond of parting with his money, I can't say – I genuinely have never discovered the reason for the frequent changes of address, both for me, and for my parents). This one appeared not to be materially different from any of the others. The left hand side in the photograph I later discovered to be Elizabethan, rumoured to be King John's hunting lodge connected by a tunnel to Runnymede, the right hand side fine weathered stone – a gracious country house. Most boarding schools of the time were in gracious country houses – the only enterprises that could afford the upkeep of those draughty halls.
We rang the bell in the grand porch, and shortly a sprightly Scottish lady appeared and bounced up to the door with a huge set of keys. A little unusual, even more unusually she locked the door behind us. Not normal behaviour in any of my previous boarding schools, but something I was becoming uncomfortably used to from my experiences over the previous 18 months. I was beginning to smell a rat in these new 'arrangements' for me. I can be a tad slow on the uptake at times.
The Scottish lady – Miss Keenan, or 'Bridie' as we referred to her behind her back – took me and my suitcase upstairs to show me my 'dormitory'. Wedgewood it was called. Now that was a real surprise. No sign of the iron bedsteads I was used to – instead there were comfortable divan beds, and posters – posters covering the walls! Colourful bed linen – good grief!
The last but one school I had attended, a famous establishment on the Sussex coast, had iron bedsteads, and rigid rules about personal possessions – one framed photograph which could only be of family, one other 'personal item' – Teddy bears seemed to be favourite for this category – and a 'mufti' dress which had to be of brown velvet with white lace collar, any design you liked providing it followed rigid rules on length etc which you were allowed to wear for a few brief hours in the evening and after church on Sunday – at all other times it was gymslip and lisle stockings which were checked hourly to make sure the seams were straight! The school after that insisted on a one mile – a mile! – run every morning with staff stationed at any cut off points, before you were allowed to go and get breakfast. Duncroft was looking like a novel experience. It was definitely that.
Miss Keenan introduced me to Miss Cole, Miss Cole introduced me to Miss O' Niall, Miss O' Niall introduced me to Miss Grey – and Miss Grey took me to meet Miss Jones. Do you notice anything about that sentence? I didn't at the time, but I came to realise that there was only one member of staff, Mrs O'Sullivan, who laid at least nominative claim to have ever engaged in marital relations with a man. I don't suppose it was easy for the Home Office to fill positions that required you to live on site in a single bedroom along with 22 or 24 hormonal girls from varied walks of life. Duncroft seemed to have cornered the market in ex-Nuns or those whose proclivities otherwise precluded them from contemplating the married life which was the norm for women in the 40 to 50 age group as these all appeared to be. I later learned that Miss O' Niall shared a flat with Miss Jones; Miss Keenan and Miss Cole were regular visitors to each others rooms late at night, a few hands of whist no doubt; only Mrs O'Sullivan and Miss Grey seemed to keep to themselves. Interesting – with the benefit of hindsight. Many times over the years I have thought of writing of it – 'Sad Queens and Sour Widows' was to be the title. Go figure.
Miss Jones was no exception, a stern lady, dark haired and of typically Welsh appearance, she was about 40 or so I thought. Ancient. What I came to know as her trade mark red slash of lipstick was neatly applied. She eyed me cautiously. She picked up a piece of paper from her desk and informed me that 'by order of etc., etc., my release date had been set at 27th May 1966…and she added with a sly grin, there would be no absconding from her establishment…
I was genuinely shocked, and for several months afterwards refused to answer the plaintive letters from Paul and Evantia, convinced that they had connived with this fresh approach to getting me under lock and key. They hadn't, and eventually I believed them and they remained steadfast friends and supporters up to their sad death many years later.
I burst into tears, not an emotional state that Miss Jones had a lot of time for – that wasn't her style. She offered me a cigarette – Crikey! I'd been given cigarettes before and happily accepted – never by the Head Mistress of any previous school though!
'Now look, my girl' she said, and in that 'my girl' was distilled every essence of Miss Jones, she really did believe that we were her chosen ones. We came from all walks of life, every possible background, every dire circumstance, the one and only thing we had in common was that at some point in our checkered history we had been IQ tested and found to have an IQ in excess of 140.
140 – not the number of Twitter characters permitted to communicate by these days, but the artificial divide between those whose past history of being in 'need of care and protection' – whether by virtue of prostitution, drug abuse, anorexia, or being the victim of abuse in its many forms, emotional and physical – left them at the mercy of such tender establishments as Cumberlow Lodge, or, opened the magic door to Miss Jones' new emporium. The place where she intended to prove to the Home Office that given the chance to continue their education, given a decent environment, these girls had the wherewithal to turn their lives round. She was a messiah on the subject.
She would nowadays be referred to as a Feminist. A term I have oft derided. In Margaret Jones' case it meant, not empty rhetoric, but a genuine belief that we could be empowered to control our lives, not remain victims of our circumstances. Her constant mantra was to look forward, not back. To be positive not passive. If I had to place my loathing of the 'victim culture' anywhere, it would be firmly pinned to Margaret Jones' lapel. She fought for us, she moved mountains when necessary. When a fellow pupil from my last boarding school turned up at Duncroft (the only known connection between any two girls other than the ubiquitous IQ test!) a few weeks before the GCSE exam in English, she enlisted the help of Rab Butler to ensure that she was allowed to sit the exam as a late entrant, and spent many evenings reading through Henry V with her willing her to pass the exam with a bare five weeks preparation – she did, and Margaret Jones beamed with pride. My friend decided to abandon her previously determined attempts to starve herself to death and started eating with gusto…sadly in later years she succumbed to anorexia again, but she has a fine daughter who lives on in testament to Miss Jones' desire to see us help ourselves to a new future.
In truth, you needed the will to help yourself – the 'education' budget she had been allocated ran to one registered blind gentleman who arrived each afternoon to try to instill some sense into what must have seemed like St Trinian's outcasts to him. His eyesight meant that he was extremely careful where he put anything down in order to find it again, especially the blackboard duster. One particular girl took a delight in creeping up to his desk, lifting her clothing and draping herself silently across the desk in such a way that her breast was exactly where he thought he'd put the duster – he would recoil in horror to our great delight, each and every time. It was a regular jape. It would also be fair to say that some of the girls were very experienced little minxes.
We had many visitors, I well remember the coach loads – 'Thomas Cooks Tours' – of trainee psychiatrists who arrived at the invitation of Dr Mason, the resident psychiatrist, to peer at the inhabitants of this new experiment in dealing with a cornucopia of teenage misery. The educationalists, the trainee social workers, the Home Office apparatchiks, all came and peered at us myopically – Miss Jones's 'cream of Britain's delinquents' – she was proud of us, and determined that the way teenage misdemeanor, criminal and otherwise, was dealt with would change.
Time passed slowly. We spent the mornings cleaning the establishment – oh those bloody red tiled corridors! They were endless. We were furnished with overalls and 'Bumpers'. Great lumps of iron hinged on the end of long poles, with the iron covered in soft polishing cloths. They covered an area some six inches by nine inches, and it does take all morning to polish a 30 yard long corridor with one…but if you worked assiduously you might progress to helping cook in the kitchen, or Mrs O'Sullivan in the laundry (very generous with her cigarettes was Mrs O'Sullivan…) or the heights of good behaviour could see you cleaning the staff dinning room, a beautiful oak paneled room or Miss Jones and Miss O' Niall's apartment. The staff dinning room wasn't a bad billet, they all smoked like troopers, especially Bridie Keenan – unfiltered Piccadilly No 6, such excellent dog ends I remember them still…but the top job was definitely Miss Jones' apartment, and I got to be such a goody two shoes that it was my domain for a long time. There was always an unsmoked filter tipped Craven 'A' in the ashtray left for you to clear away – tidily, mind.
Little rewards for good behaviour. They worked too; 10 cigarettes a week for reasonable behaviour, 20 for goody two shoes (should I be suing the Home Office for my 20 a day habit?) a record player in the common room with a motley collection of ancient LPs, the occasional chance to hear the radio in the laundry, a few 'educational trips' in the mini bus round Staines – closely guarded by the superbly athletic in-case-you-got-any-ideas Miss Keenan, and generally Miss O' Niall – and they went on working for a long time, right through to the end of 1965. I was but 7 months away from my 16th birthday when I would be allowed to progress to Norman Lodge, the hostel built in the grounds of Duncroft. A place where the close reins that Miss Jones kept on us would be relaxed, we would be helped to find a job, allowed out on our own occasionally, given the chance to spread our wings. It was a tantalising prospect.
She called me into her office one evening – the delicious prospect of a fag beckoned..! Ah double-entendre alert.
She wanted to talk to me about my future – and my past, for a change. She told me things that she had gleaned from the official records of my Father's war time past. Probably shouldn't have done, but it was helpful to understand what had gone on. She told me to forget about them – sound advice that I have followed ever since. Then we got to my future – what did I think I wanted to do with myself? Perhaps the Civil Service, I opined? (forgive me, I knew not what I was saying). That would not be possible, she explained, nor a job as a telephonist with the GPO (not high on my list of things to do before I died, but still) – nor were the armed forces an option, nor the police or other emergency services…why? Well, a 'care and protection order' counted as a criminal record so far as those organisations were concerned. It was monstrously unfair, but there was nothing she could do about it.
Now, I' not saying that I really wanted to do all – or any – of those things, but the fact that I was actually prevented from doing so really hit home with me. All the old anger at being repeatedly locked up for one moment of despair and one bottle of aspirin just welled up inside me. OK, and escaping from police custody several times, I did understand the law even then – but I had never done a damn thing that warranted what had happened to me since. I'd behaved myself, cleaned that damned corridor hundreds of times, been patient, and now it seemed my entire life was to be permanently blighted. I went off to bed in a foul mood.
Somewhere in the course of that night, I remembered how thin I was, how long legged I was, how the window was adapted to open just so far, how there was a bay window just so far below…Yes, I'm afraid that Ms Raccoon was off on her travels yet again, armed with nothing more than a purloined business card from the man who had made new curtains for her flat, and the clothes she stood up in. I was to be back within a couple of months, but that will have to wait for another day.
Good Lord! 2000 words from someone, one of some two dozen girls alive who were in Duncroft in 1965, and she still hasn't mentioned Jimmy Savile! Has the woman no mercy? You'll just have to wait for tomorrow…
*Erratum:
I was very tired and didn't proof read properly; dining is spelt dining, not dinning; I'm has got an m after the apostrophe; I was 16 and coming up to my 17th birthday not my 16th birthday; and the curtains for 'her flat' refer to Miss Jones' flat – I could have worded that better. I am putting them in an erratum because I am very aware that the text from yesterday was downloaded several hundred times, and read many thousands times, and I don't want to be accused of having changed the text after publication. (and my heartfelt thanks to the few brave souls who ventured into the comments to encourage me, those silent readers can be very daunting sometimes, and this is definitely one of those times!)



October 26, 2012 at 13:57










October 25, 2012 at 03:58




October 24, 2012 at 20:44







October 24, 2012 at 16:02







October 24, 2012 at 13:02










October 24, 2012 at 13:27




October 24, 2012 at 12:57







October 24, 2012 at 11:54




October 24, 2012 at 11:48







October 24, 2012 at 08:03







October 24, 2012 at 07:50







October 24, 2012 at 12:13




October 24, 2012 at 07:46










October 24, 2012 at 09:43










October 24, 2012 at 10:49




October 24, 2012 at 03:14




October 24, 2012 at 00:11







October 23, 2012 at 23:52







October 24, 2012 at 10:48










October 24, 2012 at 11:06




October 23, 2012 at 23:06




October 23, 2012 at 21:52







October 23, 2012 at 21:18




October 23, 2012 at 20:43







October 24, 2012 at 07:03







October 24, 2012 at 09:59




October 23, 2012 at 20:22




October 23, 2012 at 20:21




October 23, 2012 at 19:24