Protect your Freedom – Please retweet and respond!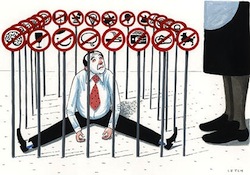 So many posts to be written today – I must do them in order of importance. This one is important.
I am indebted to my faithful reader who drew my attention to the original case. Once again I have been tardy in not following it up. She has jogged my attention on a matter of supreme importance.
Back in April 2012, the Supreme Court reaffirmed that it still held the ancient power of parens patriae.
Read my original post if you do not fully understand what this means. In a supremely simplified nutshell, whilst few would argue with the idea that the State can and should act of behalf of those who are incompetent to take care of themselves, this case reaffirmed that the State could ask the Judiciary for power to act in the 'best interests' of those who were fully competent to make decisions for themselves. It was a decision which appalled me at the time. To put it another way – if social workers did not approve of your lifestyle, they could ask for the power to enter your home and reorganise it to suit their idea of how you should be living.
Whilst we were all distracted by the news that an ageing pop star could possibly have traded cigarettes and sweets for kisses, cuddles and more with under age girls in the care of the State by virtue of their willingness to do so, or that the BBC could have been so negligent as to not run a documentary airing those claims when nobody possessed any provable evidence that there was any truth in the claims; Social Services, armed with that original court case have been busy lining up astounding new powers for themselves. They are powers that should alarm every one of us.
The Department of Health is concerned that fully competent adults, who are not suffering from any mental incapacity, may not be asking for help on health matters. They want the power to forcibly burst through your front door and give you that advice. Or 'make your voice heard' as they put it. Do you really fancy a Social Worker standing over you at bed time reminding you to put on a condom before engaging in sex?
Unfortunately, so concerned are they that 'your voice should be heard' that they are closing their consultation on their proposed new powers in exactly seven days. After which they have no interest in 'your voice being heard'!
They are basing the need for this new power on the fact that 66% of the sort of people who respond to vague questionnaires published on the Department of Health's web site 3 years ago, thought that Social Workers should be able to burst through your front door if they wished to harangue you on their latest fashionable cause.
Fancy a Social Worker standing over you as you light your fifteenth cigarette that day? Or fry up that pan of chips? Go ahead, ignore this post…
Alternatively, act fast, act now, answer their blasted questionnaire. Otherwise they will proudly tell the government that some magical number of Social Workers who responded to this obscure 'consultation' think that yes, Social Workers should have power of entry to your home based on some gut instinct that perhaps you are not living the approved lifestyle of their choice.
Smokers, drinkers, all those who eat what they fancy, the world will be their oyster if they get this power. There are more than enough people who have right of entry to your home already.
At the moment, they have to have due cause, or at least sufficient cause to satisfy a High Court, if they want to interfere in the lives of those who are fully competent. They resent this:
However, we do not believe leaving such cases to be resolved on a case-by-case basis using the Court's inherent jurisdiction is a satisfactory solution. Resorting to the courts in every instance could increase the caseload of courts, result in differing outcomes, be expensive for local authorities and is likely to be extremely disempowering for individuals.
If we establish that a proportionate and effective legislative solution could help resolve this issue, it would not be necessary to rely on case law to settle the matter.
There is already an ocean of legislation to protect the vulnerable, that is not what this is about. There is the Police and Criminal Evidence Act 1984, Criminal Justice Act 1988, the Mental Capacity Act 2005, the Fraud Act 2006, the Mental Health Act 1983, the Domestic Violence, Crime and Victims Act 2004, the Protection of Freedoms Act 2012, and health and safety at work legislation.
This is about having the right to forcibly enter your home even though they have no reason to believe that you are mentally ill, the victim of violence, the victim of fraud, the victim of domestic violence, that there is a child at risk there, or any of the other above categories. They don't want to have to show evidence to a judge, they want to be able to act on instinct alone.
Please, for your own sake, answer the survey, persuade everyone you know to answer the survey. Don't let the only voices being heard be those of the Social Workers.
You have exactly seven days to make your voice heard…
October 7, 2012 at 14:04




October 7, 2012 at 00:54










October 7, 2012 at 09:04










October 7, 2012 at 09:35




October 6, 2012 at 19:22




October 6, 2012 at 17:46










October 7, 2012 at 12:02




October 6, 2012 at 14:33




October 6, 2012 at 09:16




October 5, 2012 at 21:17







October 5, 2012 at 09:31




October 4, 2012 at 20:58







October 4, 2012 at 21:43










October 5, 2012 at 13:02




October 5, 2012 at 13:35




October 4, 2012 at 19:21







October 4, 2012 at 20:43




October 5, 2012 at 06:31




October 4, 2012 at 15:06




October 4, 2012 at 14:21







October 4, 2012 at 14:06




October 4, 2012 at 13:21







October 5, 2012 at 00:17







October 5, 2012 at 09:01




October 4, 2012 at 12:09







October 4, 2012 at 12:01







October 4, 2012 at 10:51










October 4, 2012 at 10:23










October 5, 2012 at 13:57