Call me a Cab – just the one!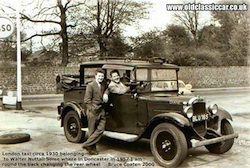 As a callow youth of 16 back in that 'Summer of Love', I ventured on a school-exchange programme with a similar youth in northern France. It was the familiar pattern: he came here and stayed with my family for three weeks, then we both trained and ferried over to his family near Lille for the next three weeks. It was fun, educational and character-building stuff – highly recommended. (And before you ask, all key aspects of 'summer' and 'love' were successfully accomplished).
Whilst there, I also discovered that it was still possible to hear Test Match Special on the BBC, so I spent some time following by radio the only team-game I enjoy. This provoked much curiosity amongst the host family, who knew nothing of cricket, most particularly the fact that I could still be listening on Tuesday to the same game which had started the previous Thursday and that I had accurately predicted on the intervening Saturday would end in a draw three days later. The challenge of explaining to French-speaking folk, not only the simple rudiments of cricket but the fact that the result could be predicted many days ahead (yet one still feels compelled to listen right to the end), certainly enhanced my facility with the French language but also equally confirmed many of their own preconceptions of the eccentric English.
But that common cricket challenge pales to nothing when faced with explaining to any visiting foreigner the utter illogicality of the British system of taxi-cabs. Arrive in almost any other country of the world, from the most developed to the most basic, and you instantly know where you stand with a taxi-cab. Usually of a common and obvious livery, stationed at popular locations or cruising the streets, it is instantly available to do your bidding, most of the time within some vaguely-regulated framework of reasonable standards and charges. You know the deal, the driver knows the deal, a bargain ensues and a service is delivered. Simple.
But land in Britain and you are faced with a most confusing duopoly. There are two types of 'taxi' – one which you may hail or enter randomly at the roadside and one which you may not. The former usually has a common livery (within any one local authority area that is, but different from any other locality), while the latter can be of almost any shape, size or colour but is usually plastered with an array of signs and stickers, prominently featuring phone-numbers which one is supposed to have called first to engage the vehicle for one's use. Even the jargon is different. In some parts, the second type is known as a 'minicab', in others the term 'private hire' applies, but all still existing verbally within the vernacular term of 'taxi'.
And the local authorities operate two completely separate licensing regimes to manage these. The official 'Hackney' cabs are very tightly regulated and their volume is controlled by an open market in license-plates, a deliberate shortage of cabs keeping the asking-price high for the 'plates'. The 'minicabs' are generally not controlled for volume but merely by some local quality standards, the level and application of which varies greatly from place to place, yet they still bear a 'plate' albeit usually of a different shape, size and colour for the Hackney type. Fares too are separately regulated, operating on different levels for the two vehicle types.
So poor Johnny Foreigner, arriving on Britain's supposedly modern, mature and well-organised shores, is confronted with this confusing cavalcade of cabs, the historical origins of which will never register in his troubled-traveller brain. Because it doesn't matter. All this needy customer wants is to be driven safely, from where he is to where he wants to be, in a vehicle under his own direction – that's all. He couldn't care less about the history of horse-drawn Hackney carriages, the protection of trade monopolies, the back-room deals in Hackney-plates, the multiple charging-rates, the preference of that local authority's current cab-boss for white cars over yellow cars or whatever – none of that matters. He just wants the same, simple, standard service he knows and expects everywhere else on the planet.
Explaining leg-before-wicket, silly-mid-off or deep square-leg to any J. Foreigner may be difficult but it is at least satisfying because there is an underlying logic to the game. Trying to explain the bizarre two-cab system is both frustrating and profoundly embarrassing. How can Britain purport to be 'open for business' when it structures a simple business like the common taxi-cab in such an illogical way ? If your first British business experience after leaving the Arrivals Hall is to greet the complexity of these multi-cab formats ("Sorry, guv, I can't pick you up, you'll have to phone this number first – but that similar car parked next to me can take you"), are you likely to feel good about bringing your multi-billion dollar industry here ?
Britain may take much legitimate pride in some of its long and noble history but there is a time when some of those historical features should be sacrificed for the overall good. This taxi-nonsense is a prime candidate, to which list others in the Snug may wish to add their own favourites for elimination.
October 3, 2012 at 12:36




October 2, 2012 at 20:00










October 3, 2012 at 10:54










October 3, 2012 at 11:01




October 2, 2012 at 13:52










October 3, 2012 at 10:39




October 2, 2012 at 13:38










October 3, 2012 at 10:37







October 3, 2012 at 12:56







October 2, 2012 at 13:09







October 2, 2012 at 13:16




October 2, 2012 at 12:50




October 2, 2012 at 11:42







October 2, 2012 at 08:30