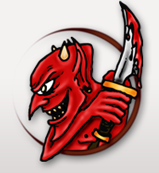 In the early hours of this morning, one of the corner anchors of the blogosphere quietly disentangled his restraining cords and floated off into cyberspace.
In the past few months, we have lost many of those anonymous souls who gave freely of their time to provide us with a place to vent our feelings, feelings which the main stream media would rather we suppressed – witness the number of 'on-line' newspapers which speedily remove their comment facility whenever they touch on sensitive subjects.
None will be mourned more than Devil's Kitchen.
The orignal 'sweary-blogger'. The man who inspired me to write this blog in the first place. He had his own niche market, those who wished to express their feelings in vehement manner. I used to read it and wonder at the suppressed anger in the 'Angry Isles' as A.A. Gill once described them. I didn't feel comfortable commenting there, a personal reticence. I did, however, realise that there were a great many people who did want to discuss the appalling state that the country I once revered had fallen into.
We used to have pubs, where people from many walks of life gathered and exchanged views. It was not so much the exchange of views that mattered, but the fact that they were being discussed between people of all walks of life. Not only have so many of the pubs closed, but those that remain are stratified. The road sweeper is unlikely to drop into the up market gastro-pub, the village Doctor doesn't drop into the rowdy pub at the back of the railway station. It dawned on me that the blogosphere was a great leveller; educated and semi-illiterate, left and right, old and young – the anonymity of the blogosphere put everyone on an even plane.
I wrote to Devil's Kitchen. I asked whether he thought it was necessary to write in his style, whether the political blogosphere was only for those who could cope with the rough and tumble of his comment section – the only other blog that I had read was Guido, where the same rules seemed to apply. He was, as ever, kind enough to reply. Find your own style, don't be afraid to be honest, don't be afraid of disagreement. It was sound advice.
The first post I wrote on Old Holborn's site attracted a welter of disapproval. Not regarding the subject matter. No, I had put a comma in the wrong place, not used a capital letter after a question mark, who was I to think I could write? It might have been enough to put me off for life – except that one comment was very simple. 'Good post, DK'. I will never know whether he really thought it was a good post or not – but the fact that he had bothered to read it and thought to give me a modicum of support is the reason I am still here today. The dozens of disapproving comments vanished, and all I could see was 'DK's' short and sweet comment. The fact that I remember the exact words today should be proof of how much it meant at the time.
Devil's Kitchen proved that you didn't have to hold main stream views in order to be 'fit' to write. You could just be yourself. Above all, he was always true to himself.
I was disappointed when he became leader of the Libertarian party. He didn't metamorphose into a 'smooth political operator'. He carried on knocking back the pints, didn't bother to brush his hair, didn't prepare a smooth oratory for when he was reluctantly invited on TV. I should have known better. He carried on being true to himself! With hindsight, that had far greater value as a role model than the silver tongued rogues who followed him. Chris Mounsey was transparent, he was honest, he stood up for what he believed to be right no matter how much criticism he attracted.
I haven't forgotten either, that when I first had fears regarding the way the Libertarian Party was being run, Chris Mounsey was the one person who didn't run for the hills; he listened and helped me sort through the mountain of scraps of information I had, and proved over those weeks that he was one Libertarian who truly believed in transparency. Others showed themselves to be better politicians – they preferred to hang onto the trappings of status and image rather than risk the truth being revealed. He was, at the time, brutally castigated for 'having an agenda' – he did – that agenda was the truth.
The Blogosphere that I entered all those years ago has become a pale shadow of its former self. Every main stream journalist worth his salt has a blog these days. Supported by a newspaper monolith, designed by professional web designers, retweeted and linked to by the world and his aunt. They love the Blogosphere, even as they decry how it is costing them their 'commercial worth'. They recognised that the 'punters' loved the Blogosphere and they wanted some of what we had, that rapport with the people who read the posts. They have always despised the orignal bloggers though, never given them the credit for the stories that they broke.
Did Devil's Kitchen really sit up all night poring over the ClimateGate e-mails, attempting to make sense of the nonsense? He did; and how many main stream journalists have produced articles as a result of that work? And how often have you seen Devil's Kitchen credited for his labour?
I can understand how fed up he feels, giving up hours of every day to try to make sense of the politics in Britain. How many times can you repeat yourself, as he has said. It was easier to feel enthused to write when Labour was producing daily gaffes of unimaginable magnitude. Now it is just a long slow grind of incompetence, chicanery, turpitude; second rate people making second rate decisions.
I can understand too, that his personal career must suffer as a result of losing his anonymity. Things written on the Internet remain there for ever. When I first exposed the Hollie Grieg hoax for the sham that it was, I had a 25,000 strong Facebook group baying for my blood – and many of them wrote articles I can only describe as inventive in their invective, which are still linked to today, still taken seriously by those who wish to shut me down. I am lucky though, I have no career to worry about, no family to concern myself with, no future which can be impacted by what is written on the Internet. Come to that, I don't have a great deal of 'future' – a fact which gives me great strength these days, strength that I didn't have to start with. They'll prise my cold dead hand off this keyboard, as Guido once said.
Though it is harder to write, there are still just as many people around who want to discuss the daily dirge of political disasters. I have never felt the urge to educate people politically in the way that Devil's Kitchen did. My motivation was always to provide a space for discussion, a virtual pub; I never fancied myself as a cordon bleu chef – a decent cheese sandwich on a good day, and pork scratchings if I wasn't up to that – but the doors are always open. Everyone welcome. In all these years I have only ever banned two customers – both of them because they used their personal friendship with me to come round 'after hours' and berate me for not writing in line with their personal opinions rather than standing their ground in the snug and debating with the other customers.
I owe that philosophy to Devil's Kitchen, and a great deal more besides. The Blogosphere will be a poorer place without him.
It's getting lonely out here!
September 22, 2012 at 21:50







September 22, 2012 at 19:39




September 22, 2012 at 11:42







September 22, 2012 at 06:10




September 22, 2012 at 00:10




September 21, 2012 at 23:59




September 21, 2012 at 16:00







September 21, 2012 at 15:16




September 21, 2012 at 14:48




September 21, 2012 at 14:03







September 21, 2012 at 13:34









September 21, 2012 at 13:05







September 21, 2012 at 12:46