Ms Raccoon…and a conundrum.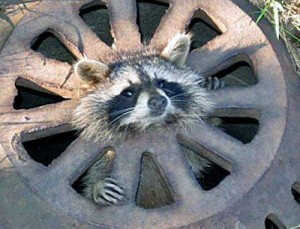 Ms Raccoon has found that life is unaccountably grating on her recently.
To say nothing of aggravating people.
A change of scenery is the order of the day.
Accordingly she has fled the coop, and is unlikely to be back much before Thursday. Yes, she has had the wit to take Mr G with her; nothing like making your own tea in the morning to ruin a holiday. Besides, who would carry all the luggage if she didn't?
The bar will remain open with an honesty box, you are encouraged to use it. If you wind up in the spam folder, tough. I'll let you out Thursday. Try not putting so many links in your comment.
See if you can solve this conundrum whilst I am away….hosting the Olympics is supposed to improve our infrastructure, train our young to be world class athletes, and cheer everybody up.
Since this is now the third time Britain has hosted the Olympics, can you explain why the country is full of fat, miserable bastards, crawling along on overcrowded roads and trains?
August 10, 2012 at 11:28







August 9, 2012 at 08:15










August 9, 2012 at 10:02







August 9, 2012 at 20:06










August 10, 2012 at 20:51




August 8, 2012 at 08:26










August 8, 2012 at 17:28







August 7, 2012 at 14:18




August 7, 2012 at 10:38







August 7, 2012 at 10:27




August 6, 2012 at 22:14







August 6, 2012 at 19:38




August 6, 2012 at 17:41










August 6, 2012 at 10:37







August 6, 2012 at 10:19




August 6, 2012 at 07:37