Putting a Spoke in Wheeler's Progress.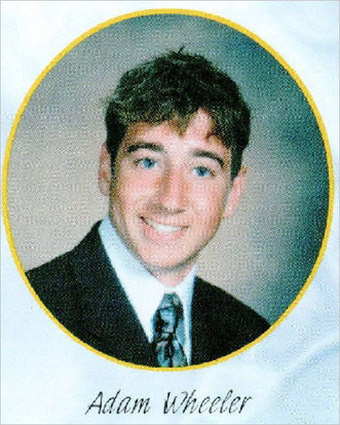 The best part of 100 years ago, my Father discovered that there was a window you could climb through at the back of the Liverpool Institute. Once through the window, you could wander the corridors and enter the lecture halls. He did that for the best part of three years, there being no money in the family to pay for University fees. He spent every waking moment in the Library. When he was eventually unmasked as an intruder, he was hauled before the Dean. Quaking, he was questioned then sat in a room with paper and pencil and sat a stiff examination. He passed with flying colours – and the Dean allowed him to stay on and paid his formal exam fees himself. It is part of family history, and my grand-mother, a most strait laced widow who had struggled to feed her family but would be appalled at any dishonesty, was actually incredibly proud of his achievement, and nothing offended her more than my father trying to deny this part of his impoverished background and pretending that he had 'won' a scholarship right from the beginning. Thinking about it now, she was ever so slightly more appalled that he 'bussed' me out of Liverpool to boarding school in order that I wouldn't have a Liverpool accent. She was no snob. He was.
I was reminded of this last year when I first caught up with the Adam Wheeler story. Adam's father was a teacher, so Adam didn't just get to go to school, he spent his waking hours in the school, eating lunch in an empty classroom with his Father, wandering the corridors at will – he was at home in a school. He spent more time than the average pupil around teachers and was obviously a fast learner when it came to the psychology of 'what made teachers tick'. His year book, where pupils tell of their career aspiration, had a cryptic one word entry. Psychology.
He first got into trouble when he 'lifted', Hari style, the work of Pulitzer winner Paul Muldoon from an anthology of his poems and entered it for an award in the English department. He won. How much must he have learned from the entire year it took before any of the learned men and women supposed to be teaching him spotted the plagiarism? The prize was revoked, not before Adam had twigged that professors want to believe they have raised a star pupil! He was suspended from Bowdoin, a state school in Delaware.
He dropped off the radar for a while, and then re-emerged as a mature potential entrant at Harvard. He was armed with letters of recommendation from four learned professors at Bowdoin, none of who had actually taught him, but curiously, all now appeared to be incumbents at the Massachusetts Institute of Technology. – Adam knew better than to make up fake professors, he just transferred them to a more prestigious college.
All the more surprising therefore that when Harvard admissions tutors arrived to interview him in Delaware, they were requested to appear at Bowdoin, not Massachusetts Institute of Technology…they were happy with the answer they got. 'Adam had finished his semester at Massachusetts', and rather than idle the summer away, he was using Bowdoin facilities to improve his mind. Just the sort of thing an admission tutor likes to hear! – it never occurred to them that he knew the back corridors and empty staff rooms at Bowdoin like the back of his hand.
He didn't just have remarkable letters of introduction from Professors at Massachusetts – (whose names were prominently displayed on the hallowed walls at Bowdoin as the tutors arrived for the interview!), he wasn't just putting in extra work during the summer – he had utterly perfect SATS results. Grade A. Not a single mistake. Incredible! And oh, what balm to a harassed admission tutors soul! – This student had co-authored books with his professors, taken classes for other professors – it just goes to show that if you sort through the dross long enough you will find a pearl…or at least something that looks like a right pearler.
Harvard licked its lips with glee and admitted Adam. During his time there, his progress continued to be remarkable. He spent hours in the library. He collected prestigious prizes for his English essays. Scarcely surprising, for they were all written by eminent professors at other Universities. Never let it be said that Professors don't bother to read their colleagues work. It was two years and some $45,000 worth of prizes and scholarships before he was found out…it was only when he was nominated for the valuable Rhodes scholarship, that anyone noticed a similarity between his Rhodes essay and the work of a colleague, Professor Stephen Greenblatt, that a red flag was raised, and then only on suspicion of plagiarism. Claiming on his application form that he was fluent in Old Persian, Classical Armenian, and Old English didn't raise so much as an eyebrow. Ironically the essay was on 'cultural mobility', something Adam should have been able to write by then with his eyes closed!
Adam went home for the summer holidays, and awaited his punishment for plagiarism. It ran to 20 criminal indictments, a short spell in prison, repayment of the $45,000 scholarships, and, in a nod to the possibility that Adam might write a best selling book detailing his methods – a commitment to never refer to his time at Harvard. Adam took a part time job in his home town at a charity shop. He struggled to make the repayments on the $45,000; and looked for a higher paid job.
He applied for a job with US Green Data.Inc. You may not have heard of them, but they are world leaders in buying and selling carbon credits and generally pushing climate change. You might think that someone so utterly skilful in pulling the wool over people eyes as Adam would be the perfect employee for them…
Instead, today, Adam is languishing in prison. You see, this time, he told the truth on his application form. No more lies. He didn't claim to have graduated at all, he said he had attended Harvard. Which he had, for two years before those ding bats wised up. US Green Data.Inc wrote to Harvard for a reference. Harvard rushed off to the District Attorney's office and demanded Adam's head on a plate – remember the commitment never to mention his time at Harvard? Yep, he's now been jailed for telling the truth.
When he does come out of jail, he'll still have a massive loan to pay back, and a criminal record. Great future!
Harvard say his initial dishonesty with the false references to get into Harvard must be punished severely. It diminishes Harvard's name and brings shame on the college.
Then you remember the alumni that Harvard are proud of, the men who run the Manhattan banks, the Corporate lawyers, the national newspaper men, and you wonder why they have worked so hard to keep just one lying, cheating, dishonest little scum bag out of the great American system. What is it about Adam? Could it be that he made them all look like plonkers? Or is it that they don't want every working class kid wising up to just how easy it is to figure out what the great professors want to hear?