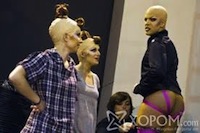 All stressed up and nowhere to go – they've spent months ironing their frocks, saving up for a full body wax, and moisturising their little tootsie's, and now they are faced with a national disaster. Peter Tatchell says that come Saturday week, the West End of London will be filled with 'hundreds of thousands' of 'confused' gays 'wandering aimlessly'. He gives us no clue as to how we are supposed to tell the difference from any other Saturday night, but there you go.
It's all the fault of the nasty old authorities. Or it might be the fault of the Unions and the likes of Tesco's (every little hurts) who haven't stumped up enough cash fast enough. It's certainly not the fault of the thousands of gays who were expecting a bonanza street party paid for by all and sundry. Absolutely not.
Apparently the little darlings get so over excited at the likes of Deborah Cox (who she?) in her fishnet tights and size 12 patent leather boots mincing round the Barclaycard sponsored stand in Trafalgar Square, that extra crash barriers have to be put in place to stop the hyperventilating hordes from reaching out an exquisite finger and poking her in the back side – and those crash barriers have to be paid for in advance.
The World Pride organisers haven't got the cash in advance ('it's been promised darling') (there is the small matter of a £65,000 bill still outstanding from last years 'do') and so the only way they can have their party is if Boris Johnson agrees to a 'commissioner's order' which effectively turns the event into a 'protest meeting' and totally different regulations.
The floats have been cancelled (and I've been sewing sequins onto my Mardi Gras outfit for months, months!), the open topped stretch limo for the hierarchy cancelled, and the 'Family area' in Soho is going to have to get on with it by themselves – the mind boggles.
What London will get instead – for the event itself has not been cancelled, just the entertainment which had to be paid for – is a 'million plus' gays milling around the West End looking 'confused'. Peter's words, not mine.
Don't worry Peter – there is an app for that. Boris Johnson's sister's husband (d'you want a second to read that again?) who is now the Editor of The Lady magazine, has rushed out a National Trust guide for the terminally confused in Soho. Downloaded onto your iPad, the stately monuments to hedonistic pleasures can wander around listening to Molly Parkin describing Francis Bacon's sado-masochistic tendencies. It'll make the party go with a bang, I promise you, and there'll still be lots of handsome young men in uniforms looking like the village people with their gay pride badges, because the rest of us still have to pay for the extra police on duty…
Now dry your eyes, your mascara will run.
Anybody got any idea how I get the Unions to pay for a Dogger's Pride event? It'll be a wonderful PR opportunity for them.
July 5, 2012 at 14:32




July 1, 2012 at 20:44










June 30, 2012 at 08:52







July 1, 2012 at 20:46




June 30, 2012 at 08:22







June 30, 2012 at 11:29




June 30, 2012 at 06:40




June 30, 2012 at 02:00




June 30, 2012 at 00:53










June 29, 2012 at 23:17









June 29, 2012 at 16:49







June 29, 2012 at 16:27







June 29, 2012 at 15:56










June 29, 2012 at 15:42










June 29, 2012 at 20:30







June 29, 2012 at 23:10