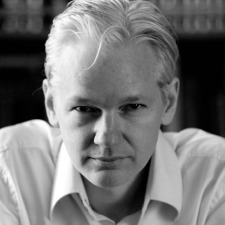 I once found myself at Stanstead Airport with £20 in English money to get rid of, and lo! Julian Assange's 'leaked' (oh, the irony!) autobiography on special offer. Three hours of Ryanair delay, three hours of no nicotine, and three hours with only Julian's putrid paranoid prose to distract me, and I came close to converting to the Catholic faith on the grounds that there was such a place as Purgatory, and I was incontrovertibly well and truly in it…
Julian has been in 'persecuted' mode since he first clamped his mouth round his Mother's nipple. Our Jules has been roaming the world ever since, escaping from what he sees as persecution. That he has a 'fear of persecution' is beyond doubt; that it is 'well founded', in the sense of being based on the evidence of the number of times he has been 'forced' to move home, move country, move benefactor, because he 'fears' being persecuted yet again, may be self-referential; what matters now is whether he has a:
[…] well founded fear of being persecuted for reasons of race, religion, nationality, membership of a particular social group or political opinion, is outside the country of his nationality and is unable or, owing to such fear, is unwilling to avail himself of the protection of that country; or who, not having a nationality and being outside the country of his former habitual residence as a result of such events, is unable or, owing to such fear, is unwilling to return to it.'
That will stand up to close examination by International Law experts. Unfortunately for Jules, the 'well founded' is to be judged objectively, not from inside his head…
Our Jules has many supporters on the Internet, indeed there is a creed which says he must not be criticised from within the Internet, he being our Saviour for having fearlessly revealed that members of the Royal family were total free loading plonkers, and other matters of world importance that our media were either too scared to report or had already decided that we might have guessed. Along the way he reported that the US ambassador to Tunisia wasn't that impressed with the table china in some houses where he dined, and this was a good enough reason why Our Jules should not ever be expected to answer impertinent questions regarding the legal basis of his casual leg-overs.
Assange numbers amongst his supporters every conspiracy theorist worth his salt, who will tell you that the US could send a drone to kill him at any moment, that foreign governments often set 'honeypot' traps to discredit fearless internet truth seekers, that a man who changes his underpants only when he finds a new benefactor to buy him some more should be able to have whatever sex he wants, where he wants, when he wants, without interference from pesky lawyers and other truth seekers.
I don't see the same level of support for Bradley Manning, the man who actually had the courage of his convictions, albeit slightly skewed, and risked everything to reveal truths to the world that he thought important – it seems the internet only has sympathy for the software coder who made money out of flogging those cables to the press. Bradley must rue the day he joined the army and learned to change his underpants on a regular basis. No celebrity backers for him. No cushy 'house arrest' in salubrious country mansions or London embassies whilst his supporters run round like headless chickens paying for expensive lawyers to defend him…Assange defenders barely mention him. Google Julian Assange and you get one hundred and fifty million results. Mention poor Bradley in the same breath and you scrape by with a paltry 6 million.
Certainly Ecuador used to be a bastion of liberal laws, freedom of the press, honesty, truth and all things Green and wonderful. That was until the military junta swept into power in 1925 and clamped down on everything that Our Jules professes to believe in. They called it the Julian revolution. No really, look it up.
The ultimate irony is that it was Julian who was so keen to publicise the fact that the US ambassador to Ecuador thought 'corruption among Ecuadorian National Police officers is widespread and well-known with corruption becoming more pronounced at higher levels of power'. Presumably he thought we should know that in case any of us were thinking of relocating there. Now he denies the evidence of his own Wikileaks and thinks that Ecuador is a bastion of Human Rights and the only place in the world that he might be safe from the ravages of political corruption.
On the other hand, his enforced host, prominent journalist Vaughan Smith, might just have suggested that Our Jules wash his own socks this week – having read that autobiography from front to back, I can tell you – that would be more than enough to convince Assange that he was being persecuted yet again.
For God's sake Julian, go back to Sweden and answer the questions. If the allegations are as ill-founded as you say, what are you worried about? There are British tax payers out here paying for this self-obsessed paranoid nonsense of yours…
Mind you, the idea of Julian successfully applying to munch on Roast Guinea Pig for the rest of his life does appeal, and the raw fish marinated in lemon juice would get on your nerves after a while…that would qualify as cruel and unusual treatment in my book.
Oh, before I go Julian, a word in your ear. Article 22 of the Ecuador Criminal Code, as reformed in 2005 (Official Register No. 45 of 23 June 2005), in CEDAW (2007), p.19
'No offence is committed when a person kills or wounds another person during the act of being sexually abused or raped'.
Just thought I ought to point that out to you. Those Swedish girls might annoy the Hell out of you with their impertinent questions – but the Ecuadorian lasses can batter your brains to a pulp, disembowel you, nail your miserable bollocks to their front door – and get away with it…..now that's what you call persecution.
Anna Raccoon

17



June 21, 2012 at 21:10


24



June 23, 2012 at 11:16