The Neanderthal Mentality of Female SNP Supporters.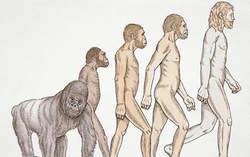 What an insight for International Women's Day into the Neanderthal mentality of a representative example of the women behind Alex Salmond's prospective throne  – Joan McAlpine , throwing her journalistic ability behind the knee-jerking nationalistic pretensions of the SNP bid for an independent Scotland.
Joan is described as 'Scotland's independent woman' in the leader to the Daily Record piece. There is nothing 'independent' about the views expressed in her article, they are a throw back to the days when women were little more than property.
Joan on the referendum
"When Scotland lost its independence in 1707, the public didn't have a say. That was nothing to do with the will of  the people of ­Scotland, and now we have the chance to sort that out."
Remind me, wasn't that because Scotland was broke? A bit like RBS going broke methinks, the people of England didn't get a say in whether we bailed that out or not, and now the English taxpayer is joined in unholy alliance with the Scots in bailing out RBS. Will RBS be claiming that is 'an abusive relationship' in 200 years time when everybody has conveniently forgotten the origins of the alliance?
For Joan now claims that the Union with the Kingdom is 'an abusive relationship'. She says:
The union between Scotland and England is a bit like the marriage of a talented, well-educated girl with good prospects and her own income, to a domineering man.
She could easily stand on her own two feet thanks to a fortunate inheritance of oil revenue, exports of whisky, food and engineering – along with tourist attractions that bring in millions.
Joan, you might have a point if the marriage was being contracted today to a fresh faced young damsel – but that domineering husband of yours has been stuck with a raddled old witch that he plucked out of the gutter over 200 years ago, he has had his house robbed by her worthless friends, been royally abused by her relatives, paid for her breast implants, bought her a fine new wardrobe, educated her children by her feckless previous lovers – and now she has an inheritance, which he helped her to track down, now she decides that she is in an 'abusive relationship'?  Blimey, excuse him while he falls off his chair laughing.
Joan has since said that her analogy will help 'female supporters see things more clearly' – that is some low opinion she has of the average female Scottish voter, can it really be justified?
Then Joan has some weird ideas about the way that Westminster operates, a very selective memory you might say – but then she is a journalist after all.
Joan on David Cameron
"It's very offensive for a man who only has one MP in Scotland to tell us what he is going to give us. It's patronising."
That one man speaks for all government, a government of our parliament. Including the 59 Scottish MPs. Amongst whose ranks lurk some of the most disgraceful MPs ever to sully parliament. Now if you want to talk about offensive – shall we start with Eric Joyce, Bill Walker, or perhaps Gordon Brown?
Isn't it extraordinary how these Scottish women feel they are in an 'abusive relationship' with a husband who has supported them through good and bad times – yet now they have found their inheritance, they can't wait to jump into bed with that randy old goat – Mr E.U.Brussels?
Yesterday, we had another of the foul mouthed SNP supporters happily mouthing off on Twitter regarding the deaths of six British soldiers. He attacked the soldiers for "protecting their country by bayoneting 10-year-olds" and said the majority of servicemen are "racist, arrogant, undereducated thugs who join up for the 'thrill' of killing humans."
"There's no British soldier fighting for anything I believe in. Bunch of child killers."
The campaign for independence has its supporters, even amongst the English – some of whom would be delighted to see Scotland float off to wherever, but the political point is being lost in a barrage of commentary that originated on the tribal football terraces competing with outdated and offensive attitudes towards genuinely abused women. Even Willie Rennie was forced to warn Salmond:
"Alex Salmond must crack down on his Cybernats and their offensive bile.
Having received 3am visits on this blog from some of them, whom I shall charitably assume to be pissed as rats (though they may well be just as offensive stone cold sober) I hope Salmond is listening.
Some of his supporters do him no credit whatsoever.
Caedmon's Cat
March 8, 2012 at 08:59

Anna Raccoon
March 8, 2012 at 09:27

Caedmon's Cat
March 8, 2012 at 11:49

Single Acts of Tyranny
March 8, 2012 at 09:37

2mac
March 8, 2012 at 11:54

JuliaM
March 8, 2012 at 15:54

2Mac
March 8, 2012 at 18:15

Joe Public
March 8, 2012 at 19:27

EnglishPatriot
March 12, 2012 at 00:56

Woodsy42
March 8, 2012 at 09:37

2Mac
March 8, 2012 at 15:14

Anna Raccoon
March 8, 2012 at 15:26

2Mac
March 8, 2012 at 18:22

Engineer
March 8, 2012 at 18:30

2mac
March 8, 2012 at 19:36

Catobitesback
March 8, 2012 at 09:41

2Mac
March 8, 2012 at 18:29

Friend of Dog
March 8, 2012 at 09:41

Anna Raccoon
March 8, 2012 at 09:58

2Mac
March 8, 2012 at 12:44

Frankie
March 8, 2012 at 19:59

Spiral Architect
March 8, 2012 at 10:32

Engineer
March 8, 2012 at 10:42

Spiral Architect
March 8, 2012 at 11:17

ThePresentOccupier
March 8, 2012 at 15:40

2mac
March 8, 2012 at 12:00

Spiral Architect
March 8, 2012 at 13:16

2Mac
March 8, 2012 at 15:09

Anna Raccoon
March 8, 2012 at 15:12

Spiral Architect
March 8, 2012 at 15:47

Wigner's Friend
March 8, 2012 at 15:54

sackcloth and ashes
March 8, 2012 at 13:37

2Mac
March 8, 2012 at 15:51

Engineer
March 8, 2012 at 10:36

Engineer
March 8, 2012 at 10:39

dak
March 9, 2012 at 16:27

2mac
March 8, 2012 at 10:40

Engineer
March 8, 2012 at 10:50

Anna Raccoon
March 8, 2012 at 11:41

2Mac
March 8, 2012 at 12:40

Anna Raccoon
March 8, 2012 at 12:47

Brian
March 8, 2012 at 13:19

Paul Brown
March 8, 2012 at 13:07

Anna Raccoon
March 8, 2012 at 13:25

Paul Brown
March 8, 2012 at 14:26

Brian
March 8, 2012 at 13:09

2Mac
March 8, 2012 at 13:21

Spiral Architect
March 8, 2012 at 14:10

HenBroon
March 8, 2012 at 18:36

sackcloth and ashes
March 8, 2012 at 15:26

2Mac
March 8, 2012 at 15:56

Anna Raccoon
March 8, 2012 at 16:43

2Mac
March 8, 2012 at 16:14

sackcloth and ashes
March 8, 2012 at 16:39

HenBroon
March 8, 2012 at 18:39

Charles Crosby
March 8, 2012 at 16:35

carol42
March 8, 2012 at 17:41

Mark
March 8, 2012 at 18:37

HenBroon
March 8, 2012 at 18:52

M Barnes
March 8, 2012 at 19:32

Engineer
March 8, 2012 at 20:41

M Barnes
March 8, 2012 at 21:26

Frankie
March 8, 2012 at 22:39

Joe Public
March 8, 2012 at 19:49

yardarm
March 8, 2012 at 19:56

dak
March 8, 2012 at 20:20

M Barnes
March 8, 2012 at 21:24

Frankie
March 8, 2012 at 22:28

Spiral Architect
March 9, 2012 at 12:26